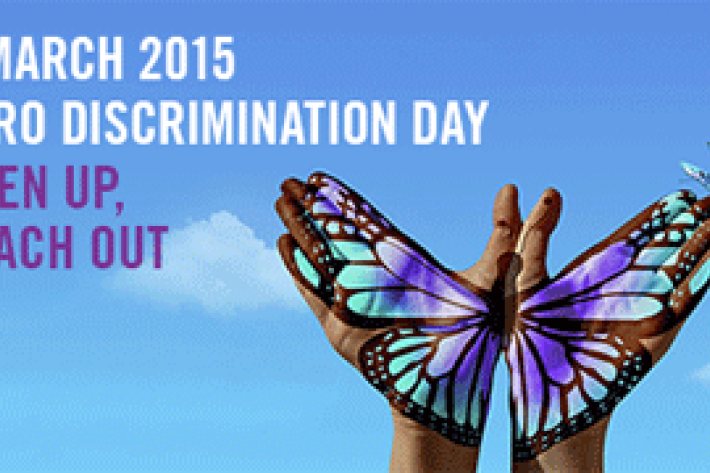 Zero Discrimination Day is a chance to celebrate diversity and to reject discrimination. By joining our voices together, we can be part of a resounding call for compassion, tolerance and peace. Stigma begins and ends with each one of us.
Launched by UNAIDS in 2014, IPPF welcomes and supports Zero Discrimination Day - not just for people living with HIV, but for all people who endure discrimination.
Despite progress made in the global response to HIV, stigma continues to be a major factor hindering HIV prevention, treatment, care and support, and affecting the overall health and well-being of people living with HIV. Stigma and discrimination are stumbling blocks to ensuring access to essential services. Openness, acceptance and accessible sexual and reproductive health and HIV services are the key to its reduction.
To reduce HIV-related stigma and discrimination, IPPF aims to remove barriers to comprehensive services for those living with and affected by HIV. Member Associations provide comprehensive sexual health services to men who have sex with men, people who use drugs, transgender people, and sex workers. They also ensure that the voices of young people are included in the decision-making processes that affect their lives.
Last year, at the International AIDS Conference in Melbourne, Oral Testimony Works and IPPF launched a publication featuring personal experiences of HIV-related stigma. "Stigma is still my most serious challenge'' presents oral testimonies of men and women living with HIV in Ethiopia, Mozambique and Swaziland.
These testimonies were recorded as part of a 3-year project funded by Comic Relief and implemented by IPPF and its partners. In September, a report, "HIV and Stigma: The Media Challenge" by the International Broadcasting Trust (IBT) and IPPF, was launched in the UK House of Commons by the All Party Parliamentary Group (APPG) on HIV and AIDS. While the media has a crucial role to challenge such prejudice, there is a residual fatigue in their reaction to the global HIV epidemic. IPPF calls for a holistic and multi-levelled response to address HIV stigma and discrimination to ensure people living with HIV everywhere can enjoy a stigma-free and dignified life.
For IPPF, a 'stigma-free' approach to service provision is based on sexual rights, whereby the concepts of rights, gender and, most importantly, sexuality intersect. Stigma-free services are services which are human rights-based and non-discriminatory, sex-positive, client-centred and participatory.
Of particular note is the principle of non-discrimination whereby every client has the right to receive services with respect, care and support irrespective of the person's sexuality, sex, gender, gender identity, sexual orientation, age, religion, race, ethnicity, nationality, HIV status, marital status, physical or mental disability, substance use, socio-economic status, or any other status such as type of work, income or political opinion.
IPPF's rights-based approach focuses on health, participation and empowerment, specifically aiming to realize the right to access health services consistent with other health-related human rights. This begins with an understanding that sexuality is a natural, life-long and precious aspect of life, an essential and fundamental part of each person's humanity; is underpinned by respecting every person's right to personal fulfilment and to freedom from coercion, discrimination and violence; and addresses risks and concerns associated with sexuality, gender and sexual and reproductive health without reinforcing fear, shame or taboo.
That's why we started the I decide campaign to reflect our commitment to the idea that people should be able to determine the fundamental choices in their lives. Because if you can decide who you live with, what happens to your body and the size of your family without fear then stigma will begin to recede.
Please join us and back the I decide campaign by signing the petition which is calling on world leaders to make sure these rights are enshrined for people now and in the generations to come by inclusion in the sustainable development goals being decided later this year.