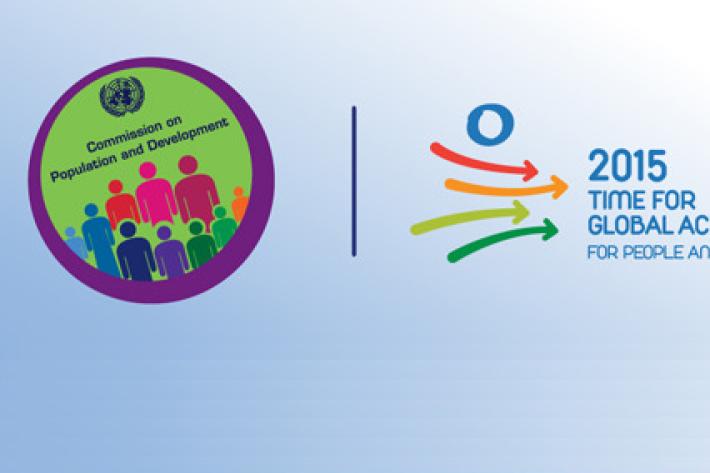 This week, Sarah Shaw is in New York City for the 48th Session of the Commission on Population and Development. Here she reports on the negotiations so far..
The 48th UN Commission on Population and Development began on 13th April, 2015 with an inaugural speech from a representative of the UN Population Division highlighting concerns that population trends should never be a justification for violation of rights of individuals. Linking the International Conference on Population and Development (ICPD) to post-2015 development, he hoped that the ICPD Program of Action will contribute to the monitoring of the Sustainable development Goals (SDGs).
UNFPA Executive Director, Babatunde Osotimehin emphasized the demographic dividend that occurs if governments invest in quality education and an enabling environment, especially for women and girls. He stated that the main task is to ensure that this education is provided in the developing world, and that sexual and reproductive health and rights are a prerequisite for women and girls to enjoy their rights.
Professor Dyson from London School of Economics presented on population processes as part of sustainable development. He emphasized the fact that, while urbanization is generally good, rapid urbanization can hamper development. Professor Dyson mentioned that family planning can help by reducing population growth in urban areas, while decreasing migration from rural to urban areas.  
Supporting the ICPD Platform of Action, South Africa, speaking on behalf of G77 (now 134 countries), mentioned the importance of women's healthcare and emphasized strengthening of health systems. While pointing out that population issues should be integrated in the post-2015 agenda, South Africa emphasized job creation, social protection systems and fulfillment of overseas development aid (0.7%) for environmental development and focused on the need for global cooperation to tackle poverty.
Nigeria, speaking on behalf of the Africa group, emphasized the role of young people as the future of Africa, building their capacity and ensuring decent employment. The Nigerian representative mentioned the importance of gender equality as being crucial for economic growth and sustainable development.
They also reminded the audience that respecting the sovereign rights – and national laws, religious and ethical values - of all countries are critical to implementing recommendations.
Referring to the ICPD programme of action (POA) and its full implementation, the EU also mentioned the regional conferences and their link to the post-2015 agenda. Youth, they said, should be one of the major priority areas, along with gender equality, non discrimination by any forms, the ending of child and forced marriages.
Speaking on behalf of Arab groups, Bahrain aligned with statement of G77 and recognized the relation between population and sustainable development. They mentioned national sovereignty with respect to religious and cultural values.
Welcoming and supporting the ICPD POA, Ecuador on behalf of Latin America and Caribbean countries, raised the issues of discrimination against women, migrant women, youth and adolescents. Sexual reproductive health and rights in accordance to ICPD POA are critical for achieving sustainable development, they stated, while reinforcing the need for equal pay for equal work.