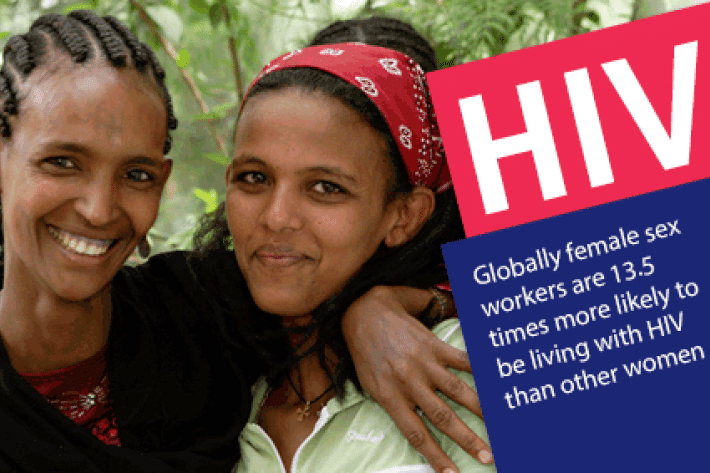 Alan Smith, IPPF Senior Advisor,  HIV
In the June issue of the Lancet, Population Council discusses how tackling stigma is fundamental to the future of the AIDS response, in line with the UNAIDS "three Zeroes" targets, the last of which is zero discrimination, and in particular targeting the double stigma of key populations (if you are both living with HIV and a sex worker, for example).
We agree with what  Population Council says in the article. We have been working on stigma for years. IPPF was instrumental, along with the Global Network of People Living with HIV and AIDS (GNP+) and UNAIDS, in developing the Stigma Index, which has now been rolled out in around 70 countries worldwide. 
Population Council was one of our partners in the five year Gates Foundation funded Integra programme along with the London School of Hygiene and Tropical Medicine (LSHTM). Integra analysed the potential benefits, effectiveness and challenges of integrating HIV and sexual and reproductive health services in Africa. This also looked at why integrating HIV care can help reduce stigma and ensure people can access services when they need them.
We fully support the Greater Involvement of People Living with HIV and AIDS (GIPA) principle. Reduction of stigma and discrimination is at the core of IPPF's values and we are committed  towards delivering stigma free services.
We ran a recent project on Stigma led by and for people living with HIV in Ethiopia, Mozambique and Swaziland. This project was designed to respond to stigma by improving access to health services for people living with HIV and in particular for marginalized groups, to generate evidence that can measure the nuances of stigma, to support effective advocacy and communication, including engaging local media, to effectively generate and inform public debate to improve policies and programmes and to build the capacity of people living with HIV to become agents of change for issues that affect their lives. We will be launching our findings on this at the International AIDS Conference in July.
IPPF is also addressing the sexual and reproductive health and HIV needs of key population groups that are disproportionally affected by HIV, including men who have sex with men, sex workers, people who use drugs and transgender people. In most countries, the availability of quality stigma-free HIV and sexual and reproductive health services is extremely limited for these groups, despite their increased need to access them.  Our Member Associations in Cameroon, Kenya, India and Uganda have been taking steps to ensure these services are available for everyone, including key populations, by training their staff to provide stigma-free services and better equipping their clinics to meet the specific needs of these groups.
We are also undertaking an innovative piece of work looking at commonalities and differences in stigma within the area of sexual and reproductive health and rights including pepole living with HIV, unmarried youth who seek to access sexual health services, and women who seek or have had abortions – all of these groups encounters stigma and IPPF adopts a harm reduction approach across these areas.
Our work to end stigma and discrimination will not tire. We have it laid out clearly in our Vision 2020 Manifesto and will continue to ensure that stigma and discrimination is factored into the response to HIV.
The full article appears in The Lancet Global Health.