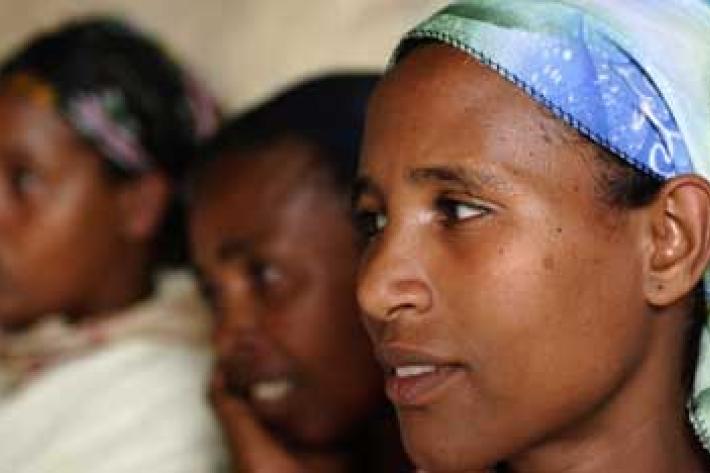 No society can prosper without the full participation of women. It is not rocket-science: when women are empowered they are better able to contribute to their communities and economies.
Those working to create a new framework for achieving sustainable economic and social development agree that this cannot be achieved without first addressing the empowerment of women and girls. Both the 2012 UN Conference on Sustainable Development and the post-MDG high-level panel report identify gender equality and the empowerment of women and girls as priority areas for action.
But this is no small task. There are a seemingly insurmountable number of barriers to women's empowerment and gender equality. The good news is that governments and the wider development community are starting to talk seriously about how we can address and overcome these barriers - from domestic violence to access to healthcare, from equal pay to property rights. However, there is one significant barrier to women's empowerment that is too often missing from the conversation: access to safe abortion.
Unwanted pregnancy is a fact of life. Consider this: women, on average, are fertile for 30 to 35 years of their lives, and they will be sexually active for approximately 25 of these without wanting to have a baby. There are 222 million women who need a modern method of contraception but cannot access it. And even if a woman is using a modern method of contraception it can fail; stomach upsets stop the pill from working, condoms can break or slip off, pills get missed. Not to mention the number women who are not given a choice to use contraception, or even whether or not to have sex. It is hardly surprising then, that women and couples experience unwanted pregnancies.
Unfortunately, as with so many other things, a woman's ability to choose the outcome of an unwanted pregnancy is largely dependent on her location, social status and wealth. For many women having a safe abortion provided by a trained medical professional just isn't an option. Legal, social or financial barriers, or a combination of all three, make it impossible. We know that if a woman cannot access a safe abortion, then she will try to terminate an unwanted pregnancy through less safe and often dangerous methods. Unsafe abortion leads to 47,000 deaths each year, and countless injuries. These are wasted lives and entirely preventable deaths.
The women who suffer as a consequence of restrictive laws and social stigma are not just numbers. Each woman who seeks an abortion does so under a unique set of circumstances. Women such as Anne in Rwanda who is currently serving a nine year prison sentence for terminating a pregnancy which was a result of sexual abuse by her teacher. Or Beatrice in El Salvador, threatened with possible death due because the courts prevented her from having the therapeutic abortion doctors had recommended. Or Sinead in Ireland, who at 19 was not ready to become a mother and had to scrape together enough money to travel to Britain to obtain an abortion.  
Denying women the ability to choose to end an unwanted pregnancy under safe and legal conditions is a violation of human rights and flies in the face of the empowerment agenda. Empowerment means full-participation, autonomy, and equality. It means destroying the barriers that prevent women from achieving their full potential. Women will not be equal until they can control if, when and how many children they have.
Ensuring access to modern methods of contraception is essential for achieving this. But, while the prevention of unwanted pregnancies is where we must start, it is not where we should end. Even with a full range of contraceptive methods readily available, women still experience unwanted pregnancies. So, we must go even further and ensure that any conversation about women's empowerment must include improving access to safe abortion.
28 September is the international day of action for access to safe and legal abortion. This day is an opportunity to put abortion on the global agenda and talk openly about the need for abortion, as well as the challenges that women face in accessing it. At IPPF, our network of Member Associations across the world will unite to call on governments and communities to do more to uphold women's human rights, and empower women to be able to choose the outcome of an unwanted pregnancy.
Governments cannot expect to achieve women's empowerment without guaranteeing access to safe abortion.  Because what is empowerment if it is not about control? Control over one's own body, health and future. Control over the outcome of an unwanted pregnancy.