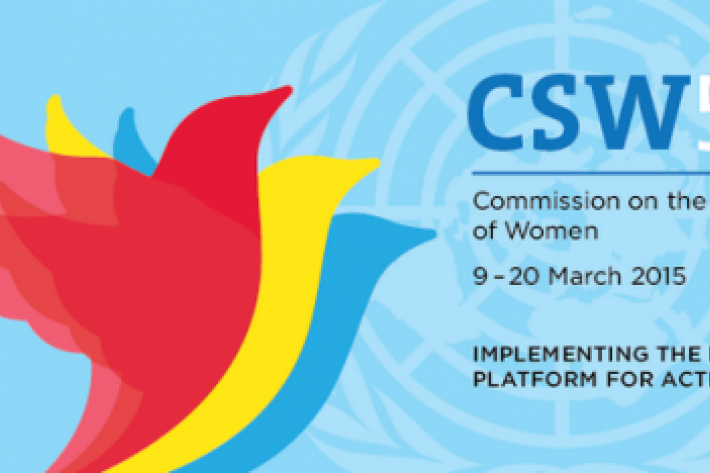 Karin Nilsson, Senior Policy Adviser for IPPF Member Association RFSU –Sweden addressed a High-Level Event, "Why reproductive rights matter?",co-hosted by the Government of Zambia, Sweden and UNFPA, at the 59th Commission on the Status of Women, United Nations.
Why is it that adolescent girls are left behind and made invisible across the world?
Those who are most affected by forced pregnancies and maternal mortality, by forced marriages, sexual violence, and by sexual harassment in schools. Those young women that are in prison now, being punished by the state for having a miscarriage. Those adolescents that are denied access to contraceptives. All those adolescents that are dying because they don't have the right to a safe abortion.
Today, we have the largest generation ever of young people. How can it be then, that adolescent girls are not at the heart of the Political Declaration this year, nor in the post-2015 agenda discussions? Once again, the harsh reality of adolescent girls is made invisible. Once again, their most fundamental human rights continue to be violated.
Sexual and reproductive rights are human rights, and they matter to adolescent girls because these rights literally save their lives. These rights enable and empower adolescents to choose the life and future they want to have, to be able to finish their education, to participate and contribute fully in society.
Without these rights, we will never achieve the gender equal society that all we are committed to creating. But these rights won't magically appear for adolescent girls. We need to make it happen.
We know, and the evidence is clear, that comprehensive sexuality education plays an important role in empowering young people. But what does it mean, comprehensive sexuality education, actually for young people around the world?
It is more than learning about unsafe sex, and how to avoid pregnancy or HIV.
Comprehensive sexuality education, carried out by trained and skilled teachers, shows girls and boys that a gender equal world is possible. It shows them how to do human rights and non-discrimination in practice. It shows them how they can make informed and responsible choices in their lives. It gives them the space to discuss mutual respect and how to treat each other in a relationship. What love is.
It empowers adolescent girls to understand and claim their rights. To learn what a healthy and gender equal relationship is, free from violence and discrimination. It teaches them to have the power and skills also to say no to be treated the wrong way.
Comprehensive sexuality education changes discriminatory norms. It also empowers boys to tackle and question gender stereotypes that lead them to be violent or behave in a certain way they are not happy about themselves. It gives adolescent girls the confidence, the self-esteem that they need, to transition from oppression to equality. But changing gender inequality in practice needs to start in early child-hood, so that once they become adolescents; they are already part of the change.
But this is not happening. Instead of making the change, we are making it worse!
We as an international community are denying adolescent girls this new gender equal world and empowerment, when we are denying them the basic right to comprehensive sexuality education. An education that will literally save their lives.
Instead of guaranteeing them access to this information that actually will make them agents of change in their own lives - we say that comprehensive sexuality education is "to difficult or too sensitive" to even talk about. That we can't agree on what it means, so therefore we can't include it in what needs to be done now. If the word comprehensive sexuality education is "too difficult" in UN negotiations, imagine how much more difficult it will be in reality for a young girl, if she is denied access to it.
Empowered adolescent girls can be the transformative change that the world urgently needs, if we support them rather than oppress them. If they have access to non-discriminatory SRH-services and empowering sexuality education. Then we will give them the power to create their own opportunities.
If we want to achieve a sustainable development for all - then adolescent girls lives need to be sustainable. Lets make this happen, post-2015! The time is now.