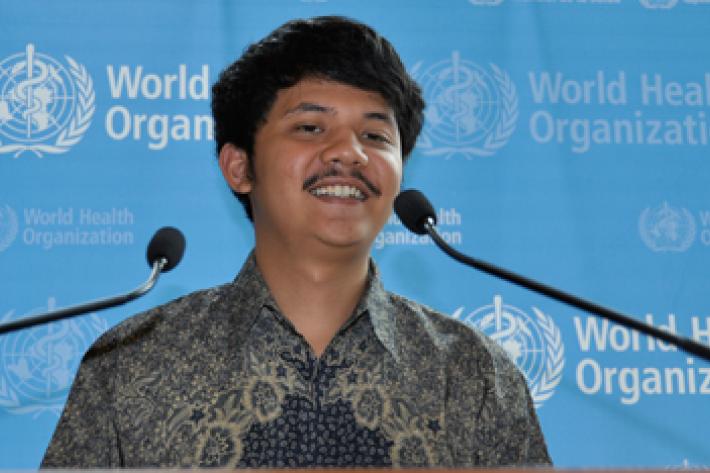 Bahaluddin Surya (known as Ibil) is a Youth Representative of the Indonesian Planned Parenthood Association (IPPA).  As a peer educator and councilor, Ibil has been coordinating  the youth counseling centre in his high school since 2011.  His active engagement in youth sexual reproductive health rights in Indonesia has lead him to serve as a Vice Chair of Governance Board for IPPA.  Ibil has a track record as a facilitator and speaker and had opportunities to speak on behalf of youth at various events including World AIDS Day campaigns and the IPPA Congress.   
This is his blog from The World Health Assembly #WHA68
Today is a big day.  This is my first time to tell the global community, what it means to be an adolescent today and how important it is for young people to raise their voice to access sexual and reproductive health services.

After a long flight from Indonesia to Switzerland  and hours of meetings, I could not miss a fantastic opportunity to participate on several panels at the 68th World Health Assembly.  One was at a Youth Panel and another was on  Global Citizens Hearings which was organised by the White Ribbon Alliance and International Planned Parenthood Federation.   I was asked about the major health challenges adolescents  face today and what they  would like to see their governments and international community to do  in the future.  I am a youth representative from the Indonesian Planned Parenthood Association, or IPPA and also on the board of IPPA. In this role, I work closely with young people and make recommendations to enhance  sexual reproductive health and rights for youth at the board level.

In Indonesia, 10-20% of adolescents have said they are sexually active before marriage.  Over 35% of teens have unmet need for access to modern day contraceptives.  This is causing a lot of problems including unplanned pregnancies and discrimination.  I am disappointed that youth in schools are the only ones that receive information about sexual and reproductive health and preventive services.  Considering that 60% of reproductive health problems are in adolescents that are out of school, there is a big gap in information. The taboo around adolescent and sexual health is massive!  For example people do not think it is okay to talk about sex or sexuality, and they do not think that youth should receive sex education. This topic is considered to be private and you are allowed to learn about it only when you get married.  This taboo has built an iron wall between the youth and governments and prevents us to ask for youth friendly sexual and reproductive health services.  We need to remove the paradigm of social programs in the community to reduce the taboo and change the way people look at reproductive health for adolescents.

I want you to imagine that there is someone who wants to buy something for you, but they never ask you directly.  They never know what you want because they never ask.  Our sexual reproductive health services are like this. They are decided by the governments, not the youth, even though our voices should be equal. The sexual and reproductive health needs of adolescents must be recognized as the bedrock to everything governments deliver in the future including the Sustainable Development Goals and the Global Strategy on Maternal, Newborn and Adolescent Health.

At the panel, I raised my voice. I made it clear that adolescents are not objects but should be subjects of development programmes! Support should be given to a people centred-approach by working with civil society to ensure that services are available to the most marginalized communities including adolescents like me.