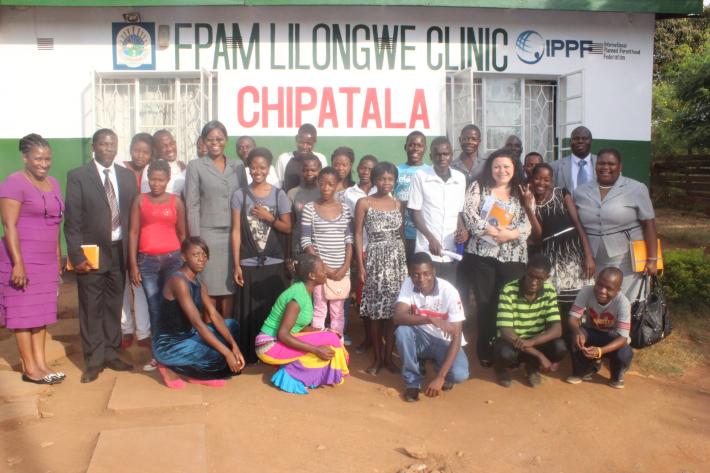 Malawi has just banned child marriage through a new law that increases the legal age of marriage from 15 to 18, representing a major victory for girls in a country that has one of the highest rates of child marriage in the world.
 IPPF's member in Malawi FPAM played a key role in changing the law. Here Thokozani Mbendera, Executive Director of the Family Planning Association of Malawi talks about their advocacy campaign to stop child marriage and FPAM's work to tackle another threat to girls - Southern Malawi's notorious sexual initiation camps.
Malawi has one of the highest rates of child marriage in the world.  More than half of girls are married off as children. For poor families the 'bride price' is an incentive to marry off their daughters early.
The consequences are appalling: ranging from high illiteracy level in most girls to increasing numbers of girls turning to prostitution when marriages fail (There's a high divorce rate for child marriages). Then there's health complications that arise when give birth before their bodies are ready, and the high fertility rate – an average of 5.7 children per woman.
I see the impact of child marriage every day in our clinics.  Early marriage has created a lot of demand for our services especially family planning. As most girls become mothers before their 18th birthday, they come to us for contraception as they struggle to cope with growing families.
Some girls have suffered complications such a fistula and cervical cancer.
The impact of early marriage goes beyond poor health, most girls are in living in dire poverty and others have resorted to prostitution, they've lost self-esteem, or the prospect of having a career. Then the whole community is affected as resources are stretched to cope with a growing population.
I'm proud to say that FPAM played a role in changing the marriage age law.
We mobilized members of the Youth Action Movement to present a petition to Parliament demanding the passing of the marriage age bill.
Then we formed an alliance with other civil society groups to lobby MPs to pass the bill and lobbied relevant government ministries and departments to bring the draft bill to parliament.
At the grass roots level, we also work with community leaders on the negative effects of child marriage. We have lobbied traditional leaders to pass bye-laws prohibiting child marriage and encouraged them to hold their members of parliament accountable for passing the marriage bill.
But it doesn't stop there.
Although Malawi has free primary education but some families choose early marriage over educating their daughters. FPAM are now advocating for compulsory primary education. This will ensure that parents are forced to send their daughters to school.
FPAM works with teen mothers in most of the communities we serve. Some are our volunteers and work as Community Based Distributors and peer educators.
Some are champions in our advocacy work - they tell their communities about the challenges they faced in early marriage.
Sexual initiation camps are another concern for us. (This involves the traditional practice of kusasa fumbi or sexual cleansing which is common in southern Malawi. This practice forces young girls to have sex with an older man to prepare them for adulthood. This man – known as 'the hyena' - is paid by the community to have sex with girls as young as nine, exposing them to unwanted pregnancy and HIV infection.)
Most communities in Malawi teach sexuality education through these camps as children are about to reach puberty.  They are meant to prepare girls and boys for adulthood, but in reality they are places where girls are sexually initiated by older men.
The law is very silent on initiation camps. So we at FPAM are introducing something called hybrid sexuality education – this is where we co-opt the traditional sexuality teachers to become FPAM volunteers and teach modern sexuality education in the initiation camps. This has helped to reduce some of the bad practices we saw in traditional sexuality education.
It's good to know our advocacy work is having an impact. One of our YAM members, Agatha, said: 'This is the rebirth of Malawi. A girl will have a chance to attain some education and be a reliable citizen not a child factory.'
This change in our law is a start, but I'd like to send a message to world leaders: Child marriage is modern slavery for girls - all world leaders should join forces in eradicating it.