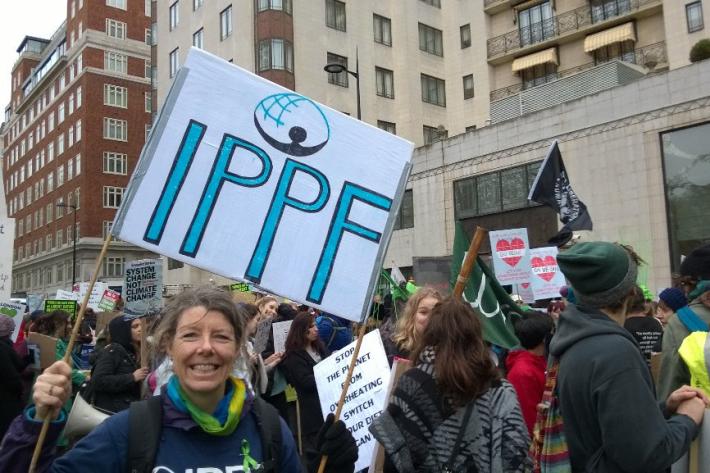 Over the next 10 days world leaders are negotiating a climate change deal in Paris at the 21st annual Conference of the Parties, known as COP 21.
Civil society organisations, including the International Planned Parenthood Federation and other members of the Population and Sustainable Development Alliance (PSDA), are at the climate conference to call for sexual and reproductive health services, like family planning, to be included in plans for climate adaptation and climate resilient development.
Alliance members are active all over the world including in Ethiopia, Uganda, Kenya, the Philippines, the Asia-Pacific Region, Denmark, Sweden, and the UK. Evidence from projects run by alliance members demonstrates that population dynamics – at the individual family as well as local community, national and regional level – are of crucial importance for sustainable development, and that resilience to climate change can be supported by provision of sexual and reproductive health and rights.
#PSDAatCOP21 inside Paris climate conference. People from all over world. Slogan here: We must, we can, we will! pic.twitter.com/FFmwrSkQrv

— Alison Marshall (@AlisonMIPPF) December 1, 2015
IPPF's senior adviser for advocacy, Alison Marshall, is at the talks and gives us an insiders' perspective.
"There are thousands of people here at the conference site on the outskirts of Paris: national leaders with their advisers, government delegations of negotiators, lots of media and bloggers, academics and researchers, as well as civil society representatives from just about everywhere! On the way in I talked to a diplomat from the Gambia and a journalist from Mali. The first event I attended brought together government and civil society speakers from Brazil, Indonesia and DR Congo. At the alliance side-event which I chaired this afternoon our panellists fielded questions from Dominican Republic, Bangladesh, the Philippines, Kenya, and the UK. Everyone has a different angle on our shared challenge of preventing catastrophic climate change.
#PSDAatCOP21 successful event on sexual reproductive health rights as key to building climate resilient communities pic.twitter.com/Bbfo7nfB0n

— Alison Marshall (@AlisonMIPPF) December 1, 2015
IPPF continues to call for gender equality and women's empowerment to be prioritised in the planning and funding of sustainable development. We know that providing women and families with the means to prevent unwanted pregnancies can improve the socio-economic status of women, reduce the strain on the environment, and improve natural resource conservation. So we want to see governments including sexual and reproductive health and rights in their National Adaptation Programmes of Action and other climate change adaptation programmes. Meanwhile, high income countries must recognise that the most vulnerable people have contributed the least to climate change and address unsustainable consumption.
If ever a sustainable development issue demanded concerted international action based on globally fair solutions, this is it! So as our alliance panellist from Ethiopia said, we need to ensure that the government decision-makers here listen to what science is demonstrating and what justice is demanding."