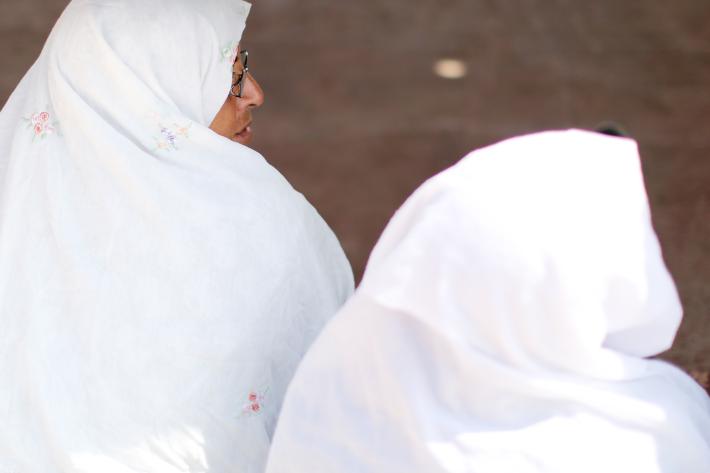 In late July 2010, a woman brought her 10-year-old daughter, Sakina, into an emergency outreach clinic in Muzaffargarh, South Punjab. Floods had inundated that part of Pakistan and our Member Association - the Family Planning Association of Pakistan (Rahnuma-FPAP) - had deployed using boats and vans.
The girl had fallen, the mother said. But the examination that followed told a very different story. Bleeding from her genitals indicated she had been sexually assaulted but the mother, terrified of the social stigma that might follow the girl for the rest of her life, was initially unwilling to confide in our clinic staff.
Eventually confidence was established and the real explanation emerged and Sakina immediately received treatment to prevent sexually transmitted infections, HIV and pregnancy, all of which are part of the Minimum Initial Service Package (MISP) services that we deploy into emergency situations where a humanitarian response is required.
Rahmuna-FPAP psychologists trained in sexual and gender-based violence provided counselling and support for Sakina.
It is estimated that tens of thousands of women and girls are subjected to sexual assault in conflict situations each year around the world.
Because where order breaks down women and girls often pay a  heavy price – violence, sexual exploitation are just some of the dangers – and they're tragically commonplace in the wake of disaster or conflict.
IPPF has a history of providing emergency reproductive health care for many of the survivors.
Our Member Associations are grassroots organisations run by and for communities - which means they are already on the ground when disaster strikes. We were - and still are – involved in crises around the world from  Haiti to Palestine and Liberia to Syria.
It's our close involvement with communities that means we have a personal connection which is why, in the end, Sakina's mother was eventually prepared to confide the truth of what had happened to her daughter.
It's because of our track record that we are hosting a debate on 'Ending Sexual Violence in Conflict, Securing SRHR and delivering Gender Equality' at the Global Summit to End Sexual Violence in Conflict in London on Wednesday 11 June which is being co-chaired by actor Angelina Jolie and UK Foreign Secretary William Hague.
Co-hosted by the Swedish Government and the Swedish International Development Cooperation Agency (Sida), our panel includes a survivor, the Executive Director of the UN Population Fund Babatunde Osotimehin, Sida's Senior Gender Equality Policy Specialist Sofia Dohmen and IPPF President Naomi Seboni.
There are many reasons why women are at particular risk of sexual violence.
If men are responsible for distributing goods and necessities, women may be subject to sexual exploitation.
Then there are the practical constraints that put women and girls at risk. Women may have to travel to remote distribution points for food, water and fuel; their living quarters may be far from latrines and washing facilities; their sleeping quarters may be unlocked and unprotected.
Fear of violence is, of course, not the only issue women and girls have to face in conflict and humanitarian disasters. Problems related to sexual and reproductive health are the leading cause of death and ill health globally for women of childbearing age. In wartime this vulnerability increases exponentially, as access to services decrease.
Women might have to give birth alone; if they make it to a clinic they might be miles from the nearest blood bank. When pregnant women are displaced and living in camps the need is even more acute. Family planning provided through mobile clinics, like IPPF's, remains a cost effective way of reducing pregnancy-related deaths, for people who already suffered too many other tragedies.
Despite this, sexual and reproductive health services in conflict settings are often overlooked and remain under resourced. 
There is no single solution to tackling sexual violence in conflict. What is undeniable is that survivors must have their voices heard and a survivor-centred approach should be integrated into peace and security efforts.
Properly resourcing the MISP is certainly part of the answer, but, in the longer term, the recognition of women's right to equality – and not just access to services - is vitally important.
This year governments are discussing the future of development goals – sexual violence in conflict will be part of these global discussions.  Tackling the inequality which makes women and girls vulnerable must also be at its heart.