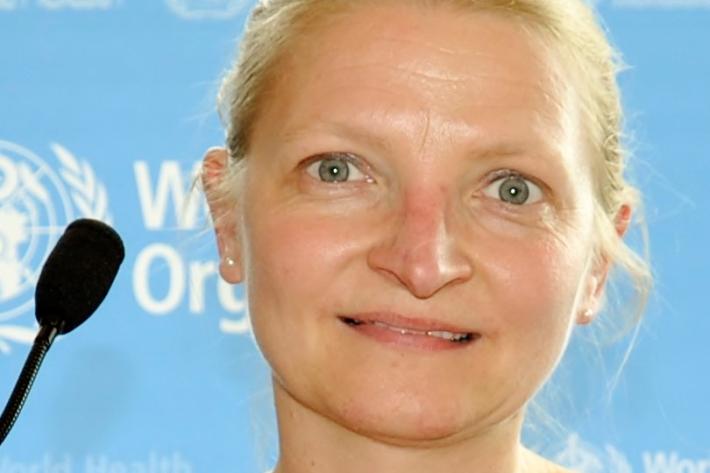 Advocate Barbara Dockalova, from the Joining Voices Project, attended the Global Citizens Hearing that took place at the 68th World Health Assembly. Citizens shared their recommendations with the global community. Their input will influence the Maternal, Newborn, Child and Adolescent strategy currently being developed. Here she describes the event.
"Meeting Ban Ki-moon was a historic moment for me" says Faridah Luyiga from White Ribbon Alliance Uganda. 'I am just a citizen of Uganda not a politician and I met a global leader! I was quite nervous and excited at the same time. I thanked him for his leadership and told him about the national hearings in Uganda and how they broke down the barriers between the health workers, citizens and officials."
Faridah was one of a few people who spoke to Ban Ki-moon this month about the national citizens hearings which took place across 30 countries with the aim of ensuring that governments are accountable to citizens when it comes to maternal, newborn, child and adolescent health. The citizen hearings engaged people from all walks of life and they will inform the new Global Strategy on Maternal, Newborn, Child and Adolescent Health that will be developed this year. 
Faridah is an experienced grassroots advocate. In her home country Uganda, she is part of ACT NOW to Save Mothers, a coalition campaign that is calling on government to prioritize emergency obstetric and newborn care in Uganda in order to reduce maternal and newborn deaths.  She works with communities to empower them to know their rights and obligations so they can speak to Parliamentarians about the quality of care for women and children.  Faridah is very proud of their campaign which resulted in thousands of citizens signing a petition which the Parliamentarians presented in a meeting. As a result, the Speaker sent a health committee to investigate a facility that had no doctors, no blood supply and no medicines.  This lead to several improvements in the facility.
I met many others like Faridah at the Global Citizens Hearing that took place at the 68th World Health Assembly, where citizens shared with the global community recommendations from the national citizens hearings.  In his opening speech, Richard Horton from The Lancet said that this is a 'historic moment' that will influence the accountability mechanisms of the Maternal, Newborn, Child and Adolescent strategy that is currently being developed.  One youth advocate, Ibil Surya from Indonesia explained how important it is to ask citizens about their needs: "Imagine that there is someone who wants to buy me a shirt, but they never ask me directly about it. So they never know what I want and what I need."  
Citizens from Tanzania and Indonesia made the same point - governments are delivering health systems without asking citizens what they need. 
There were concerns about reproductive health and the need to expand access to voluntary family planning information, services and supplies for youth and women in rural settings.  In today's society where human rights and women's empowerment are at the top of the development agenda, it is disturbing to see that over 260 million women and girls still have unmet family planning needs.
Such challenges can be resolved when governments listen to their citizens.  The Global Citizens Hearings started a global movement that gives people a voice.   We are at a tipping point in history. Governments will have to be more accountable and lay out a new foundation that has to include participation of citizens in plans and strategies.  There is new hope for people like Faridah and Ibil and I was proud to witness the beginning of it.
Citizen participation in monitoring and tracking health system really works. Many citizens are passionate advocates through direct experience. This is the moment when people across the world say enough is enough! People have spoken, they have made a case for change- now it is important to make that change a reality.