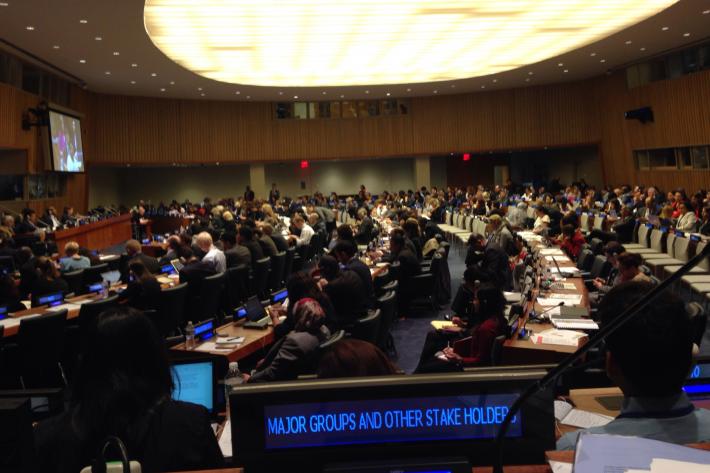 Katie Lau, International Planned Parenthood Federation's, Project Assistant, ICPD, Advocacy writes from the Inter- Governmental meetings in New York this week.
Civil society gathered in the United Nations this week for the fifth post-2015 inter-governmental negotiations. Since January 2015 there have been monthly sessions to discuss the 'post-2015 development framework'. I am here this week with the International Planned Parenthood Federation, Youth Leadership Working Group and our partners. 
Post-2015; or the Sustainable Development Goals (SDGs), is the new framework that will replace the Millennium Development Goals (MDGs). Its aspirations are to complete the unfinished agenda of the MDGs and to eradicate extreme poverty. The post-2015 process began over two years ago, but has been streamlined since the beginning of the year.
Each month there are different topics for Member States to discuss. This week, Member States are discussing the 'Follow-up and Review of the post-2015 development framework.' Put into words we all understand, this is how Member States and other members of the global community can ensure we put words into action. To achieve sustainable development through the post-2015 framework we must ensure the goals are implemented, and to ensure they are implemented we must be able to monitor and review progress towards post-2015 goals, otherwise the last two years of efforts and time would be wasted.
The first two days have been characterized by Member States delivering statements and providing preliminary impressions on the 'Follow-up and Review', This includes topics such as Financing, national ownership, technology, national, regional and global accountability mechanisms. Positively, common themes have been raised from the statements; these include universality, nationally-owned agendas, exchanging experience of best practice, a multi-stakeholder approach that is inclusive and transparent. Much has also been discussed about the role envisioned for the High-Level Political Forum as the global body for the follow-up and review. Many details still need to be ironed out, but this is a positive step. The mood in the United Nations is cautiously positive.
So much time and energy has been put into this, the actions of the next few months have the potential to be the most important task of the United Nations; ensuring a just and equal world by eradicating poverty and ensuring sustainable development. This can have a huge impact on the lives of many people, that's 1 in 9 people who do not have enough to eat and more than a billion people still live on less than $1.25-a-day.
In terms of sexual and reproductive health and rights, poor sexual and reproductive health outcomes represent one-third of the total global burden of disease for women between the ages of 15 and 44 years, with unsafe sex a major risk factor for death and disability among women and girls in low- and middle-income countries. Reproductive disabilities and ill health are experienced more by women and girls and negatively affect their survival, health and well-being. The sexual and reproductive health of women and girls is important but also affects other aspects of their lives, such as their ability to stay in school and to live free from violence.
We look forward to continuing our engagement with the remaining sessions in June and July, where it is expected that governments will begin the 'real' negotiations to determine the new framework. This negotiation will be based on a 'zero draft' which summarises the discussions, points of consensus and ideas from the last five months.