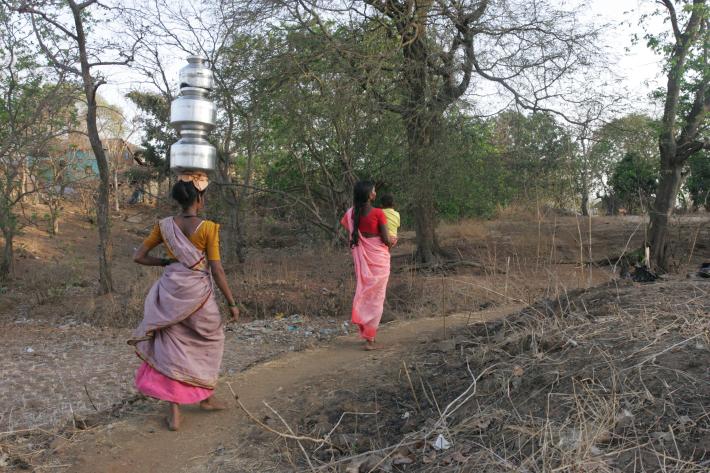 India has a strong government programme to eliminate the transmission of HIV from mother to child (eMTCT). This includes free antiretroviral (ART) drugs for pregnant mothers living with HIV, financial support to build houses for people living with HIV and also educational support for children of people living with HIV.
IPPF's Sakunthala Mapa visited a project in Bangalore, sponsored by the IPPF Japan Trust Fund project and implemented by Family Planning Association of India. Complementing the government's work the project strengthens links with the community so that women of reproductive age know their HIV status, and that pregnant women living with HIV receive nutritional and psychosocial support, and know how to avoid unintended pregnancies. 
We drove for about an hour from central Bangalore to meet Sunita and her six month old baby Rahul who are being supported by peer mothers as part of a two year project implemented by the Family Planning Association of India (FPAI). Opening the door, we were greeted by a smiling Sunita and her sister in law.  Rahul was playing with his cousin who was born a week before him. Both first time mothers were excited to talk about their experiences… after making sure there no neighbours nearby and closing the door behind us.
Sunita married Narinda after his first wife suddenly passed away. She moved to Bangalore to live with his family and two step children. Two months into her pregnancy, she went to the nearby primary health care (PHC) for her first antenatal care (ANC) visit with her sister in law who was also expecting. This is where the two women found out that their pregnancies would be very different… Sunita and her husband had tested HIV positive. 'My husband didn't believe this result and we got ourselves re-tested many times, but the result was the same.  Sunita followed the doctors' recommendations and has been on treatment since her diagnosis.
 "I met the peer mothers during my antenatal visit and since then they have been my guardian angels," said Sunita. She has received counselling from 'peer mothers' on family planning, breastfeeding, ART and nutrition that will help her adjust her lifestyle to live healthily with HIV. "My sister in law knows about my HIV status, but noone else from our extended family or neighbourhood  knows". 
For FPAI, this has been their first project focused on eMTCT and they hope to share the lessons learnt with other branches in India as well as to the rest of IPPF.  We visited some of the project sites in Bangalore to find out about the services they offer.
The FPAI's bi-monthly health fairs are very popular, and the doctors find the number of women coming to access antenatal and postnatal services increase on these days. Sunita adds that the most valued services of the project is the nutrition support, and the one-to-one psychosocial provided by the peer support mothers, who themselves are women living with HIV and caring for children.
So what about Rahul, is he part of the HIV-free generation? Sadly, Sunita didn't know as they haven't been able to test the baby for HIV due to lack of test kits in Bangalore.  Frequent stock-outs of supplies and commodities remain one of the main problems affecting many HIV positive mothers. HIV test kits for infants haven't been available at the government centres during the last six months. Not knowing the HIV status of the new born babies delays treatment (according to new WHO guidelines, if infants diagnosed with HIV receive treatment within 12 weeks it reduced mortality rates by 75%).
Some poor and vulnerable people living with HIV are unable to access free ART services and other government benefits due to not having state identity cards. While the government has a good eMTCT programme, poor and vulnerable people need a 'below poverty line' identity card to be able to access the services free or at a reduced costs.
All but one of the beneficiaries we spoke to found out their HIV status during pregnancy. In some cases, they have been able to disclose their status to their male partners, but in others it's not possible, as they fear violence or even divorce. In some instances, the partners were in denial about their HIV status and others have left their wives. We know that this is mainly due to HIV-related stigma and FPAI have been working to address this.  
We left baby Rahul hoping that he will have as healthier start in life as his cousin, despite the different journeys their mothers experienced during their pregnancies.