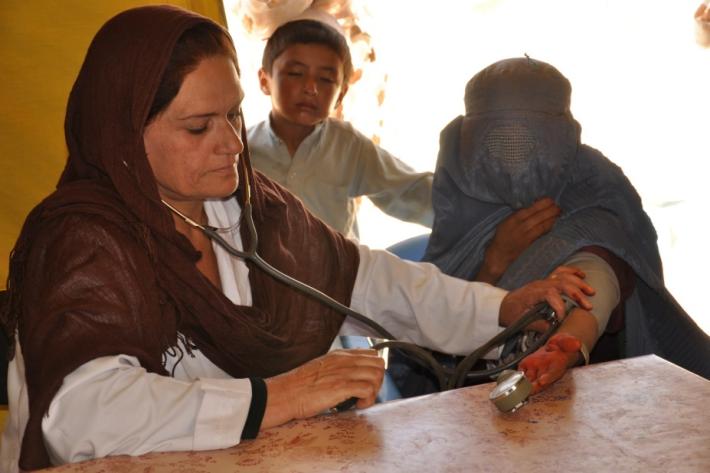 You're pregnant, living at home, expecting to give birth in a few weeks' time with the assistance of staff at your local clinic.
But then disaster strikes. It could be a typhoon, or a tsunami. Perhaps it's the arrival in your area of armed groups who threaten your safety and that of your family.
You flee and then find yourself in a makeshift camp where nothing is certain anymore.
Bad enough you've left everything you own behind. Bad enough you no longer feel safe - you can't lock a tent door.
But you're relying on people who you don't know for food – and people you may not trust for security
And how will you give birth?
World Humanitarian Day – 19 August - is an opportunity for us all to focus on issues like this. They are challenges our team at SPRINT – part of the International Planned Parenthood Federation (IPPF) - encounter when we deploy into humanitarian crises. We were founded to ensure access to essential Sexual and Reproductive Health and Rights (SRHR) services for women, men and children in times of crisis.
Because you often think, when you hear of populations dislodged, of the immediate challenges of food and shelter. But what about contraception and neo-natal services? What about the dangers of sexual violence that women and girls in particular face?
SPRINT saves lives by delivering the MISP (Minimum Initial Service Package) which is a set of life-saving equipment and medicines intended for deployment at the onset of a humanitarian crisis. MISP includes things like a delivery kit, emergency contraception, sanitary products and anti-retroviral drugs.
This intended to:
Prevent and manage the consequences of sexual violence
Reduce HIV transmission
Prevent excess maternal and newborn morbidity
During the Temotu tsunami in 2013, Ben Angoa, from the Solomon Island Planned Parenthood Association (SIPPA) was tasked with leading the MISP response: "We arrived in Temotu from Honiara 16 days after the tsunami struck. Even from the plane I could see the villages that had been affected by the tsunami. The first time I saw it I felt so sorry for them - I put myself in their shoes and thought what should I do?
 "We were there to focus on Sexual and Reproductive Health (SRH) but on the ground a lot of people came to us with other health issues and of course we helped people as much as we could but we gradually shifted the focus on to SRH and gender-based violence."
They set up mobile clinics first in Venga and then in Nemba. They spoke about family planning (FP), distributed clean delivery kits and dignity kits. Angoa added: "I have really learned a lot from this experience I had never even thought about SRH in crisis before. It is my first time doing this sort of work. I see now that FP is not just for a normal situation, it is also for crisis."
When Typhoon Haiyan hit, Juday, who lives in Catbalogan, just 2 hours and 30 minutes away from Tacoloban, was fortunate - her home was spared. She lives there with her husband and 13-year-old son and 11-year-old daughter. After Haiyan – which is known in the Philippines as Typhoon Yolanda, she felt so moved by the impact on the people of Tacloban that she wanted to get involved in the humanitarian response.
She volunteered with IPPF Member Association Family Planning Organization of the Philippines (FPOP).
FPOP has implemented various MISP responses in the past including Typhoon Washi (Sendong) and Typhoon Bopha (Pablo) and in response internal strife between the Moro National Liberation Front and the government in Zamboanga.
And Juday felt that her previous work with logistics for a private company was applicable now in this humanitarian crisis.
"To start with my husband was unhappy when I was arriving home late. My children used to ask me "why are you away all the time? I then started sharing my day's experience with them and they felt pride in what I'd been doing."
As part of today's World Humanitarian Day, celebrated on every 19th August, SPRINT also pays tribute to our humanitarian heroes in Pakistan and Afghanistan.
The Thar Desert of the Province of Sindh, Pakistan was under a severe drought in April this year since last November affecting several towns and their populations. The resultant crop failure had further triggered a severe shortage of food fodder and water which had taken a huge toll on the population's health, particularly children and infants. Almost 250,000 families had been affected by the drought according to the Sindh Provincial Authorities while the number of reported deaths was 44 women and 123 children due to the combination of chronic malnutrition and lack of access to effective health facilities in the Tharparkar district.
International Planned Parenthood Federation (IPPF) had been responding to this humanitarian crisis through SPRINT. SPRINT had made available USD 13,800 to support works of IPPF's Member Association Rahnuma-Family Planning Association of Pakistan (FPAP) to help them reach the communities located in camps within the Thar Desert region with lifesaving services currently to a target group of 30,000 women and children.
50 mobile camps were set up by Rahnuma-FPAP in the Sindh Zone to improve community nutrition especially for mothers and children, to deliver critical antenatal services including preventive treatment such as prescribing Vitamin A and iron foliate to prevent micronutrient deficiencies, providing immunization and prevention of communicable diseases as well as fulfilling family planning needs. The services also included medical and psychosocial support for survivors of sexual and gender based violence.
"In District Awaran, Balochistan, I worked for this camp where mostly women and children came for treatment, seeing them in such poor conditions completely changed my perception of disaster and made me see how badly they needed a doctor and emergency medical help. I am happy that my little help has contributed to their lives to such an extent," shared Dr Muhammad Aslam, a doctor with SPRINT who worked at the Awaran district mobile clinic.
"In my view, working for the people affected by the disaster of District Awaran gave me great satisfaction, especially for the children and pregnant women, as I am the only Doctor available in District Awaran and it is a great experience for me" said Dr Rahat Jabeen, the only female doctor who was working in Awaran district camp clinic.
"I started working as GBV Female Counselor under UNFPA Project together with SPRINT. And eventually I found that my services had been really useful for the community, especially for women and young girls. Often women do not talk about cases of sexual and gender based violence, and there is a lot of stigma attached to that which makes my work very tough and challenging. But dedication, patience and respect is key to my job and I'm passionate to it, that's why I feel I had been close to the community in overcoming their problems with my services" Najma, a GBV counsellor at Awaran.
Then in May earlier this year a major landslide struck the Nowabad area of Abi- Barek village, Argo district of Badakhshan in north-eastern Afghanistan, after a series of rainfall, causing significant loss of life and widespread damage to homes and agriculture. 

According to a report by the Provincial Government, an estimated 1,000 families had been affected and some 300 houses were destroyed. Local officials had reported more than 350 deaths and it is also feared that 2,700 people had been buried as a result of the landslide.
SPRINT mobilized a response to assist the relief efforts for survivors by providing USD 37,498 to support the work of IPPF's Member Association, the Afghanistan Family Guidance Association (AFGA), to reach the communities located in camps within the Argo district of Badakhshan province in Afghanistan.

Through this response, SPRINT reached out to the affected communities of 9,000 people including 4,500 females and 1,800 children and provided provide lifesaving sexual and reproductive services through its medical health clinic. 

The aim was to improve access to antenatal and postnatal care for pregnant and lactating women, and also to provide clean and safe delivery, medical care for newborn children, women and young men of a reproductive age group. The clinics also provided services to prevent communicable diseases and meet the family planning needs of the community. 

SPRINT also offered medical services and psychosocial support to the survivors of sexual and gender based violence. In addition, basic healthcare for common ailments was also provided.
As part of today's World Humanitarian Day celebrated on every 19th August, SPRINT pay tributes to our humanitarian heroes in Afghanistan.
In May earlier this year a major landslide struck the Nowabad area of Abi- Barek village, Argo district of Badakhshan in north-eastern Afghanistan after a series of rainfall, causing significant loss of life and widespread damage to homes and agriculture. 
The following are SPRINT field stories from Afghanistan:
Zia Gul, a midwife working in SPRINT at the mobile clinic in Argo, Badakshsan, talks about their experience.
"Providing services to affected communities not only gave me a strong sense of satisfaction but also gave me motivation to work better for those whose lives have been completely destroyed by the disaster, especially women and children. In Argo district of Badakhshan, Afghanistan, I have been working for this camp with IPPF/AFGA (SPRINT Initiative) which has been really challenging but has certainly made me a strong individual as I draw strength and courage to do something meaningful to help in this crisis".
"I guess it's the day to day challenge of the job which excites and motivates me to work better for the community. I have seen the worst and now when mothers come with their newborns and children and tell me that our medical help is working, they are feeling much better, I feel great. I can certainly see a change in the attitude of the local people and their concern for personal hygiene," according to Maliha, another female nurse who works with SPRINT at the Argo mobile clinic.
"The landslide and this devastation completely shook us. But we decided to do something meaningful with what we saw and what we experienced. Hence, we started working as community promoters for the IPPF/AFGA (SPRINT Initiative) Health Camp. It is a very challenging job to persuade the community, especially women, to seek health services and refer them to our health camp."
"But our constant efforts have shown positive results and we feel great, and because of group meetings the women here have become aware of their sexual and reproductive health rights and seek medical assistance through our camp," stated Mukarma and Suraya who also worked as health promoters in Argo mobile clinic.
"We work in extremely difficult situations and face a lot of challenges everyday (curfew, insecure environment, lack of basic commodities) but when I look at the community, their sufferings, I feel there is a lot that I can do for them like improving their awareness on family planning and other sexual and reproductive health issues. And if somewhere I can make a difference in the lives of these people, I am successful," enthused Karima, another health worker at the clinic.
World Humanitarian Day was launched to mark the anniversary of the 2003 bombing of the United Nations headquarters in Baghdad, Iraq which claimed 22 lives. This year the international community will pause to remember those who died, as well as the dozens of aid workers who have died in the years since.
SPRINT has involved more than 4,000 humanitarian workers across more than 80 countries and has successfully worked with more than 20 governments to integrate SRH into their health and emergency responses. So on this important anniversary we praise the volunteers and the humanitarian workers who give so much when things go wrong.