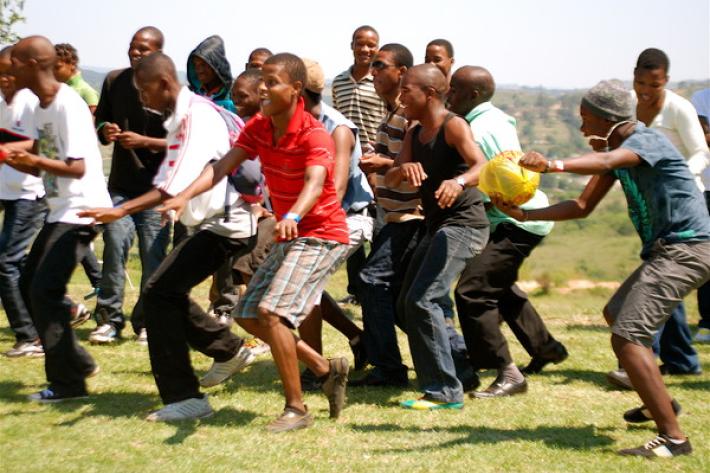 Intern, Kristiana Bruneau, decided to do something different for her 30th - she created a fund for the young people of Swaziland. Here she explains why.
I donated my 30th birthday to fundraise for youth sexual and reproductive health and rights. Why? Well, because I think it is important.

I currently live in Vancouver, Canada, but up to August 2013 I lived for two years in Manzini, Swaziland. I was working on a Canadian International Development Agency internship with Crossroads International and their partner in Swaziland, The Family Life Association of Swaziland (FLAS). 

Originally I wasn't going to do anything for my birthday.  I didn't want to make 30 mean anything more than it does. I think as a society we too readily put arbitrary definitions and meanings on ourselves that don't really do us any good.
About a month before my birthday, I had a slight change of opinion.  I was at work and one of our clients created a fund in honour of her 90th Birthday. On the invite card for the party it asked for no gifts; rather a donation to the fund she created to benefit the people in her community. 
I thought, "If 30 is going to mean something anyway why not use it to do something meaningful?"  
I too created a fund. I asked, in lieu of presents, that a donation be made instead to youth sexual and reproductive health and rights in Swaziland.
The Family Life Association of Swaziland (FLAS) is a member association of the International Planned Parenthood Federation's Africa Regional Office. It is one of the key providers of rights-based youth-focused sexual and reproductive health and rights (SRH&R) in the Kingdom of Swaziland. The work they do everyday is immeasurable. The need for it is unquestionable.

The SRH&R situation in this small country is not amazing. Cultural and social norms are barriers to access to comprehensive sexuality education; sexual and reproductive health services, testing and treatment; family planning, and SRH commodities  such as contraceptives and condoms.

Half of the female population of Swaziland will have had their first child before reaching twenty years old and a majority of those pregnancies are unplanned. This is a contributing factor to the number of young women that seek unsafe 'backstreet' abortions - the leading cause of maternal mortality in the country. Not to mention that unplanned and early pregnancy increases the risk of socioeconomic inequity, gender based violence, and susceptibility to other sexually transmitted illnesses.
Then there is still the HIV infection rate. Swaziland has the highest rate in the world and young women 20-24 years old are three times more likely to be infected than their male peers of the same age group because condom use is low while myth and misinformation is high.
But FLAS and its partners are there providing services, programs and information to young people throughout the country, from the static clinics to the outreach sites, from the youth centers to the 40+ schools.

Daily, they are testing and pushing for innovative ways to get that message across to young people. Messages that find that tipping point between a concept and a motivation; between just words and the realization that a young individual CAN choose something better for themselves, CAN have their potential realized, and that they not only have the right to WANT this but to DEMAND it.

FLAS and partners are working alongside numerous custodians of youth and health providers to advocate for an improved SRH&R environment from the community to parliament. With schools, community leaders, civil society organizations, and regional partners, FLAS is lobbying government to make comprehensive sexuality education in schools accessible, standard, and perhaps one day, even mandatory.

But more importantly perhaps, FLAS is developing young leaders. Young people are involved in the process of designing their own health interventions. They are emboldened with the task of relaying those messages to their peers and their communities, and as a result, they are becoming the architects of youth SRH&R in Swaziland.
But why did I fund young people's sexual health and rights?
I began my work at FLAS believing, "I am going to achieve this and impact this many people with these set outcomes." We are given tools of monitoring and evaluating, and while these tools are integral to reporting, transparency, and efficacy of any one campaign or intervention – we often lose ourselves in the numbers or forget about the individuals behind the diseases or social issues.

Looking back it was never about the numbers, it was about the relationships formed and fostered. Relationships with friends, co-workers, colleagues, civil society partners; with the youth we work with or the communities we visit. These are relationships built on common goals and shared desired outcomes.

The youth I worked with and along side became the source of my motivation. They became friends and inspiration. I grew up with them. Their goals were my goals. My outcomes were the futures that they envisioned for themselves.
That's why I donated my birthday to their cause? Because it is one of the fundamental elements of an individual's life: how we live our lives and where our lives take us -no matter who we are or where we are from. And with that said, if I am going to give meaning to one of life's milestones, I am not sure there is a more suitable cause than that.
Help Me Advance #youth #SRH & Rights with #FLAS in #Swaziland. Support and retweet. http://t.co/jMcvffW4gC #YSRH @rosalynpen @mandyvandeven

— Kristiana Bruneau (@GumptionAndCo) March 2, 2014