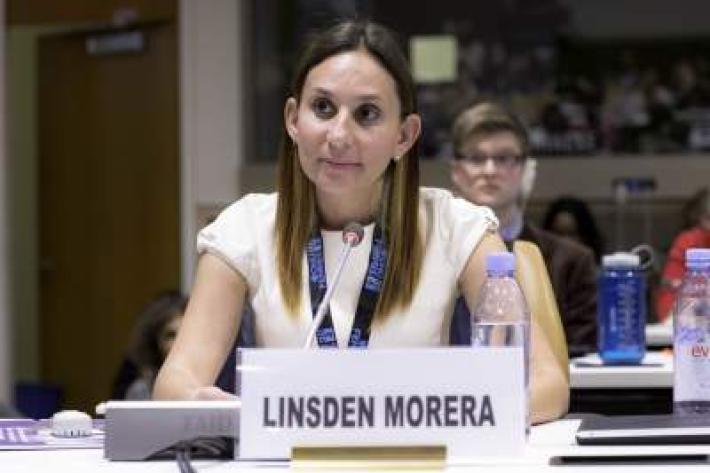 Lindsen Morera, works for a Member Association of IPPF called the Asociación Demográfica Costarricense (Costa Rican Demographic Association- ADC). She spoke at a high-level IPPF panel event, "SRHR - the key to gender equality and women's empowerment", at the 59th session of the Commission on the Status of Women (CSW).  
Lindsen's attendance was made possible through the support of a grant from the David and Lucile Packard Foundation to IPPF. She writes of her experience speaking at CSW.
Participating in the CSW panel at the launch of the Vision 2020 report was an experience that vindicated my sexual and reproductive rights, and the protection of people who suffer from being unable to access them in different countries.
To feel that such important people valued my voice was an experience I had waited for since I was a university student studying gender. It is vitally important to allow young people to voice our opinions and be part of the discussion in order to express our needs.
It took me a great deal of strength to recount situations that, at one time in my life, were truly difficult to deal with, but I knew that if I didn't talk about them, nothing would change for other women who are experiencing or will experience a similar situation.
Young women and men need spaces and training for political activism to be empowered and to change our lives and realities.
Today, I'm no longer the young woman who was scared about her pregnancy, thanks to the support and education I received from many people in my family, at university, and at work.
But I know that many women will not have the same good fortune I did, and I wanted to raise my voice at CSW on behalf of other young women who only need one thing: an opportunity to achieve their goals.
I'm happy to be part of ADC, and for IPPF's support for my country and me!
Lindsen's speech at CSW
At the age of 23, I found out that I was going to be a mother, a situation that I hadn't planned to undertake in the middle of my university studies. From that moment on, the topic of sexual and reproductive rights became one of great personal and professional necessity. For I discovered that there weren't many options in this area, but there was a great deal of injustice and blame placed upon women, who experience the direct consequences of the lack of action on sexual and reproductive health in our countries.
However, I am convinced that this is not only a subject for women; men are also involved. We all have a part in the matters of rights.
For the past six years, I have been working with women, youth and adolescents, and mothers and fathers, talking about the conditions that have generated fear, lack of answers, and powerlessness on the topic of sexuality in their lives.
I have to tell you that many of the pregnancies I have seen in young people have, are to do with the lack of opportunities to choose life plans that differ from the demands of traditional gender roles. Sometimes you only have two paths, pink or blue, and this determines the rest of your life. This is in addition to other factors such as poverty, the lack of sexual education in families and by the government, and limited access to contraceptive technologies such as emergency contraception and to safe abortion services. All of this represents a serious combination for a country's development, since it brings about high economic and human costs.
My role at ADC is to work with these populations using fun techniques in workshops, talks, and health fairs to prevent situations that can place health at risk, and to assess people's goals. In doing so, I have seen how solitary efforts, while important, are not enough to change this reality.
For this reason we should support collaborative work by institutions, the government, and the people, so that this group effort can resolve ongoing issues such as women not being able to access safe abortion in restrictive social and legal settings.
I have seen the case of unsafe abortion on various occasions, and it is something which can jeopardize the lives of women, due to restrictive government regulation and inadequate provision of safe abortion services in our countries' health systems.
It is important to highlight that Central America has the country with the most prohibitions against abortion, El Salvador. There, 16 women are currently in jail unjustly due to obstetric complications.
Meanwhile, in Costa Rica, protocols that guarantee women access to safe abortion must be implemented to fulfil and guarantee human rights. There is a social stigma that blames and criminalizes women, and not the governments, where basic human rights are not being met.
This is the taboo topic that we all know about and on which we act little. Safe abortion is an urgent necessity in sexual and reproductive health.
The conditions in which abortion is practiced must be changed to have sensitive and well-trained personnel, and for it to be accessible to all sectors of the population, since any person from any socio-economic level may need it if they haven't already.
The debate on abortion and sexual education cannot be postponed anymore; it is time for clarity and concrete actions.
The direction of millions of women's lives, of millions of people's lives, is at stake, so I ask you to take a minute of your time to consider these topics—but, above all, to take action with your governments in this regard, and transform these realities.