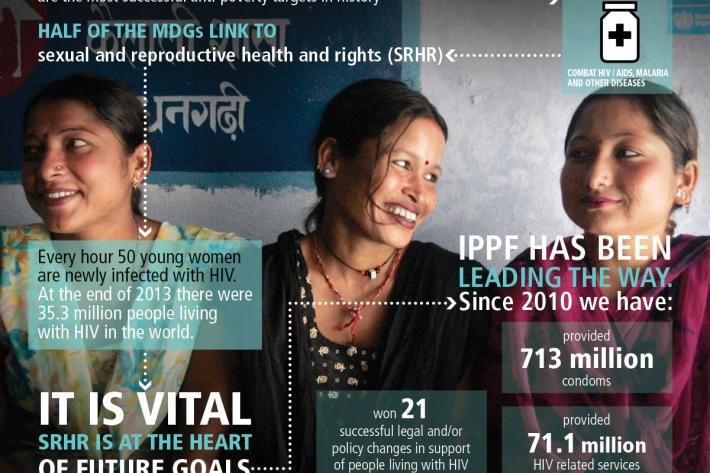 An article published in the special supplement of the BJOG on Multipurpose Prevention Technologies (MPTs) argues that the integration of sexual and reproductive health (SRH) and HIV programmes are vital in order to maximise the technological advances in the field, particularly around multipurpose prevention technologies.
SRH and HIV services are intimately linked. HIV is primarily sexually transmitted or associated with pregnancy, childbirth and breastfeeding and sexually transmitted infections can increase the risk of HIV acquisition and transmission. In addition, sexual and reproductive ill-health and HIV share root causes, including poverty, gender inequality and social marginalisation of the most vulnerable populations. Therefore, improving the integration of SRH and HIV programmes can better meet the complex and diverse SRH and HIV needs of women.
There is currently a focus on developing new MPTs in order to address some of the SRH needs of women worldwide, in particular preventing sexually transmitted infections (STI), including HIV, and unintended pregnancies. Although the only currently approved MPTs are male and female condoms, other approaches are being explored such as products that combine multiple biomedical interventions using existing technologies such as intravaginal rings. One intravaginal ring could then potentially protect against unintended pregnancy and HIV transmission. Clinical development of these new MPTs is currently underway but the question remains: what will be the delivery mechanism for these products so they can reach those who need them most?
To answer this question the article draws lessons from some of the latest research around how SRH and HIV services are integrated at present. For example:
The Rapid Assessment Tool for SRH and HIV Linkages was developed by IPPF, WHO, UNFPA, UNAIDS, GNP+, ICW and Young Positives, to assess bi-directional linkages at the policy, systems and service delivery levels and by the end of 2013 had been conducted in 49 countries. Consolidated findings show that whilst SRH and HIV services are being integrated, there is still a strong need for better coordination between programmes, improved health provider training and strengthening logistics and supplies systems.
The Integra Initiative – implemented by IPPF, LSHTM and Population Council – found that integrating HIV services such as counselling and testing into family planning and postnatal care services successfully reduced the unmet need for HIV counselling. Stronger integration was also associated with increased consistent condom use.
The Joint UNFPA/UNAIDS regional project on linking SRH and HIV in southern Africa has led to similar outcomes: in Swaziland, for instance, linked service delivery resulted in an increase in the percentage of pregnant women tested for HIV at first antenatal clinic visit from 87% in 2011 to 100% in 2013. Significantly, these gains were made without decreasing quality of care and were preferred by clients because integrated services saved them both time and money.
In conclusion, MPTs will most be most effectively delivered in the context of linked or integrated SRH and HIV programmes. Therefore, strengthening a comprehensive approach to SRH will need to take place hand in hand with the research and development of new MPTs so that when these products become available, they can have the greatest impact. Maximising the synergies between SRH and HIV requires strengthening and re-orienting systems such as coordination mechanisms, partnerships, capacity building and commodities security.
IPPF is at the forefront of these efforts to improve the integration of SRH and HIV services. For example in 2013, 24.7 million HIV-related services were provided within sexual and reproductive health facilities in 172 countries worldwide and this work is being scaled up year on year. Therefore, as new MPTs receive regulatory approval, IPPF will have a key role to play in their adoption and promotion as part of a broader strategy to meet the varied and diverse SRH and HIV needs of women.