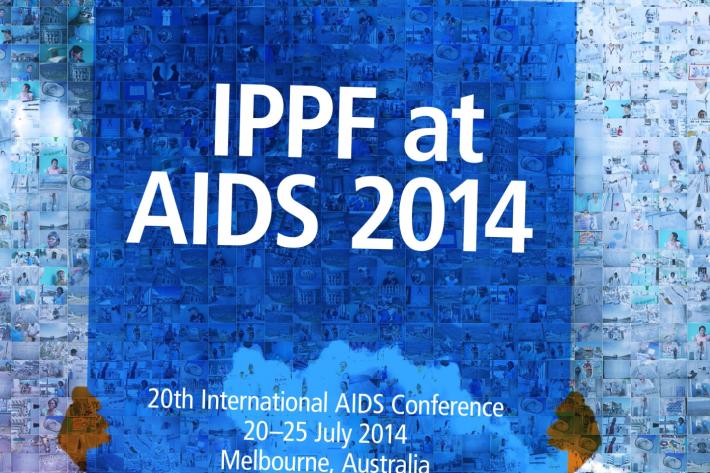 IPPF Member Association Rutgers WPF from the Netherlands is working on a female condoms Joint Programme  and is promoting this at the International Aids Conference. Suzy Wong Chung, Communication Advisor, speaks to IPPF about their work.
Why are you promoting female condoms?
While progress has been made and numbers have declined sharply, in 2013 there were still 2.1 million people worldwide who became newly infected with HIV. At the same time there are some 222 million women that want to use safe and effective modern family planning methods, but are unable to do so. Condoms—male and female—are currently the only method that provides dual protection against unintended pregnancies and STIs, including HIV.
Female condoms are the only woman-initiated dual protection method, with the outer ring covering the female genitals. Although the UN Commission on Lifesaving Commodities for Women and Children has identified female condoms as one of the 13 essential lifesaving commodities, there is still a lack of investment in procurement, distribution, programming and advocacy for female condoms, making this essential commodity difficult to access in many parts of the world.
 
What can we achieve by increasing access to female condoms?
By increasing access to female condoms, a safe and pleasurable barrier method is added to the method mix, increasing the number of protected sex acts. Investing in female condoms now means reducing costs in the future by preventing unintended pregnancies, maternal morbidity and mortality, loss of productivity, and a reduction in the number of people needing ARVs.
 
Why is it different? What varieties are there?
As with male condoms, it may take some practice to properly insert a female condom. Your first experience should be a pleasurable one, to facilitate sustained use, hence the focus in female condom programming on interpersonal communication and male involvement. Female condoms have a number of advantages. Firstly, it empowers women; both male and female users report that they like the fact that women are responsible for the protection when having sex. The female condom is wider and thinner than a male condom, which many male users prefer as it feels more natural and they don't need an erection to use a female condom. The outer ring can give extra stimulus to the woman, while several male and female users reported extra pleasure from the inner ring or sponge.
It is impossible to establish which female condom product is the best, as sex is a personal experience and we all have our preferences. Hence, the need for variety. In the last few years a lot has been happening at the global market; besides the FC2 female (registered in 143 countries), UAFC assisted the Cupid female condom to get WHO prequalification. Other products are in various stages of development, for example the HLL female condom and the VA w.o.w. female condom from HLL Lifecare Ltd., the Woman's Condom from Dahua Medical Apparatus Company (designed by PATH), and the Origami female condom from STRATA Various Product Design.
For the latest market intelligence on female condoms, check our online portal http://www.fcmi.org
How can it improve people's lives?
Having choice in contraceptives and ways in which you can protect yourself against STIs and HIV, gives people more control over their sexual and reproductive health rights. In different phases in life you will have different needs, and these medicines and commodities should be available to everyone.
What would an ideal world look like?
In an ideal world female condoms would be available and accessible everywhere, for those who need them, regardless of their age, sex, marital status, or sexual orientation.
In every school, female condoms would be part of the methods being discussed through comprehensive sexuality education as part of the curriculum. Everyone would be enjoying a safe sex life, having children at the moment they want to have them, having the number of children they want to have and living a long loving and productive live.
Plans for the future?
UAFC wants to continue to be the female condom broker that links manufacturers and programmers with NGOs and end-users. We are looking to expand to other countries, for example Pakistan, Bangladesh, Uganda, and DRC, to increase / start female condom programmes there. The recently launched FCMi-portal will assist in our work to strengthen the global market, by providing procurers and programmers, but also manufacturers who are interest in entering this global market, with up to date information on the technical aspects of producing and procuring female condoms.
Together with targeted advocacy, this will contribute to increasing investment and an increased variety of female condoms. This will contribute to women's health, women's empowerment and eventually to an increased public health. Every dollar spent on female condoms is well spent, as demonstrated by our Business Case for female condoms,  launched this week at IAC.
 Zawadi, our mascot and symbol of the demand for female condoms worldwide, is here at IAC and will continue to link female condom advocates and activists.
More information can be found at http://condoms4all.org/
FB / Twitter: Zawadismartlove