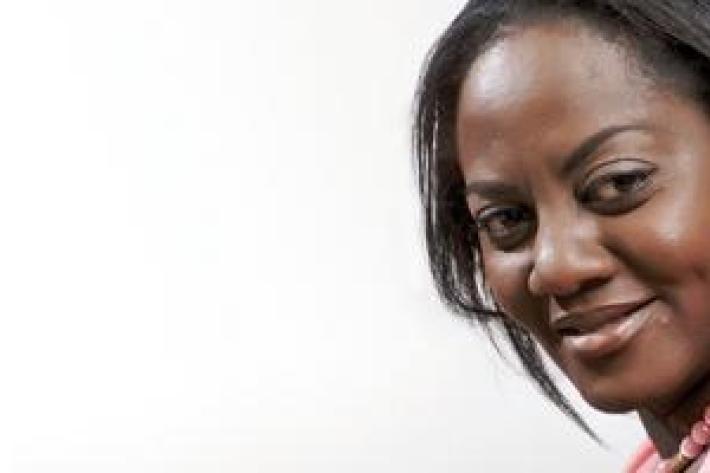 Dr Comfort Momoh MBE is a ground-breaking Public Health Specialist and UK FGM National Coordinator.
She opened the African Well Woman Clinic at St Thomas' Hospital in London in 1997 where she works to reverse the injuries of FGM. In an exclusive inerview with IPPF she reveals the challenges she's faced in defending reproductive health in the UK. 
How many women do you treat a year?
Comfort:  When the clinic first started it was about 500 plus cases a year, but it's now dropped to about 350. The reason is because I've been able to train other nurses, midwives and doctors to set up their own clinics. So when the clinic first started, we only had two clinics in the whole of the UK, our clinic and Northwick Park Hospital, but now we've got about 15 clinics around the country. And I've been able to set most of them up.
We see pregnant and non-pregnant women. With the pregnant women the best practice is to identify them earlier on in pregnancy so that we can have a plan of care for when they're in labour or delivery. Counselling is key because you're meeting the women for the first time and you need to find out what their past experiences are in terms of flashbacks - the psychological and emotional  consequences of FGM - and you want to know what country they're from, what age they've had their FGM, even their views around FGM as well.
How do they seem when they come to the clinic?
Very anxious, especially with the pregnant ones.  It's maybe the first time professionals have actually asked questions about their FGM.
For some of the women, especially the ones from West Africa, that have type 1 or type 2 [on the FGM scale] , they're not even aware that they've been through FGM. The reason being because they've had it done as a baby, it's a hush-hush thing, it's not something you discuss at the dining table in a family setting but now, with the media support here in the UK, FGM is becoming the subject of conversation and debate within family settings.  Girls are beginning to ask questions and so it's been really good.
What would happen in their home country?
In their home country pregnant women would get the midwife or the traditional birth attendant to open them and some would be closed back but again it depends on the reason in the first place why the FGM has been performed.  If it's to 'save the girls virginity', then once you get married it's not necessary. So it depends, but obviously in some areas they do close them back, which, you know, is illegal here.
I was interested in the fact there've been 100 prosecutions in France but none here in the UK.
It's a different system, one needs to acknowledge that. One of the reasons that they've been able to prosecute so many was because one of the circumcisers was arrested, many years ago, and she had her diary with her, and she had lists and names of people, of families where she had previously mutilated their daughters - so they [the police] were able to go back, look at the diary and prosecute the families. That's one of the reasons why they've had that many prosecutions.
So they were just lucky?
Yes, partly, but saying that obviously one can say they're very proactive. One of the things that people tend to touch on is that, they examine baby girls and at pre-school age, but I don't agree with that. If you're going to physically examine girls, it has to be everybody, not just isolating girls from FGM-practising communities. If not, you're infringing into their human rights. Some people will say it's about preventing it happening, it's about protecting. To me, it's about educating and empowering the community.
What do you think of the [UK] Guardian's petition to make schools more aware, do you think that's one route to tackling FGM?
I guess that is one route, because obviously we've done so much in the health sector, we have clinics, we support women, we work with the community and all that, but schools haven't done much.
I'm going to Croydon in a few weeks to address a big conference at a school. I was contacted by one of their students to come and give a talk and I think Leila [Hussein, co-founder of Daughters of Eve campaign] is going as well.  It's the students who have arranged this, which is great. I've been trying to work with schools so have other NGOs, but school heads are just not interested.
But now, obviously, with the support of the Minister [of Education, Michael Gove], and I think they need to be on board because they are the first point of call if you like. The age when FGM is usually done is between the ages of 5 and 12, in the majority of cases, and so the school really needs to up their game and look at their roles and responsibilities in terms of safeguarding girls who might be at risk. A girl might come in and say miss, I'm travelling home and going on holiday and my mum says when I come back I'll be a woman, or I'll be sore, what does that mean? Girls don't know what this means. Schools need to be aware of these signs.
Do you think girls sometimes won't talk about it because their families have told them not to?
It could be that as well, but if we empower the girls, if we're saying it's okay to talk about it, if we give them the platform or the environment to talk about it, then they can go home and challenge their parents in the positive way and ask questions.
But if we're making the decision for them, say 'oh well it's a cultural thing', it's a no-go area we don't want to touch that.
They are doing fantastic work in Bristol through Integrate Bristol  [a charity formed to help with the integration of young people and children from other countries and cultures].
Integrate's project manager Lisa Zimmerman and I have been working very closely – so, at least in the health sector we've done quite a lot. Lots still needs to be done but at least we now have the Minister for Public Health Minister, Jane Ellison, on board and, what's more, we have all of the ministers talking about FGM which is good. The Department of Health came up with the coding system so that we have robust data - that is all very positive.
Do you have a message for the government?
I would firstly give them credit, they started the ball rolling, because we had the support of Hannah Buckley - FGM co-ordinator for Home Office - and her colleagues and they've had quite a few meetings, forums, and strategies to look at the way forward. I'd like to urge them to support the campaign and to put more money into supporting NGOs and people working around FGM.
The other issue is to look very closely at people seeking asylum on grounds of FGM.
What's next for you?    
I'm looking for funding to work in Nigeria especially in the north, where few civil society groups are active. I was in Taraba State recently which is about 8 hours for the main city, and FGM is still very prevalent but there is no proper co-ordination of activities to tackle it, so I'm trying to write up a proposal to regenerate the work.
What do you think of some of the projects have formulated ceremonies that are alternatives to FGM. Do you think there's any success there?
From what I've heard and also from my visit to Gambia and Senegal especially with Tostan - an American organisation - they've been there for over 30 years or so and what they try to do is change attitudes and mind-set and provide alternate means of income for the cutters. So again, one needs to look at what works and learn from that. Different communities have different attitudes and different modes of behaviour, what might work in this particular country, might not work in another country - so it's about adapting it to work with different tribes and countries.
What do you enjoy most about your job and what would you have done, if not this?
Someone once asked me: do I enjoy delivering babies or do I enjoy working around FGM? To answer that question, I would say both – they are both about bringing life. It's about life, because I've seen so many women with FGM when you've done the defibulation and they say to you, 'you've just brought my life back to me' - that brings me joy and happiness.
And it's about empowering them, it's about them feeling like a woman again. Many times they say to me 'I'm less of a woman because my clitoris has been taken away, my labia has been taken away'. Once I've completed the defibulation they feel so happy. So I really enjoy seeing that in women's faces and I really enjoy delivering babies as well.
And if you hadn't worked on FGM?
I love empowering women, I love working with the community. I have done lots of work around reproductive health or public health, so I guess I'd still be looking after women and their families and supporting them.
There are four main types of FGM:
Type 1 – clitoridectomy – removing part or all of the clitoris.
Type 2 – excision – removing part or all of the clitoris and the inner labia (lips that surround the vagina), with or without removal of the labia majora (larger outer lips).
Type 3 – infibulation – narrowing of the vaginal opening by creating a seal, formed by cutting and repositioning the labia.
Type 4 - Other harmful procedures to the female genitals, which include pricking, piercing, cutting, scraping and burning the area.