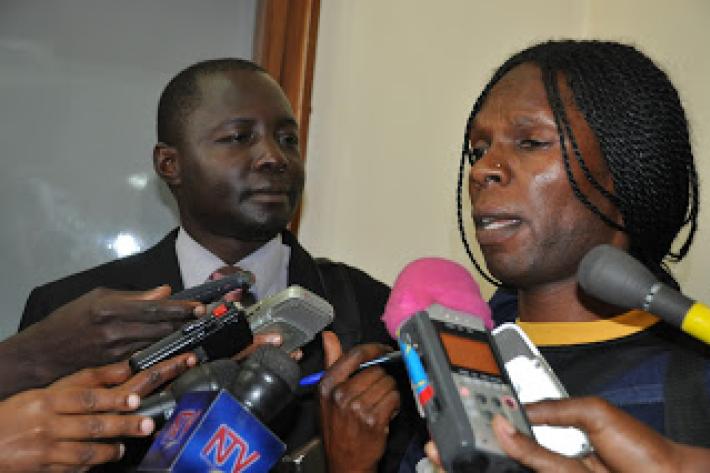 In a country where transgender women suffer discrimination that ranges from housing evictions to police harassment and  corrective rape, Karungi Beyonce has suffered more than her fair share.
She started Transgender Equality Uganda (TEU) in April 2011, when she saw that transwomen's issues were being neglected by the Ugandan LGB (lesbian, gay, bisexual) movement and commercial sex work movement in Uganda.
TEU works to empower transwomen and transgender sex workers to mobilize and advocate for their rights and educate Ugandan society about different gender expressions.
She shares her story here:
"Since childhood, I have always felt like I was a girl. As I came into my late teens, I felt more like a woman though my body was male. I began to dress more feminine and change my hair. The next time I went home, my father asked me about it and rejected me. They called me a curse. My mother died when I was a child and I grew up with my father. I came from a poor family and did not have money for school fees. A friend of mine introduced me to sex work while I was living in a hostel.
"When I went into sex work, I found that it enabled me to earn a living and be able to pay hotel fees, school fees, purchase school supplies, and survive. However, I faced challenges. People threw me out of clubs and pubs because I was a transwoman. I suffered physical violence and harassment, including being burned with cigarettes. I was also harassed by the police, including one time when the police undressed me, took my bag, money, and phone, and cut my hair. One particular time, I picked up a client in a club and went back to his house. He wanted to have live sex and when I refused he raped me. The man had a pistol on his table and I was so scared that afterward I left without my shoes, jacket, bag, and my phone. I was thrown out of the man's house without pay and forced to sit outside in an unsafe environment. Eventually, a security van picked me up and dropped me off in town where I got a boda to go home.
"My father became very sick and I was able to pay his hospital bills through the money I had gained doing sex work. It was because of this that my father forgave me and welcomed me the way I am, though I was still rejected by the rest of my family. Through sex work, I met other transwomen. Knowing more of the trans community and hearing more of the problems transwomen were facing inspired me to become an activist. Sex work has helped me become the person I am. It enabled me to continue going to school and also to learn English."