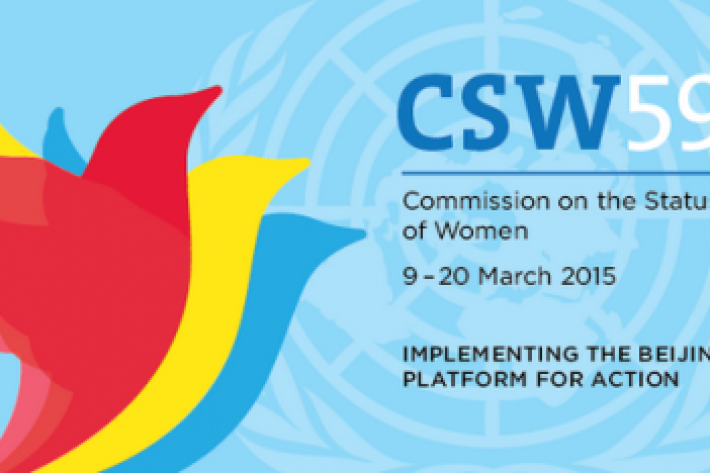 Véronique Séhier, Co-President of Le Planning Familial, IPPF Member Association – France, addressed a High-Level Event, SEXUALITY EDUCATION: THE WAY FORWARD FOR EQUALITY AND EMPOWERMENT co-hosted by the Government of France, at the 59th Commission on the Status of Women, United Nations.
There are lots of discussions around what we need to do for young people. But for me, it is very important to recognize the sexuality of young people as part of their life and of their development, in a positive approach.
Sexuality education is the way for them to get skills, knowledge, and information to be able to make their own choices, to be respectful of other's choices, to be able to express their own emotions, to express consent or non-consent. That must start very young when they start school, (between 4 or 6), with interactive methods based upon exchanges, debates and support, enabling personal expression with no judgment, and not in formal lessons. For example, work on social roles using adverts, children books, or using a "gender tree" starting from the advantages of being a girl or being a boy.
It is not only about biology or contraception, but about gender equality, citizenship, health, and access to services. It is a fundamental human right, and the condition to be empowered and free to access all sexual rights.
Comprehensive Sexuality Education (CSE) needs to be considered as a fundamental human right for everyone, girl or boy, in the world. It must be implemented in all countries. It really has to be mandatory. It must be integrated in the curriculum, at school but not only: in formal and non-formal education, in all the places where young people live, in international conventions and the States' legal frameworks.
There is plenty of guidance out there and to make it effective, CSE has to be implemented according to the World Health Organization (WHO) standards. These standards have been elaborated by and define contents according to the age and maturity of the children and young people. They are based upon participative methods allowing discussions and debates in a free and non-judgmental framework. All the stakeholders and countries must be accountable for it.
Some countries have a legal framework for CSE, and have integrated it in the school curriculum, and the training of teachers. They work with NGOS to provide sexuality education and youth friendly services. But in too many countries there is no implementation. They think that sexuality education is a private affair and must be done by families only. This is not possible.
We are concerned by gender equality when we work with young people, and we are responsible for helping them to develop op their whole capacities and decide for their lives.
We wanted to highlight the importance of CSE as a sexual right in a context where some groups consider CSE as being the responsibility of families and families only, as a private affair or must be done to teach them family values. States must be involved in it, at all levels. We must be aware of the context today in Europe and in the world: some fundamentalist or religious groups would like to keep traditional social roles for men and women in an essentialist vision which is not compatible with equality between men and women.
Let's have a dream. That CSE is implemented in all the international and national frameworks, with the participation of young people to define it, with the support of governments realizing that it is a way of building peaceful and respectful relationship between men and women, boys and girls, without any discrimination and violence. And young people are involved in developing it with educators and teachers.
Let's hope it will come. We still have a long way to go.