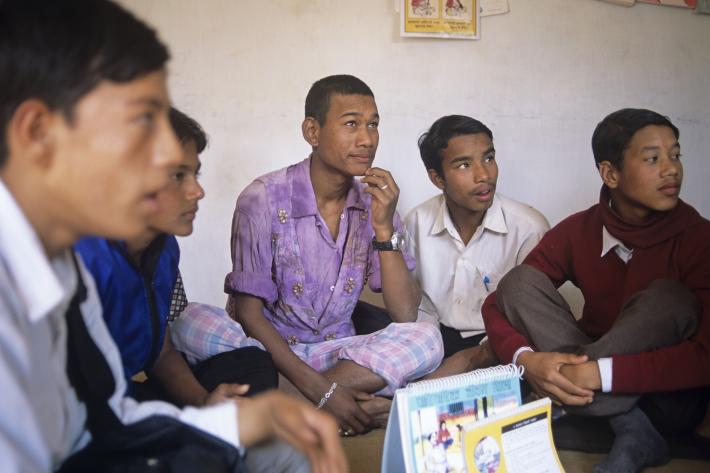 The 2nd MenEngage Global Symposium began yesterday (November 10th, 2014) in New Delhi, India. The symposium aims to share experiences, evidence and insights to seek directions on how men and boys can creatively contribute to gender equality, within a broader vision of social justice. As one of the global partners involved in organizing the symposium, IPPF has a strong presence. This began with a thought-provoking satellite session 'Men and Boys Engaged! Visions and actions to eliminate sexual and gender based violence' with a diverse panel of speakers.
Sexual and gender-based violence (SGBV) is a fundamental human rights violation and a serious public health concern that affects women, men and young people in all their diversity. Rooted in gender inequalities and power imbalances between men and women, an estimated one in three women are affected by violence in their lifetime. Social norms that emphasize dominant notions of masculinity, pressure men and boys into ways of behaviour are a cause and consequence of SGBV. These 'masculinities' are equally harmful to those who do not conform to these norms, and a root cause of homophobia and transphobia.
Chaired by Anjali Sen, Regional Director of the IPPF South Asia Region, the session stimulated discussion about the implications for building on current best practice in engaging men and boys in preventing and stopping SGBV, promoting women's and girls' voice and agency, and improving the health and well-being of men in all their diversity.  
An important focus and commitment is required towards young people by building their capacity to address gender equality and SGBV. Dakshitha Wickremarathne from the IPPF South Asia Regional Youth Network, stated that "the young are the leaders of today and tomorrow, and have the capacity to make their own decisions." 
This essential focus on young people was reiterated by Ravi Verma, Regional Director of ICRW Asia Regional Office. He shared lessons learned that primary prevention efforts must start as early as possible when working with men. Frequently this primarily prevention is with 17 or 18 year olds but this is much too late, so ICRW shifted efforts to an earlier age of 9-12 year olds by working with schools. He said, "we need to start engaging men at a really early age, and further explore working with families as an institution." Ravi also discussed how many programmes for men and boys struggle not to perpetuate gender stereotypes. The challenge is how to give up power, yet still make men feel empowered. This requires new and innovative approaches.
Many IPPF Member Associations are working at the front line of addressing SGBV and are doing so through various innovative approaches. Rachel Ploem from Rutgers WPF, the IPPF Member Association in the Netherlands, highlighted how counselling without broader interventions will have little impact. An integrated approach is required that includes the working with individuals, communities and institutions. MenCare+ (www.men-care.org/plus), a collaboration programme between Rutgers WPF and Promundo-US, works at providing this institutional and policy change. 
Research shows that where men and boys are engaged in preventing SGBV, the outcomes are positive for men themselves, for women and girls, and relationships become happier and healthier. Tim Shand discussed the vital need to shift the burden and ensure that men are part of solution. Male involvement in sexual and reproductive health and rights (SRHR) requires a situation where men are engaged as equal partners, as clients, and as agents of change. "Engaging men in SRHR is not the panacea... but critical to shifting the current burden on women and preventing SGBV."
Seri Wendoh from IPPF Central Office expressed how primary prevention of SGBV is key, with responses in clinical settings as the first line of treatment, care and support. This requires greater efforts in strengthening health provider capacity to provide a high quality of care to those affected by violence. 
In moving forward, she was optimistic that the situation was improving with our greater understanding of the interconnectedness and of diverse gender identities. However, to truly move towards gender equality, this must include individuals of all gender identities, with transgender and intersex individuals very much part of the policies and work that we do. Seri reminded the audience of IPPF's vision of 'A world where women, men and young people everywhere have control over their bodies… where gender and sexuality are no longer a source of inequality or stigma.'
Respect, protection and fulfilment of sexual rights for all is critical in eliminating SGBV. For this to be accomplished, there is a strong need to adequately integrate issues related to sexual and gender diversity. Only when we include people in all their diversity will we be able to take gender justice to the next level.
Live streaming from the conference will be available between 11-13 November: http://www.menengagedilli2014.net