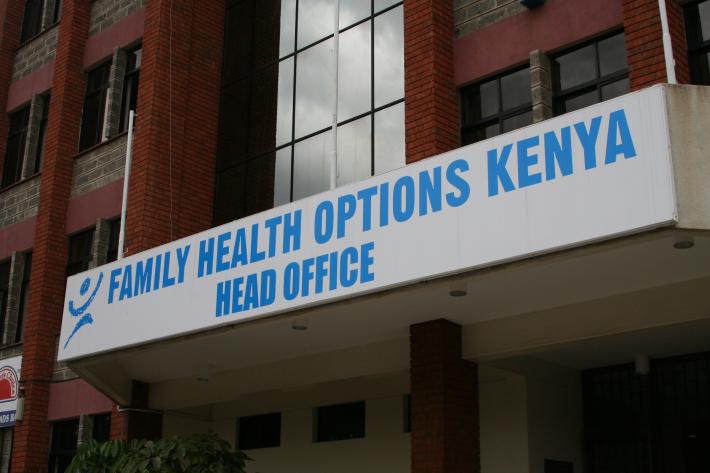 By Esther Mukami Njoroge
I was 16-years-old when I became pregnant with my first child in 1982. I had only just moved to Form 1 at school when I found out and I felt depressed and disorientated by the news.
Before I became pregnant I had seen ladies dressed in green coming to our village to educate women about family planning but at the time I was afraid to talk to them or ask any questions because I was very young. I later came to learn they were from Family Planning Association of Kenya (FPAK), which is now Family Health Options Kenya (FHOK), and were community health workers.
After I had delivered my baby, the first thing my mother did was to take me to the family planning clinic. The nurses counselled me and even read verses from the bible to encourage me that all was not lost.  They said I needed to go back to school, but I had to start family planning to prevent any other pregnancy. After sessions of counselling, I started using the coil.
That day I felt confident, and when I went back home, the future that had looked bleak became bright.   The coil allowed me to enjoy 10 years without fear of getting pregnant and to complete school. All my attention was on my daughter, and she enjoyed all my love. We have a special bond and a close relationship that we would not have had if I had had many children who were closely spaced. I later removed the coil and conceived my second child. Upon delivery of the baby, I went back to FPAK and another coil was inserted. I then enrolled in college to pursue a course in early childhood education studies and became a teacher when I graduated.
The benefits of family planning to me were very visible, thanks to FPAK, an association that has served me for the past 30 years whenever it comes to my reproductive health needs. I even wonder what would have become of me if FPAK was not there. Perhaps I would not have realised my full potential. That is why I introduced my daughter to the FPAK clinic when she had a baby. She has never looked back and she is yet to deliver a second child. My friends and other relatives that I have referred to FPAK have also got positive stories to tell about the clinics. Many of them have happy planned families.  One of them thanked me the other day for introducing her to FPAK, saying that the family planning advice she had received had helped her to have a four year gap between each of her three children.
I think family planning leads to happier homes where there's more love. It means husbands and wives have the number of children they can manage on the meagre resources they may have with less stress. People ask me why I have been faithful to FPAK for three decades, and my answer is that they have provided satisfying services. My first experience in 1982 was so good, it kept me going back. At FPAK the nurses are very understanding, they listen to your problems and give you much more information than you would get in a public hospital.
Another advantage is the package of services that they offer free of charge. Every year I know I will get free breast and cervical cancer screening services. These are services, in my present economic situation, I cannot afford.   
Having experienced all this, I decided in early 2000 that I wanted to give something back so I joined FPAK's volunteer team. I now educate women about family planning and the benefits of adopting the practice. But for our work to have more impact, FPAK needs to intensify its outreach programmes. This would be especially useful when the association is unable to open new and permanent clinics in areas that really need services.
I even feel that there is a need to have a contact person in hard to reach areas who can distribute information and family planning products to women and men. I further propose that for many people to appreciate and embrace family planning, we need to preach about family planning in a more aggressive manner - the way it happens with HIV and AIDS and Cancer. These are things I have great faith FPAK can do.