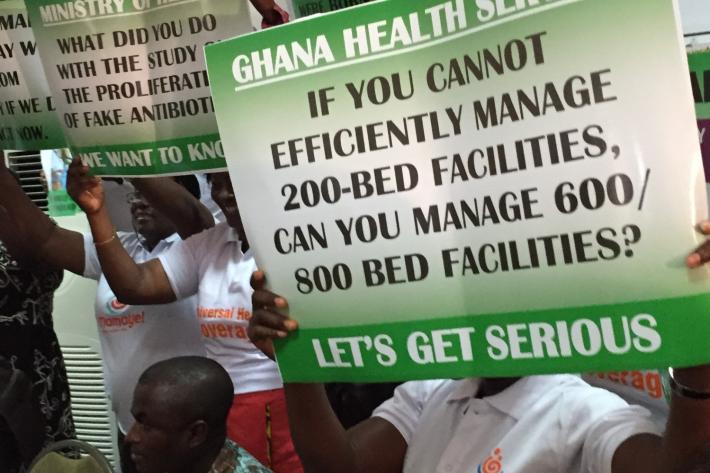 Conditions have become so bad at Tema General Hospital in Ghana that four women have to share a bed in the maternity wards and between January and April this year 20 women have died.
Campaign action was organized by the MAMAYE Advocacy Coalition, of which Planned Parenthood Association of Ghana (PPAG) is a Member along with 30 other CSOs. Twenty people disrupted the opening ceremony of the health summit just as the Health Minister was beginning his speech. They marched through the summit holding placards showing enlarged pictures of the terrible conditions in the hospital and demanding action.
As the minister read out the message on their placards, their protest quickly became the focus of the meeting and gathered media interest. In his closing remarks Dr Amofa, ex Director General of the Health Service, declared that Ghana has no excuse not to meet MDGs 4 and 5, to reduce child mortality and improve maternal health by 2015.
Benjamin Sowah, who represents PPAG on the MAMAYE Advocacy Coalition, told us:
"Just before the Minister for Health began his speech, members of the coalition numbering about 20 lifted the placards and began walking through the aisles of the auditorium. The Minister himself began reading aloud the messages on the placards. This drew extensive interest among participants including Development Partners and health policy makers from across the country. Journalists from print and electronic media interviewed us on our concerns.  I was interviewed on Metro TV – this was carried on the 7pm flagship news. We shared leaflets that contained our concerns and recommendations to government.
The messages on the placards were to become the focus of discussion among participants during the breaks and then the formal session for the afternoon.
In his closing remarks as chairman at the end of the day's session, Dr. Amofa , ex Director General of the Ghana Health Service),  declared that Ghana has no excuse not to meet MDGs 4 & 5 given all the work done put into Ghana's Millennium Acceleration Framework. He said all the placards spoke to issues of maternal health and that was unfortunate. He called for a concerted effort to help address the issues raised.
We consider this picketing a major advocacy win. The Health Summit is still underway for the rest of the week and PPAG is actively participating."