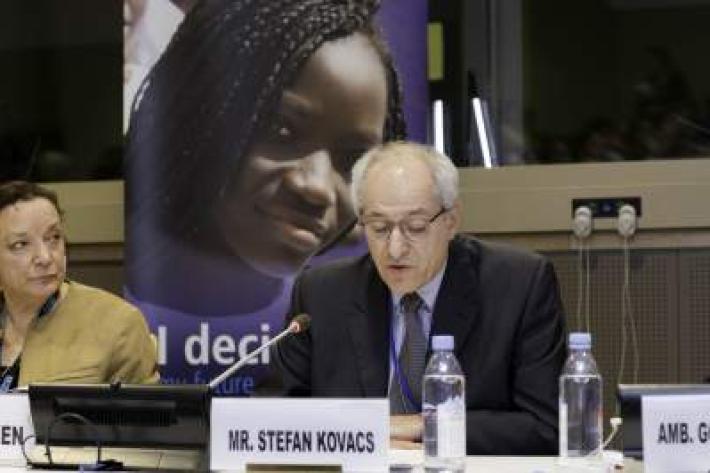 Stefan Kovacs, Chief Advisor,  Ministry of Foreign Affairs, Denmark spoke at a high-level IPPF panel event, "SRHR- the key to gender equality and women's empowerment", at the 59th session of the Commission on the Status of Women (CSW).  

On International Women's Day in New York, many CSW attendees marched for gender equality. For those who participated last Sunday, would have heard the Danish minister for gender equality speaking at Times Square paraphrasing over John Lennon's "imagine". He imagined a world where women and girls could decide freely over their own body. He imagined women and girls being fully equal with men and boys. We all need to keep on making the case that the road to gender equality goes via women's and girls' sexual and reproductive rights. 

As you may know Denmark has a long history for supporting and promoting women and girls' sexual and reproductive health and rights. Gender equality is an important and integral part of our development strategy. Domestically, Denmark has come far, but even we still have a gender gap to close. 

Access to sexual and reproductive health and rights is important to ensure women's and girls' full enjoyment of their human rights. They must be able to control and decide freely over their own bodies. 

The right to sexual and reproductive health is key to women's ability to take charge of their own lives. Unfortunately, access to services is a particular challenge for many women, often with grave consequences. Pregnancy related complications are among the main causes of death and severe injury among women of childbearing age in developing countries. The vast majority could be saved if they had access to quality health services. An improved state of health is a precondition for lasting and sustainable development. 

As stated in the IPPF vision 2020 report: until recently, women's empowerment has been dealt with in a narrow way. A way in which gender equality and women's empowerment has either excluded sexuality or focused on the negative aspects of sexuality such as disease, violence and abuse.  It had highlighted the constraints that women face when exercising decision making and control over sexual and reproductive decisions. It is indeed important to pay attention to the harmful and negative aspects of sexuality. But solely focusing on these aspects can give rise to victim narratives and lock both men and women into unhelpful stereotypes.

For all these reasons the Sustainable Development Goals  (SDG) should support empowerment of women and girls to claim their right to health care services, to quality education and address the stigma and discrimination that women and vulnerable groups face. Therefore, the SDGs must also include language on sexual and reproductive health and rights.
But all these aspirations and goals cannot be realized without political will and financing. 
Large financial gaps remain. And the commitments related to gender equality have not been realised. Both the Monterrey and Doha outcome documents did not sufficiently address the challenges in financing gender equality. It is therefore critical that the Sustainable Development Goals including its Means of Implementation address these issues. 

One main issue is domestic public finance and domestic resource mobilisation: both budgeting and tax policies provide important opportunities for reducing inequalities and this is particularly true also for gender inequalities. 

Domestic budget processes do not only often lack transparency and participation, but are generally not gender-responsive. Therefore, budget breakdowns according to expenditure allocated to tackling gender inequalities have to be promoted. 

On the revenue side, some findings indicate that taxation policy is not gender neutral and can contain discriminatory biases against women. Making tax systems more pro-poor was also one of the commitments of the Doha Declaration on Financing for Development (2008). Since women are particularly vulnerable to poverty, the methods countries use to increase domestic revenues and how these efforts affect poor women needs particular attention. 
In a paper on Smart Investments for Financing the Post-2015 Development Agenda prepared by the The High Level Task Force on ICPD it is clearly stated that gaps and shortfalls in the fulfilment of sexual and reproductive health and rights undermine poverty eradication efforts and the achievement of gender equality. 

Political commitment and financial investment is essential in order to ensure governments' fulfilment of their obligations to ensure women's and girls' possibilities to fully enjoy their sexual and reproductive health and rights.