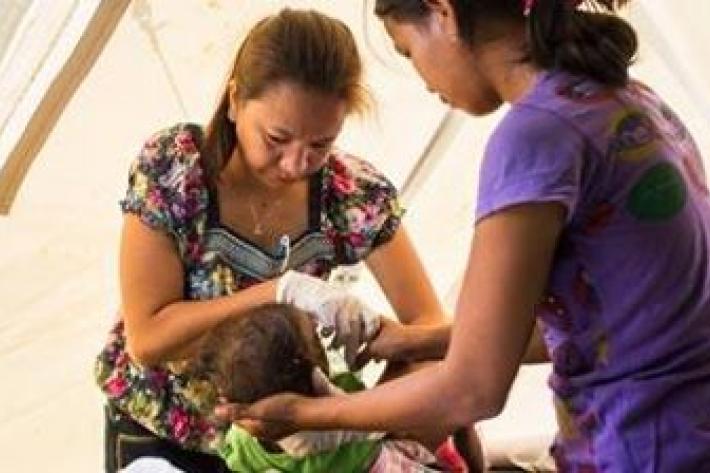 The International Planned Parenthood Federation's Director General sees for himself the efforts in the Philippines to rebuild after Typhoon Haiyan.
It's nearly three months since Haiyan but on the ground the effects of the typhoon, known locally as Yolanda, are all too clear to see.
I flew to Tacloban from Manila where I was attending the Youth Conference of the 7th Asia Pacific Conference on Reproductive and Sexual Health and Rights.
 As we circled over the affected area it was hard to get a sense of the damage from the air because of the construction that is already underway. It was only when I landed that I realised the extent of the devastation. Thousands of trees have fallen and you can see the remains of houses and buildings. Millions lost their homes in the typhoon.
We were met by five staff from our widely respected Member Association, the Family Planning Organization of the Philippines (FPOP). Later I met other staff from Eastern Samar, Samar, and Leyte - some of whom had lost their homes in Tacloban. The main FPOP operation centre is in Catbalogan, Samar.
At IPPF we consider our Member Associations to be part of the family and their loss is our loss. We have been keen to support them as well as the wider population as much as possible.
In the aftermath of Haiyan, IPPF set to work at once to help those that had been affected.
In the immediate aftermath of the typhoon, FPOP distributed the MISP (the minimum international service packages) - a reproductive health kit which is used in the early phase of a crisis or emergency. The MISP helps people through the first days which, in the wake of a disaster, can be marked by chaos, unrest and desperation.
When IPPF's Governing Council met just after the typhoon they were keen to hear of the efforts we were making and about the funding we provided. We utilised a number of sources of funds that we have available with the SPRINT Humanitarian hub sending US$200,000 within just 36 hours and also smaller but significant amounts from our contingency fund.
It was heart-warming to see these funds being put to good use during my visit to Tacloban.
Just a few weeks on there were already signs of hope. We are putting up tents that serve women who are pregnant and or breastfeeding. Every day we have about 100 people turning up. We must have served 4,000 survivors already in Aklan, Antique, Iloilo, Capiz, Samar, Eastern Samar, and Leyte.
I also talked to the mothers in the evacuation centres. They told me the basic reproductive health things they want are vaccination, nutrition, health services, post-natal care and contraception. The men also came to listen and said that wanted to help their wives get the support and services they needed.
 For many these services are a lifeline. We not only dispense medicines and provide check-ups. We have a youth counsellor who plays with the children and provides counselling. We have an adolescent reproductive health (RH) counsellor who talks to young men and women about how to take care of their RH needs and defend themselves from violence. We also give them information about contraceptives and provide them with these services.
At this time, massive challenges remain and inevitably outside aid and interest begins to wane. Tacloban's coconut industry is down on its knees and is unlikely to recover for five to seven years.  Tacloban, like the rest of the stricken areas, is struggling to produce anything - that means goods need to be imported from further afield at much higher costs. Even the price of a small banana has dramatically risen since the typhoon.
I believe in strong partnerships to achieve change here. We need to continue to work with the local government, donors and non-profit organizations. That was why I talked to the Governor of Leyte and officials from Tacloban when I was there. Together with other international health organizations, we were asked to give a comprehensive health plan for the residents in two weeks.
As I left from my visit I was reminded again of the success that comes from having Member Associations that are part of the community and can respond quickly when disasters occur. This is so different to many international aid organisations. This also ensures that other parts of the IPPF family can respond and react to support other countries.
I wish that I could have visited the Philippines in different circumstances. At IPPF we promise to continue doing our best to help those affected as much as possible and to highlight the issues and solutions that are working as I meet with donors and partners.
Across the affected areas it's important that people have hope and are able to start looking to the future – they can't sleep in tents forever.