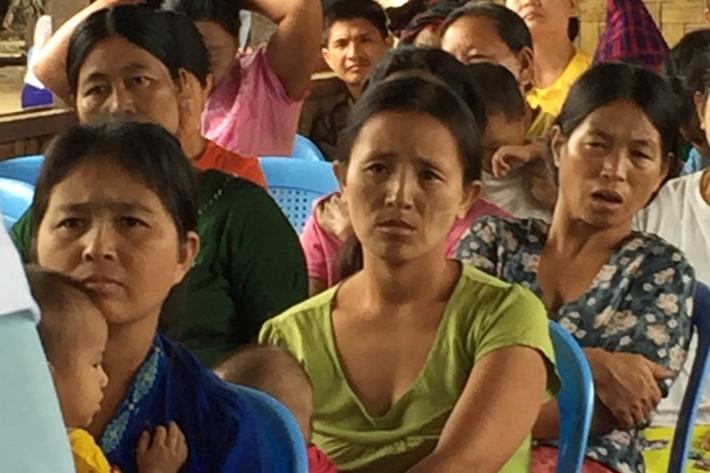 In the north of Myanmar is a conflict-torn border region where fighting between the army and ethnic rebels has forced tens of thousands of civilians to flee. Debanjana Choudhuri, Manager with IPPF's SPRINT Initiative, visited the state of Kachin which has seen a rapid influx of refugees, to see the work IPPF's humanitarian response division SPRINT - along with Myanmar Maternal and Child Welfare Association - is doing to provide life-saving sexual and reproductive health services to the most vulnerable and deprived.
In the north of Myanmar a war is still going on. Since 2011 an estimated 100,000 people have been displaced and over 364 villages have been partially or wholly abandoned. Over the past couple of years the northern townships of Myitkyina and Waingmaw in Kachin province have seen a rapid influx of refugees, creating an enormous pressure on already crippled healthcare facilities.
IPPF, through its SPRINT Initiative, started a 3-month long emergency response project along with its Member Association-MMCWA (Myanmar Maternal and Child Welfare Association) in Kachin to address the gaps in healthcare and provide life-saving sexual and reproductive health services to the most vulnerable and deprived.
Two of my colleagues and I travelled to the areas to assess the situation. Many of women and girls who have started calling the IDP camps home are receiving reproductive health services, dignity kits and above all the knowledge and information to take an informed decision. They spoke very highly of the services. Though family planning is a challenge in the area due to conservative beliefs, most women have now adopted methods of birth-spacing. One is 30-year Zing,
Zing was barely 20 when she fled her village to escape constant bombing and shelling. She and her parents were living in a makeshift shelter for two years, and this is where she got married and became pregnant with twins. When she was 6 months pregnant, the conflict reached the area, forcing her family to flee in an improvised three-wheeled cart. After days of struggle, they were rescued by the Kachin Baptist Mission (KBC) and were brought to the Waingnmaw camp. She delivered her twins in an MMCWA clinic. And soon was pregnant again. Now, as a mother of four toddlers and a baby, she has decided that this can't go on. Though her husband and family were initially not happy with her decision, after months of counseling, they have come round. Now Zing takes oral contraceptives, and is also thinking about taking injectibles. Her family is still not convinced about it, but Zing's courage to stand her ground and to take a decision is an inspiration. Zing is an exception.
Most women here are influenced by their families, but her story definitely gives us hope that slowly and steadily, women and girls will begin take decisions about their reproductive lives for themselves. A field visit is always exciting, You hear such amazing stories, stories of change, stories of how the services have made an impact on their lives. And it gives you renewed vigour to embark upon yet another emergency response mission and touch lives.