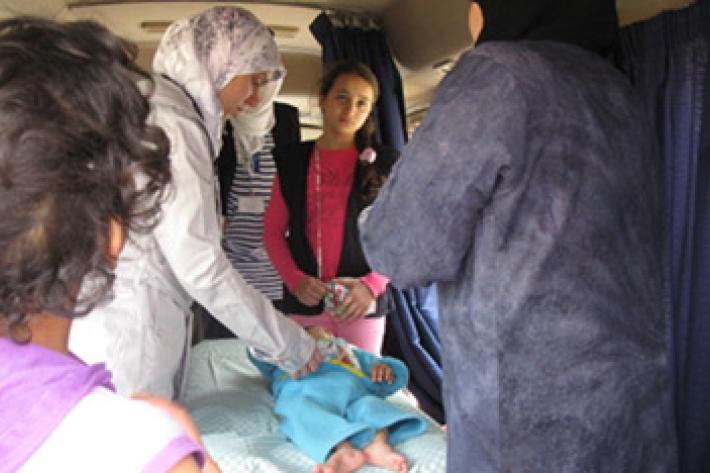 War affects men and women differently.
It is estimated that tens of thousands of women and girls are subjected to sexual assault in conflict situations each year around the world. Sexual and gender-based violence can occur at any time: as a weapon of war, during flight, in the country of asylum, even during repatriation.
And Syria's conflict is no different.
When Syria's state of emergency began in 2011, one of the first organizations to respond was the Syrian Family Planning Association (SFPA), a member of the International Planned Parenthood Federation (IPPF)
Against all odds, they are helping to fill the gaps in a health service ravaged by war, through mobile clinics in the most affected areas - including in Damascus, Aleppo and Homs.  It helps that IPPF's member associations are grassroots organisations run by and for communities - which means they are already on the ground when disaster strikes. IPPF has a history of providing emergency reproductive health care - adapting and extending its services to tackle the consequences of a humanitarian disaster.
There are many reasons why women refugees are at particular risk. If men are responsible for distributing goods and necessities, women may be subject to sexual exploitation. Then there are the practical constraints that put women and girls at risk. Women may have to travel to remote distribution points for food, water and fuel; their living quarters may be far from latrines and washing facilities; their sleeping quarters may be unlocked and unprotected.
Fear of violence is, of course, not the only fear women and girls have to face in conflict humanitarian disasters. Problems related to sexual and reproductive health are the leading cause of death and ill health globally for women of childbearing age. In wartime this vulnerability increases exponentially, as access to services decrease.
Women might have to give birth alone; if they make it to a clinic they might be miles from the nearest blood bank. When pregnant women are displaced and living in camps the need is even more acute. Family planning provided through mobile clinics remains a cheap and effective way of reducing pregnancy-related deaths, for people who already suffered too many other tragedies.
In refugee communities, people are, understandably, concerned first and foremost about medical care for the injured and ill, and finding food and shelter.  This is why the Syrian Family Planning Association has been working closely with other agencies such as UN agency UNFPA, World Health Organisation and UNICEF to adapt its services to meeting the varied health needs of refugees, whatever and wherever they might be.
Working with UNFPA, SFPA is providing safe birth kits and medical supplies. They are also building the capability of youth volunteers and medical staff to respond to emergency cases by distributing first aid kits, examination tools and medicines.
This is a critical part of their work - empowering people, especially young people, to help themselves and their families. Working with UNICEF, SFPA trained young people in basic medical care, life-saving interventions and in psychosocial support.
Five thousand adolescents and young people have so far benefited.
Working with World Health Organisation, SFPA has also been working to manage non-communicable and chronic diseases, reproductive health, nutritional services, mental health and child healthcare through a network of mobile teams and clinics.
More than 38000 people were helped during the first six months of 2013, more than 31000treated at  its mobile clinics and medical centres in Damascus and the surroundings .
The Syrian Family Planning Association has been responding to the crisis since it began, but they need more help to train humanitarian workers to deal with pregnancy, childbirth and reproductive health - the less reported, but no less devastating, aftermath of war.