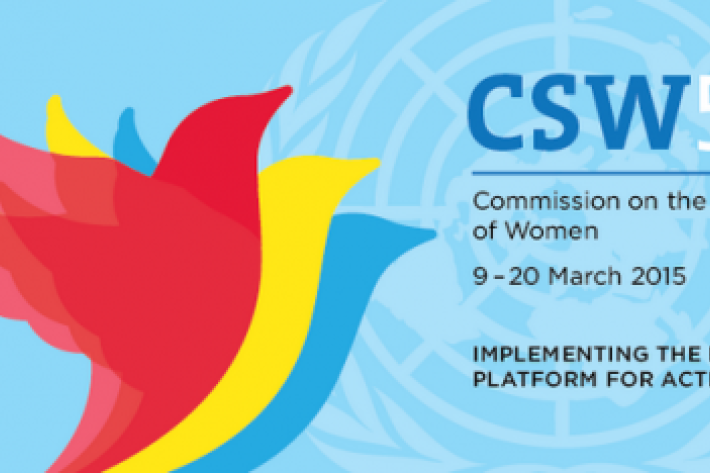 Preethi Sundaram, Policy and Advocacy Officer for IPPF, spoke at a panel event organized by ActionAid on sexual and reproductive health and rights and women's economic empowerment, Friday 13 March, at the 59th Session of the Commission on the Status of Women, New York.
Poverty is not gender neutral.  More women are affected. In fact, two thirds of the world's working poor are women.  For young women, living in urban slums, their realities are tough.
Young women living in city slums lack access to basic services like education, healthcare, and water. They may have to care for siblings, for their own children or do housework. They have to find work outside of the home to support their families.  To make ends meet.
For young women, this is a specific time in their lives, where they are vulnerable because of age, poverty and their sexuality.
Gender norms hold young women back. They dictate whether girls can stay in school. When young women should get married. Whether young women can access contraceptives.
In the most extreme cases, gender norms can kill. Young women are often denied access to critical services and this can have grave consequences. Women die at the hands of their violent partners. Women die because they cannot access the abortion services they need. Women die of preventable causes in childbirth. 
Maternal mortality continues to be a leading cause of death in young women in low and middle income countries. Around the world 47,000 women die from unsafe abortion every year.
 We know that many young women in city slums are denied an education, are forced into early marriage and childbearing and this impacts on every aspect of their lives. Girls with no education are three times more likely to marry before the age of 18.
The more schooling girls have, the better their future earnings will be.
But women's earnings do not tell the full story.
Across cultures and in all economies, women continue to do the lion's share of unpaid care work and this affects the type of paid work they can access.
Without access to essential sexual and reproductive health services such as family planning, women cannot choose if and when and how many children to have.
This might mean more children than young women want.  Or pregnancies too close together which can lead to complications.
There may be more mouths to feed. And more time spent washing utensils, preparing food, cleaning the home. All of this work is unpaid. All of this work is undervalued. All of this work limits women's time. The care burden traps women.
It often restricts them from getting decent work in both the formal economy and the informal economy. The caring women do for their children, elderly, sick relatives, the work they do running of the home affects their time and creates practical barriers in accessing the critical services they need.
Young women living in cities, who are poor and marginalized, mostly take up work in the informal economy which is unregulated. For example, 83% of domestic workers worldwide are women. 
Work in the informal economy can be more insecure and precarious. It has specific impacts on the sexual and reproductive health and rights of young women.  For example, a lack of regulations can make women more vulnerable to lower wages, limited access to health care, maternity leave or child care. Women may be more vulnerable to workplace discrimination, including sexual assault and rape.
There are many young women in the informal economy who are particularly marginalized. Migrant and immigrant women are often forced into the informal sector as a result of their immigration status where they are less likely to be able to access health care, let alone maternity leave or child care.
This is the real world, the realities of young women's lives.
So what does all of this mean for policy and programmes?
Given the fact that young women in poor urban areas will continue to work in the informal economy, support for care work remains extremely important to women to access decent work. In addition regulatory frameworks, so policies and practices that support and promote sexual and reproductive health and rights, should meet women where they are-wherever they are.
We also need programming that supports the economic rights and sexual and reproductive heakth and rights (SRHR) of young women in cities.
IPPF works across 170 countries and many of our national organizations support the economic rights and SRHR of poor and marginalized young women in cities.
For example, in Cambodia, IPPF has established formal relationships with 30 factories in 3 major urban areas. There we deliver interactive events during lunch time with information on SRH and workers are given vouchers for clinics. We meet the young women's needs where they are: for example, young women factory workers work 6 days a week. We make sure our clinics are open on Sundays when young women working at the factories have their day off and factories also have on site clinics. All of this supports women in work and keeps them in work. When women can make informed choices about their bodies and are supported with information and services, they are more able to get decent work and stay in work.
So how can we make this change happen for women around the world?
It is important that we include these areas of priority on the agenda as the post-2015 framework is negotiated and the financing for development conversations are unfolding. We must continue to raise women's economic rights, including their unpaid care burden's and make the case for why SRHR and women's economic rights are intimately linked.
We cannot advance young women's economic empowerment, without ensuring a world where they can realize their SRHR. Nor can we achieve gender equality or sustainable development without fulfilling women's SRHR.
We need to keep making this point time and time again. In discussions about gender mainstreaming, in ongoing post-2015 negotiations and in current discussions about indicators and data collection.
It is important that we use HR structures to raise violations of young women's' rights and hold state actors accountable to their commitments and obligations. We also need to tackle harmful gender norms that restrict us from participating fully in social, economic and public life- this requires education, information and services that fulfill the SRHR of young women and meet the context and needs of their lives. If we can't control our bodies, how can we control our bank accounts?
Without ensuring that young women can realize their SRHR- so have access to education, information and services, they not be will not be able to access decent work. Without SRHR, we simply will not have sustainable development.
Regulatory frameworks and programming on women's economic empowerment need to consider and address SRHR and women's care burdens.  
Finally, we cannot afford to leave the rights of young women off the agenda. This requires policy and advocacy attention. It also requires consistent efforts at the national levels to ensure that domestic laws fully protect and fulfill the SRHR and economic rights of young women.
Only concerted political will and action and investment in resourcing these rights will make a lasting difference to the lives of young women.