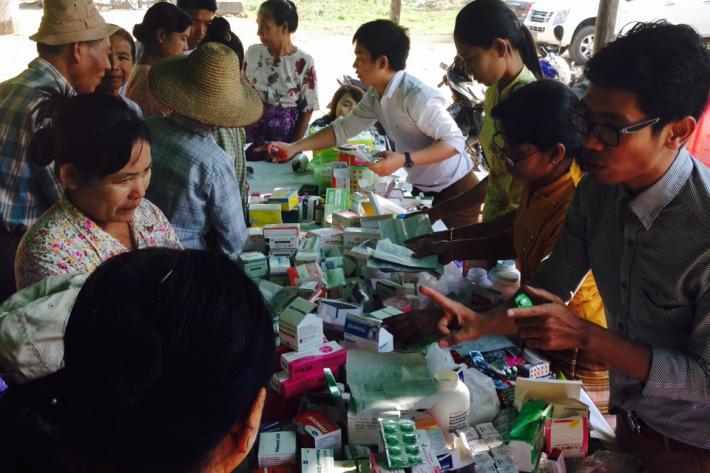 Sweden is a major pioneer and leader in the field of sexual and reproductive health and rights and IPPF has a long-standing relationship with SIDA, the Swedish international development cooperation agency.
A delegation from SIDA included Christina Larsson (Senior Programme Specialist in sexual and reproductive health and rights - SRHR), Eva Charlotte Roos (Senior Programme Specialist, HIV/AIDS and SRHR), and Cecilia Branzen (Controller) have just visited IPPF's collaborative partner, the Myanmar Maternal and Child Welfare Association to see how they support women, children and migrant workers in remote and under-resourced communities.
Decades of isolation and under investment have left Myanmar with a poor health system but for almost 25 years the Myanmar Maternal and Child Welfare Association (MMCWA) has focused on the health and well-being of mothers and children.
Since it started in 1991 MMCWA, which is one of the International Planned Parenthood Federation's (IPPF) collaborative partners, has set up a wide range of facilities including clinics, mobile health clinics, pre-school clinics and maternity homes. 
Earlier this year IPPF and the Swedish International Development Co-operation Agency (Sida) visited Myanmar to illustrate the work that IPPF and its partners do on the ground.  Regular field-trips are part of Sida's assessment for having a better understanding about the reality under which organisations work. This time Myanmar was chosen for having an understanding about IPPF's work to strengthen organisations to become an accredited member association.
A visit to the International HIV AIDS Alliance(IHAA) country office was also made during the same trip with the aim of looking into their work on key populations and their vulnerability to HIV and AIDS and other sexual infections.  Shortly this organisation will become an independent Linking Organisation. The way of having IPPF delegation in the IHAA delegation and vice versa gave an opportunity for the respective organisations to interact with each other.
One of the MMCWA clinics visited was the Myitta-sanyay Clinic, in Nay Pyi Taw, which provides specialized care to pregnant women and children living in rural communities as well as migrant workers.  Visitors also had a chance to participate on the Nutrition Programme for Pregnant Mothers and Children which gives pregnant mothers information about choosing and preparing nutritious food which is available in their markets and local shops. The programme provides group education talks and also distributes food and other necessary commodities.  The Sida delegation also visited mobile outreach activities in Leway Township which provide sexual and reproductive health and rights (SRHR) as well as other health services to pregnant mothers, children, youth, elderly and families in rural communities.
The visitors got the chance to see for themselves what health infrastructure had been set up and were able to get first hand details about the services provided by MMCWA from both staff and beneficiaries.
Meeting and discussions were also held with senior representatives from Departments of Health, Education, Social Welfare and Resettlement as well as Myanmar Women Affairs Federation, and Myanmar Red Cross Society. The discussions focused on the empowerment of women, access to reproductive health services including prevention of unsafe abortion, the importance of ensuring young people's access to services and information on SRH as well as provision of services for key populations.
Visiting two organisations with similar mandates but with very different approaches provided SIDA with a broader perspective on the opportunities and challenges that the organisations, as well as the country, is facing.
Christina Larsson said:
"MMCWA focuses on poor and vulnerable people through its impressive mobilisation of volunteers across the country. We noticed there seemed to be an openness to talk about different sexual orientations and about contraceptives.  It's timely that we're strengthening collaboration between IPPF and MMCWA, especially for their work on sexual health for adolescents."