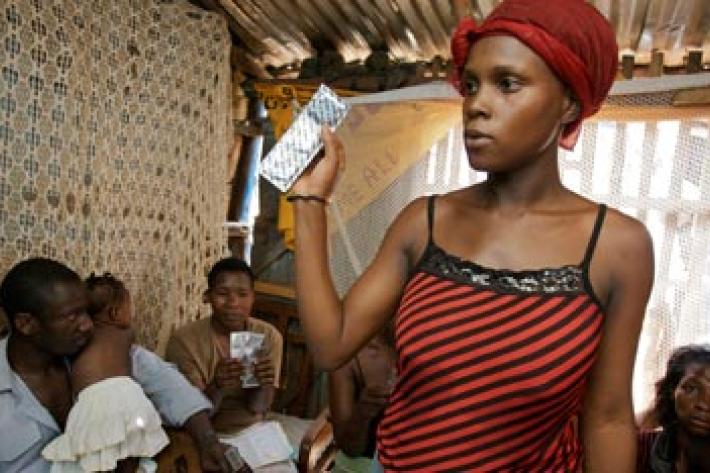 Ill health is pushing the poorest further into poverty.
A high proportion of the world's 1.4 billion poor people still do not receive the health services they need. In the context of sexual and reproductive health, 222 million women do not have access to modern reliable contraception.
There are critical shortages of health workers and high levels of out-of-pocket payments in the poorest countries. An estimated 150 million people suffer financial catastrophe. 100 million are pushed under the poverty line each year because of out-of-pocket spending on health.
A 12 year old girl who falls pregnant, will rarely return to school. She will lose the precious education opportunities which advance into a skilled trade or profession. With limited access to healthcare – reproductive healthcare in this particular case, the likelihood is she will have more children. Her own health may suffer if she has no access to proper medical intervention during childbirth.
Denying this girl access to health care will result in lower levels of education, increased unemployment and a lower income, reinforcing inequality, social and economic poverty.
Universal health coverage and care can improve access to healthcare in low and middle-income countries. If SRHR are guaranteed as part of an essential package of services within universal health care, then this can contribute to the development goals. 
For universal health care to be truly universal, it is critical that it covers a comprehensive package of services which focus on health promotion, prevention and curative interventions. Sexual and reproductive health is a critical component of this, yet it is often neglected in health systems.
In 2007 the importance of SRH was belatedly recognised with the late addition of MDG 5B - Universal access to reproductive health. Although we have seen improvements in maternal mortality at an aggregate level, progress towards meeting unmet need for family planning has been negligible. 
This has cost women dearly. In Sub-Saharan Africa and South Central Asia 60% of women have an unmet need for family planning. 
Universal health coverage in the post-2015 development framework could help to bring an end to preventable deaths.
Stronger partnerships with civil society and the private sector are key to universal health care funding models. There are also legal and social considerations which must be addressed.
IPPF calls for all the unfinished business of the health goal to be carried forward into the next development framework,  post 2015.