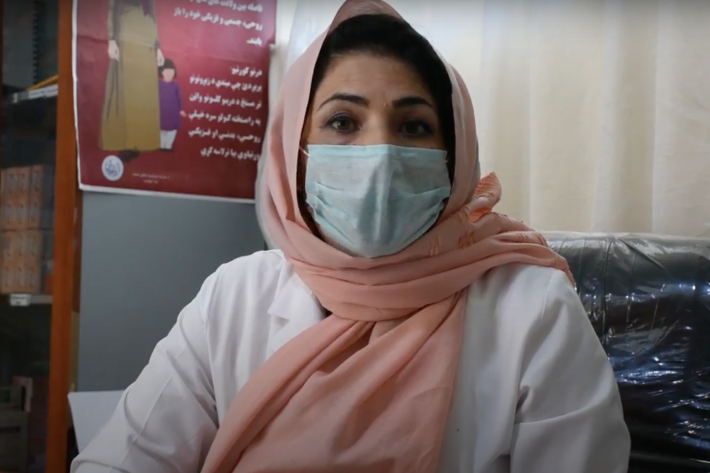 Dr Khatol Hamidi has been working as a doctor and counsellor at The Afghan Family Guidance Association (AFGA) since 2018. 
I provide reproductive health services as well as counselling to people around family planning, sexual gender-based violence as well as anti-natal care and post-natal care. 
Some of the issues that women have been facing in Afghanistan generally are a lack of access to health care services, lack of education and low awareness of their sexual and reproductive rights. There are also often issues within the family and gender-based violence. 
Although we have been doing our jobs as usual during the pandemic our working hours were cut down by two hours a day. I know that people have experienced difficulty getting to the centers and clinics because of lockdowns and transport restrictions. Luckily, we haven't faced a shortage of medical supplies and family planning contraceptives.
After the spread of COVID-19, we installed a digital call line in our center and provided its number to patients so they could contact us about any health issues (such as the side effects of medication) after receiving treatment.  As a preventive measure to assess for COVID-19 symptoms, we appointed staff to check clients body temperatures using an infrared thermometer. We have also taken measures to raise awareness about COVID-19 more widely by distributing  materials about the virus and how to prevent it. We are now referring our clients to our community outreach midwives in case they can't get to our clinics.
I think the COVID-19 pandemic will have an impact on reproductive health both on a national and international level. The impact will vary between countries depending on their own economy and the support of international communities. Due to the restrictions, I think we will see an increase in mother and infant's mortality. In addition to this, people may not be able to access family planning which could lead to unintended pregnancies and problems down the line.
I would say to my fellow frontline health workers that we are leaving our loved ones at home and putting our lives in danger because we are on the frontline of the fight against COVID-19. In fact, this is what defines our jobs. During this pandemic, the whole world is counting on us and is expecting us to be on the frontline of this fight. That's why we need to do our maximum efforts, more than any time. 
At this difficult time, we should take care of sick mothers and pregnant women who visit the clinic and health centers who are in desperate need of our help and support. 
It is always a great honor to be working as healthcare workers especially during the COVID-19 pandemic. Together, we will win the battle and overcome the challenges.