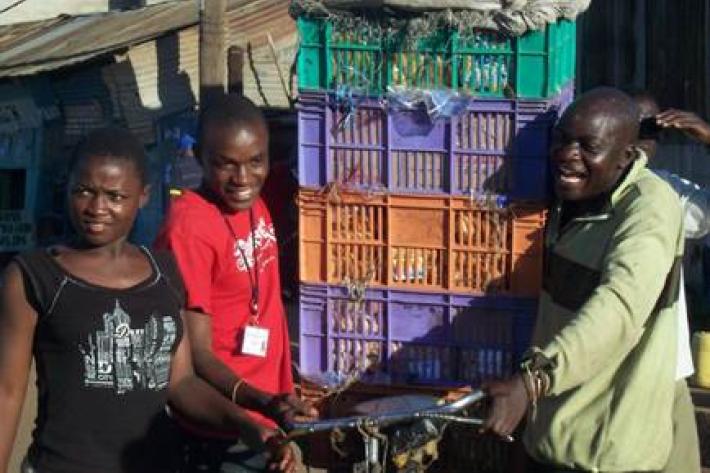 At IPPF we have thousands and thousands of people who work for us as volunteers every day, right across the world. One of those volunteers is 26-year-old Patrick Ongaya who lives in one of the Kenyan capitals biggest slums, Kibera. This is Patrick's story.
"My name is Patrick Ongaya and I am 26-years-old.  I was born and raised in Kibera slum with my two brothers. My mother and little brother live in a rural area but I live with my father who is a carpenter. I run a small business selling ladies shoes to make a living.
I have experienced and learned a lot from living in Kibera. Partly from mixing with so many people from different communities and also from experiencing myself the problems that people living in ghettos face every day.
Between 2009 and 2012 when I worked as a volunteer for IPPF I met many other young people who were afraid of contraceptives because they thought it was against their religion or because of myths they had heard and misconceptions they had. Another major problem is the lack of youth friendly services where young people can get help and there's also another big problem with corrupt people pretending they are helping youths but actually just stealing money from donors.
I speak from experience when I say I met several girls who had been gang raped. One of them had never even told anyone because she thought it was normal. I heard of young girls who bled to death because they used clothes hanger wire to get rid of an unwanted pregnancy and other girls who overdosed on painkillers, conk juice or drank strong tea with a lot of tea leaves in it.
During our service in Kibera we were successful in a lot of areas like HIV and AIDS, STI, teenage pregnancy, family planning and rape. We went round schools, to soccer tournaments and anywhere else where we could find a group of youths in Kibera. It was a good experience seeing people coming for help and avoiding making bad decisions although we could not attend to every youth because we lacked enough man power and enough materials to supply to everyone.
I really want to thank IPPF for the work it is doing in Kenya and especially in Kibera for they have transformed lives especially girls.
In order to avoid corruption in the system and make sure the youths are getting services I think we should involve the affected youths who were born and raised in Kibera in the program because they are experienced and can easily communicate with other youths we should open up youth clubs and tournaments. We should even meet the parents in order to help spread the message."