Preventing Teen Pregnancy with Sex Education in Chile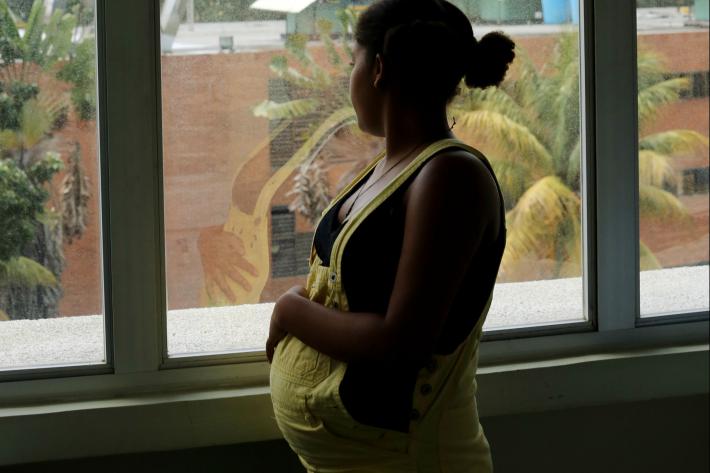 Despite making a commitment in 2008 to boost comprehensive sexuality education (CSE) in schools Chile's Ministries of Health and Education look set to fall well short of this goal with just one year to go until the deadline. Here Yvonne Ivanesc, a freelance journalist, writes about our Chilean partner, APROFA, which is working to increase young people's access to sexual and reproductive health information by offering informational workshops.
In a speech given at the Commission on Population and Development (CPD) in 2013, Chilean President Michelle Bachelet— then Executive Director of UN Women—emphasized the connections between women's empowerment, sexual and reproductive rights, and sustainable development.
"Our goal has to be the promotion of the full and healthy development of the individual and relationships built on mutual trust and respect," said Bachelet. "Sexuality education does not promote promiscuity; it promotes healthy, informed, and responsible behaviour."
Comprehensive sexuality education teaches women they have a right to decide the size and spacing of their families. It also teaches them about their sexual and reproductive health, including the use of contraceptives to prevent unintended pregnancies. Empowering women with information causes a powerful ripple effect that enables families and communities to be healthier and economies more robust. With these clear benefits, many countries in Latin America and the Caribbean are taking steps to provide holistic and factually accurate information about sexual and reproductive health.
However, one country where progress on providing comprehensive sexuality is lacking is Chile. Despite making a commitment in 2008 to increase comprehensive sexuality education in schools by 75% by 2015, the Ministries of Health and Education are falling well short of this goal. With just one year to go until the deadline, Chile's progress currently stands at just 35%.
According to a recent Human Rights Watch report, Chile has one of the highest teenage pregnancy rates in the world, and nearly 1 in 6 births are to adolescent mothers. Young mothers are a highly stigmatized group in Chilean society, and as a result, they face significant barriers to continuing their education and finding work. Many pregnant teens either drop out of school or are expelled, which can condemn them and their child to a life of poverty.
It is common for schools in Chile to promote abstinence instead of teaching comprehensive sexuality education. Some politicians condemn mentioning contraception when educating teens about sex and sexuality. But there's dissent within even the most conservative political ranks.
In 2013, Mayor Rodolfo Carter erected a 40-foot, fluorescent yellow, inflatable condom in Chile's capital, Santiago, with the intention of raising awareness about safer sex practices and curbing the high levels of teen pregnancy in his district. Some of his fellow party members were upset about Carter's condom campaign and accused the tactic of being "vulgar." Carter responded by pointing out the health benefits of condom use.
"This isn't a moral issue or attention mongering, but a public health issue," he told Emol.com. "Nowadays youngsters are sexually active at a younger age, between 13 and 17 years old. In communities like La Florida the majority of them don't have any clear information helping to prevent risky behaviours that may cause disease or unwanted pregnancies."
The abstinence-only sex education is taught in most Chilean schools addresses sexual and reproductive health as biological process. The delineation between sex and sexuality is so stark that sex education isn't a class on its own; it's a part of science courses. Relationships in which people choose to engage in sexual behaviour are not on the curriculum; much less information about pleasure or that using contraception can prevent unplanned pregnancies. Teaching abstinence-only sex education has led to a generation of young people who aren't adequately informed about some of the most critical aspects of their well-being.
Yet, there is hope on the horizon.
IPPF's Chilean partner, APROFA, works to increase young people's access to adequate sexual and reproductive health information by offering informational workshops for young people and ensuring its services are integrated and youth-friendly. In 2013, 64% of its sexual and reproductive health services were provided to young people under age twenty-five. APROFA also works with schools to build the capacity of teachers; it gives them the skills and support they need to speak with students about sexuality, emotional well-being, and preventing unplanned pregnancies and HIV.
During her years with UN Women, President Bachelet was an outspoken advocate for sexual and reproductive health and rights. And she has maintained her strong support since winning the presidential election and taking office in Chile. Under Bachelet, the decriminalization of abortion in some circumstances seems imminent, which would be a big leap forward in one of the only countries in the world where abortion is entirely banned. We hope Chile will continue to move forward down a path that fulfils the ambitious vision displayed in Bachelet's CPD speech: "the right to the highest standard of health, including sexual and reproductive health for all."
Yvonne Ivanesc blogs at Under the Yew Tree.