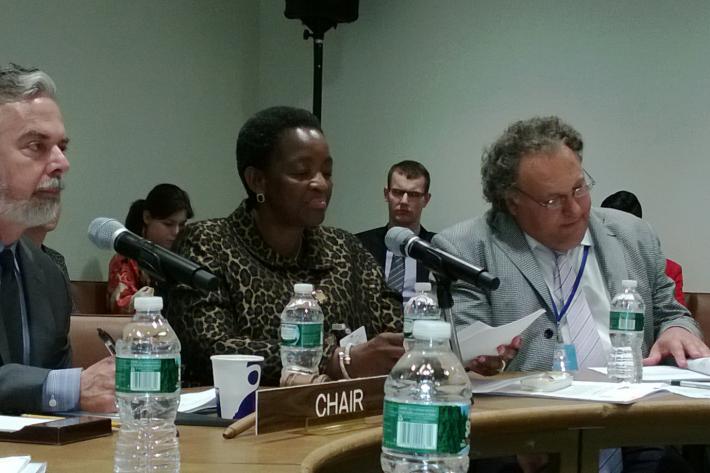 BRICS collaboration is a valuable opportunity to advance population matters says new report
14 April, United Nations, New York: BRICS countries collaboration on  population matters helps create progress  on reducing poverty and inequality, through improving the health and well-being of billions of people.  Learning from each other's experience enables BRICS governments to assess what works to address the needs of vulnerable groups and integrate population factors into national development plans.
The event held at the 48th Commission for Population and Development meetings, organised by Government of South Africa in partnership with governments of Brazil, Russia, India, and China, saw the launch of a new report 'Reducing poverty, inequality and vulnerability: progress on population and development in BRICS countries'. 
The world's strong economies (the BRICS nations) cover more than 40% of the world's population. BRICS governments recognize the vital importance of integrating population dynamics into their work to  advance sustainable development.
After the inaugural seminar on population matters for BRICS officials and experts in Hazyview, South Africa in 2014, BRICS countries agreed a 'Framework for Collaboration by BRICS countries on Population and Development Matters' to promote opportunities for cooperation, dialogue and collaboration.
The new report, sets out recommendations to governments and civil society based on the BRICS's discussions and covers thematic areas including:
Sexual and reproductive health and reproductive rights
Demographic transition and post- transition challenges, including population structure change, population ageing, mortality reduction and increasing life expectancy and social integration of migrant farmers during rapid urbanization.
Social issues and gender and women's rights
Information on population and health, including data collection and utilization, and sharing information and experiences on improving the equity and quality of health of women and children.
The report was written by the National Population Unit, South Africa, supported by the International Planned Parenthood Federation (IPPF).