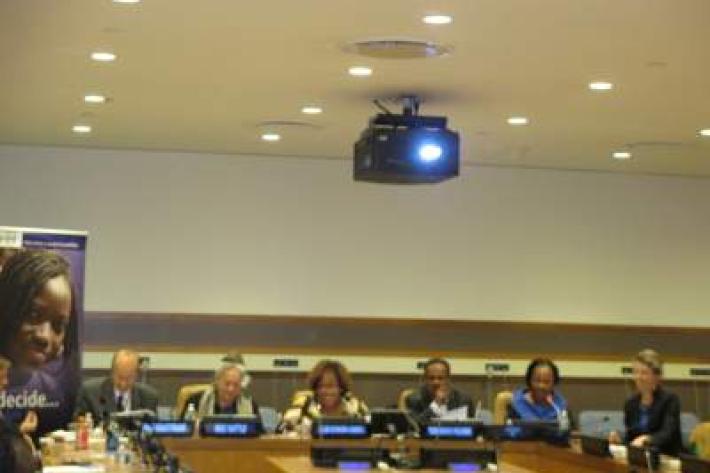 26 September, United Nations, New York, Civil society and Governments have a key role to play in the global effort to secure prime position for sexual and reproductive health and rights in the post 2015 process according to a high-level panel event organised by the Government of Liberia and the International Planned Parenthood Federation (IPPF) yesterday.
Ministers, senior government officials and high-profile champions on the panel reinforced the key link in the chain between sustainable development, sexual and reproductive health and rights, gender and women's empowerment through regional commitments as a solution for a world free from poverty and inequality.
Over the last year, IPPF convened civil society around the world to identify future priorities for the implementation of the International Conference on Population and Development Programme of Action and to influence national governments and international decision makers to secure a place for sexual and reproductive health and rights, particularly for women and girls, in the post-2015 framework.
Securing sexual and reproductive health and rights must include clear financial commitments and establish accountability mechanisms in post- 2015.
Hon. Julia Duncan-Cassell, Minister of Gender & Development, Government of Liberia said: "There would be no life without the girls; let us give them the best and most affordable sexual reproductive health services to protect their lives and those of their future generations".
State Secretary Hans Brattskar, Government of Norway said 'from the outset, Norway is, and has been, a strong supporter of the ICPD Programme of Action.'
He also stated that 'we have witnessed young people's mobilization globally in the development of the post-2015 agenda. Their message is clear. They demand that Member States commit to universal access to comprehensive, youth-friendly sexual and reproductive health information, education and services for all young people and adolescents. Young people want universal access to comprehensive sexuality education to enable them to understand and make informed decision about their sexuality, and to be able to plan their lives.
"We must recognize that our current generation of young people are key stakeholders in the post-2015 agenda. Their views and aspirations should be the basis for decisions for a post-2015 development agenda that must yield strong commitments to young people's sexual and reproductive health and rights.'
Ambassador Ib Petersen, Permanent Mission Representative of Denmark to the United Nations said: "Ensuring sexual and reproductive health and rights is a key post-2015 priority for Denmark and we need strong civil society organisations like IPPF to continue to advocate for this agenda."
Hon. Niki Rattle, Speaker of the Cook Islands Parliament said on progress made by the Cook Islands, "The Parliamentarians and Leaders of the Pacific the "New bloc on the block" stand strong in their support for SRHR beyond 2015 as agreed in the Moana Declaration"
IPPF Director General, Tewodros Melesse, closing the event said, "There have been clear proposals that SRHR should be included under both a gender and a health goal. This is more crucial today than ever before, as we have seen what happens when women's health is ignored. Universal access to reproductive health was only added to the Millennium Development Goals in 2007 and is still the most off-track of all the goals. This signals the critical need to ensure that sexual and reproductive rights and health is included in the next development framework to ensure that women do not get left behind again."