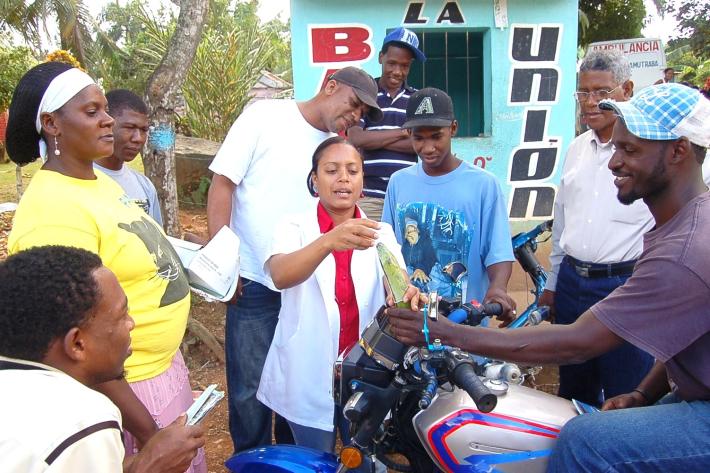 "Immediately after my child was born, I found the market family planning booth to receive free services. The services are right in my community and taking family planning has been a good experience. Things have changed in my life because I can now save money and do other things. I tell my friends they must take their family planning!" - Marie Kamara, 35, Liberia
Bringing together their unique expertise and resources, UNFPA and IPPF are working in more than 16 countries to ensure that the most marginalized and vulnerable people benefit from family planning innovations. The partnership came in the wake of the 2012 London Family Planning Summit and is part of UNFPA and IPPF's contribution to the FP2020 Goals. It was launched at the Women Deliver conference in May 2013 and represents a new level of inter-agency collaboration: linking together national, regional and international efforts: and working across advocacy, information and clinical services. This is important work particularly in the context of negotiations for the next set of development goals.
The programme aims to address the specific challenges faced by post-conflict and post-disaster countries, and countries with fragile political situations, which are home to some of the world's most underserved populations. The programme countries – Bolivia, Burkina Faso, Côte d'Ivoire, Democratic Republic of the Congo, Dominican Republic, Ethiopia, Haiti, India, Kenya, Liberia, Myanmar, Nigeria, Pacific Islands, Pakistan, Paraguay and South Sudan – all have low contraceptive prevalence rates and considerable unmet need for family planning. One year into the programme, this briefing paper shares some of our successes and lessons learned.
Our partnership is filling gaps in health care infrastructure and enhancing the quality of the health workforce. We are strengthening family planning supply chains and community-based distribution networks, and ensuring that sexual and
reproductive health services and supplies are affordable. Women who wish to delay or avoid a pregnancy now have more choice, so they can select a method that is appropriate for them. Community leaders are working with us to break down cultural barriers and taboos that pose risks to the health and wellbeing of their families. We will achieve our goal of providing access to human rights-based family planning for 120 million more women and girls by 2020. Until we do, their
unmet need for family planning imperils their health, welfare, safety and rights.
One year on: access to family planing is changing lives
Creative collaboration, deep into communities and across national borders, is enabling us to expand access to comprehensive services to people who have never been offered family planning in their lives. Women, men and young people are telling us that they want to plan their pregnancies and their families. As a result of the UNFPA-IPPF joint initiative to improve the coverage and quality of family planning, our clients feel that their lives have more potential, meaning and happiness.
Some of the achievements so far include:
Asociación Dominicana Pro-Bienestar de la Familia (Profamilia)
In the Dominican Republic Profamilia and UNFPA are collaborating to explore the use of technology to communicate health messages for young people. The collaboration aims to promote the sexual and reproductive rights of young people; strengthen the network of health providers serving young people; increase demand for health services by vulnerable adolescents; contribute to current efforts by the health and education sectors to strengthen comprehensive sexuality education; and to advocate for resources to improve the availability of educational and clinical services for youth.
Supported by a new agreement signed by the Ministry of Health, UNFPA and Profamilia, the project will undertake an initial evaluation of the quality of services in specified areas. The project team will develop a service guide to guarantee prompt, efficient services and an app for text messaging and social networks to disseminate health information.
Tonga Family Health Association (TFHA)
In 2013, TFHA scaled up national capacity to meet the needs of young people. TFHA trained 75 peer educators, including teenage mothers and young people who identify as lesbian, gay, bisexual or transgender, and trained 328 service providers on youthfriendly service provision. TFHA and UNFPA advocated among members of parliament and as a result, many of them, including the Minister for Health, expressed support for youth-friendly sexual and reproductive health and rights initiatives at the Legislative Assembly on 16 October 2013.
Bolivia, Dominican Republic, Paraguay
Coverage for sexual and reproductive health services is inconsistent, unaffordable and/or discriminatory towards adolescents in many LAC countries. Tailored to each country context, UNFPA and IPPF have developed models of care that are youth friendly and accessible, including M-health components. All three countries have implemented interventions to equip adolescents with full and accurate information about sexual and reproductive health services. UNFPA and IPPF are planning a regional meeting to share learning and draw up plans for the next stages of the programme.
The Family Planning Association of Liberia (FPAL)
PPAL, with the support of UNFPA, is running a market project that aims at improving access and utilization of sexual and reproductive health services to under-served and marginalized populations, including women and girls in rural areas, marketers, customers and host communities. Under this collaboration, the number of family planning services provided jumped from 45,663 in 2011 (12 months) to 103,075 in 2012–13 (18 months). The youth, especially women aged 20–24 years who have the highest unmet need for contraception and are usually under-served in traditional service delivery points, represented 40% of the clients. The project is expanding services in urban market sites as well as in rural Liberia through mobile clinics.
Association Burkinabé pour le Bien-Etre Familial (ABBEF)
In November 2013, UNFPA and ABBEF convened a national conference to reinvigorate support for the National Plan for Family Planning, 2013–15. The Minister of Health opened the conference and, together with the Minister of Development and Decentralisation, called on the 13 presidents of Burkina Faso's regional districts, all in attendance, to consider population dynamics and to allocate sufficient resources for family planning in development plans.
Association pour le Bien-Etre Familial/Naissances Désirables (ABEF-ND)
In collaboration with the Ministry of Health – and with the support of UNFPA – ABEF-ND has expanded its mobile services
to the under-served eastern periphery of Kinshasa, and on each outing it provides implants (long-term family planning) to an average of 200 women. Community-based distributors and educators are reaching more remote locations. Many of the women they serve clearly express their desire not to have any more children because of the hardship it will bring to their lives.
Reflecting on progress, planning for more
Together, UNFPA and IPPF are making more rapid and more lasting impact on the sexual and reproductive health and rights of women, men and young people. We have made some enormous gains in the first year of this initiative, with new
relationships at all levels, new ways of working and expanding our services to those who are hardest to reach.
We have also learned lessons about what we need to do better. The active involvement of key community structures, such as religious institutions and local government, is critical to create a supportive environment for change. Service delivery partners often need training and ongoing support to match IPPF's standards of care. New projects must be approached with realistic plans and expectations.
This partnership initiative is supporting UNFPA and IPPF to deliver on their commitments.
Progress on IPPF's pledges
IPPF made three major commitments for women's sexual and reproductive health through the 'Hand to Hand Campaign' in
2010. Here is the progress we have made:
We committed to reduce unmet need for family planning by increasing the number of new users of IPPF family planning services by at least 50% by 2015. We have achieved this target two years ahead of schedule. We served over seven million new users in 2013, a 62% increase since 2010.
We committed to halve the number of unintended pregnancies. In 2013, we averted an estimated 3.2 million unintended pregnancies, a 12% improvement each year since 2010.
By 2015, we aim to deliver 80% of our services to the poorest, most marginalized and under-served women of the world. The poorest, most marginalized and under‑served women now represent 84% of IPPF clients in 'Every Woman Every Child' countries, and we have achieved this major increase not by expanding services to easy targets, but providing access to those hardest to reach.
While we celebrate our successes and the progress that the global community has made in sexual and reproductive health and rights, we do not forget that millions still have an unmet need for family planning. Demand for family planning is projected to increase to more than 900 million by 2015. Disparities in access to sexual and reproductive health and rights are widespread, so we will continue to prioritize the poorest, the most marginalized, the most under-served girls, women, men and boys.
Regional advocacy to re-affirm support for the ICPD
At the regional level, IPPF's East and South East Asia and Oceania region, in collaboration with UNFPA and the Asian Forum of Parliamentarians on Population and Development (AFPPD), organized the Pacific Conference for Parliamentarians for Advocacy on ICPD Beyond 2014, in August 2013. Senior policy makers and parliamentarians, representing Micronesia, Melanesia and Polynesia, signed the Moana Declaration, featuring 18 recommendations for national development plans, two of which are focused on sexual and reproductive health and rights.