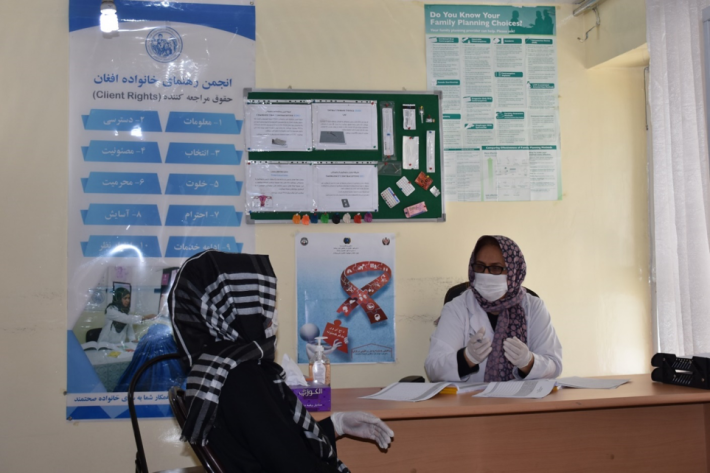 IPPF Member Association, Afghan Family Guidance Association (AFGA) will receive support from the Government of Japan to implement a new project in Afghanistan targeting some of the most vulnerable populations who have been severely affected by humanitarian crises and the COVID-19 pandemic.
Afghanistan is one of the most vulnerable countries in the world. Around 75% of its population requires humanitarian assistance due to the unstable political situation, years of conflict and deadly natural disasters that have pushed people into poverty and towards poor health conditions. 
Against this backdrop, the COVID-19 crisis has strained the economy and health system of the country, further widening social disparities and existing health inequalities. In particular, the vulnerability of women and girls living in refugee camps, informal settlements, and conflict-prone areas has increased, with serious and sometimes life-threatening consequences for their health.
By the end of February 2022, the Afghan Family Guidance Association aims to achieve the following:
Recruit and train 150 community outreach midwives to provide sexual and reproductive health (SRH) and maternal and child health (MCH) services in 10 rural and conflict-prone provinces of Afghanistan, with a particular focus on eclampsia/preeclampsia and postpartum haemorrhage. 
Deliver comprehensive sexual and reproductive health and rights (SRHR) services (Integrated Package of Essential Services -IPES) to 80,000 women and girls.
Provide at least 80% of the 7,500 pregnant and lactating women living in the project sites with a minimum of four antenatal care sessions and two postnatal care sessions, as well as high-risk pregnancy screening, treatment, and referral services.
Deliver comprehensive COVID-19 prevention, screening, and referral services to 100,000 members of 45,000 households living in at least 10 target provinces.
Dr Alvaro Bermejo, IPPF's Director-General said:
"Japan is a very important partner for IPPF's humanitarian work. With the support of the Japanese Government, IPPF Member Association in Afghanistan (AFGA) will be able to provide services to protect the health and well-being of vulnerable women who are suffering the double burden of the humanitarian crisis and COVID-19. We are very grateful for this opportunity to work with the Japanese Government in the pursuit of human security and to ensure that no one is left behind."
H.E. HAYASHI Hajime, The Ambassador of Japan to the UK said:
"Japan has placed importance on measures to improve healthcare that is directly linked to human security and the establishing the "Basic Design for Peace and Health (Global Health Cooperation)". We are pleased to work together with IPPF to support the health and reproductive health of vulnerable women in Afghanistan who are suffering from the humanitarian crisis and the impact of COVID-19. This support will contribute not only to Universal Health Coverage (UHC) but also to preventing the spread of COVID-19."