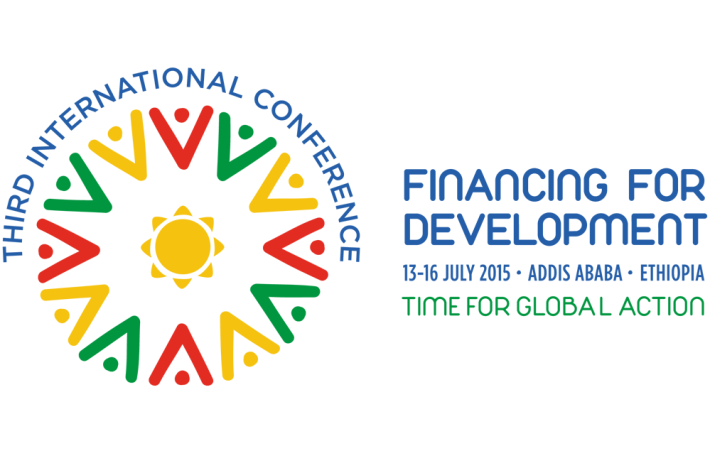 2015 marks a critical year in the design of a new development financing architecture: the revision of donor and national development policies, conclusion of the Millennium Development Goal framework and negotiation of new Sustainable Development Goals (SDGs). Governments are negotiating how to mobilize sufficient financing to support sustainable development and the new SDGs.
Last week, IPPF's Director General, Tewodros Melesse, undertook a number of bilateral events with government Ministers, Parliamentarians, heads of UN Agencies and Civil Society Organisations (CSOs) partners during the third Financing for Development Conference in Addis Ababa, Ethiopia.
Making it Meaningful for Women and Girls
Ahead of negotiations in Addis Ababa on how the new Sustainable Development Goals would be funded, IPPF convened a high-panel event on Monday 17 July. 'The Addis Ababa Accord: Making it Meaningful for Women and Girls' event, hosted by the Government of Netherlands and IPPF, brought together government officials and youth advocates to explore the implications of the new Financing for Development agenda for gender equality, women's empowerment and women and girls' sexual and reproductive health and rights.
The event was well attended and all the panellists reflected on the priority that women and girls must have in the SDGs and in financing, and emphasised the importance of putting them front and centre of both the SDGs and the Financing for Development conversations.
Mr Melesse and other panellists emphasised that although there may be political disagreements on Sexual and Reproductive Health and Rights (SRHR), there is global consensus around issues such as maternal mortality and family planning. The challenge arises when the discussion focuses on empowering women and putting them at the centre of decision making. Bouwe-Jan Smeding, First Secretary Health at the Embassy of the Kingdom of the Netherlands in Ethiopia echoed this and reaffirmed the Dutch Government's support for SRHR at a national and global level.
Panel members discussed different views of the Global Financing Facility and the challenges presented by such a comprehensive development framework were emphasised. George Ndungu, from the Organisation of African Youth, examined in detail why this agenda is important for youth.
Ensuring policy coherence and an enabling environment for sustainable development
On Thursday 16 July, Heather Barclay, from IPPF's Advocacy team and Patricia Da Silva, from IPPF's UN Liaison Office, drafted and delivered an Oral Statement at the final interactive roundtable dialogue in reaction to the Draft Agreement.
 "Once again we overcame our differences to come together and create a plan not for us as nations but for the people of our nations. There are weakness and gaps in the final document, and it is clear that our work towards a fairer, more equitable world that addresses the systemic challenges that we face is far from over. However, we now need to ensure that, from the most remote and vulnerable rural communities to the richest streets of our big cities, individuals can reap the benefits of our commitment in their everyday lives. Our work is not yet done. For the people of this planet and for the health of the planet itself, we must now turn the words we have agreed into action.
Here, with the Addis Ababa Action Agenda, and in New York with the Sustainable Development Goals, and in every national capital in the world, the message has been clear – women and girls must be at the centre of our vision for a sustainable world. It is up to us to make this a reality. But we must always remember that gender equality isn't just smart economics, it is also a fundamental human right. We must fight for and fund gender equality not for the financial benefits it brings, but to make sure that every woman and every girl has access to the life and dreams that she is entitled to.
Data has shown over and over again that sexual and reproductive health and rights are at the centre of women's empowerment. When women have the ability to control their bodies, they can control their futures, allowing them to participate fully and productively in their communities.
If we truly want to create enabling environments to realise women's sexual and reproductive rights as many, including the Women's Working Group on Financing for Development have called for, we need to translate the Addis Ababa Action Agenda into concrete financing mechanisms, national gender responsive budgets, supportive legal frameworks and programmes that support local capacity and implementation.
Addressing systemic inequalities lifts communities out of poverty, educates children and youth, and revitalises struggling economies. Access to women's rights, including sexual and reproductive health and rights, must be a priority.
Now is the time for all of us to commit to taking concrete action. Make no mistake. If we do not do it now, the consequences will be dire. Not for donors. Not for governments. Not for policy makers. It is the poorest and most vulnerable members of our communities that will pay with their lives."