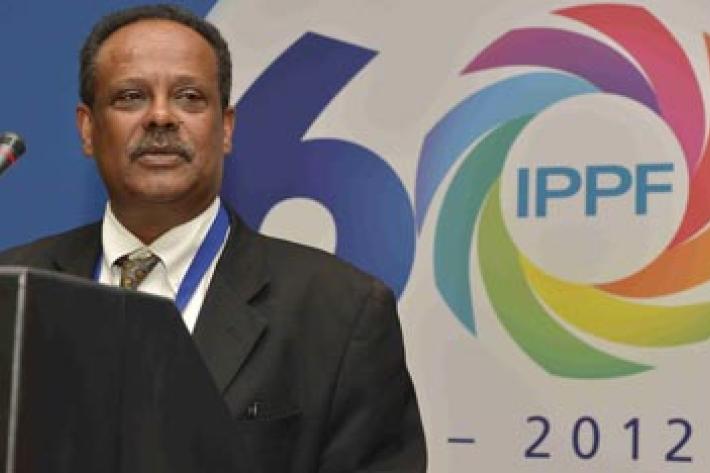 18 leaders from civil society, governments, multi-lateral organizations, technical institutions and foundations are participating in a "Reference Group" for Family Planning 2020 (FP2020). FP2020 has been set up to sustain the momentum of last July's London Summit on Family Planning.
IPPF Director General, Tewodros Melesse, has been confirmed as one of the members of the group which will be co-chaired by Dr.Babatunde Osotimehin, Executive Director of the UN Population Fund (UNFPA), and Dr.Chris Elias, President of Global Development at the Bill & Melinda Gates Foundation. The group convened for the first time in New York on 14 December.
Tewodros Melesse said,
"I'm delighted and honoured to have been invited to join such an influential group which has immense potential to galvanise all parties to achieve the summit's ambitious goals.
"It is my hope that IPPF can make a significant contribution to the group's work given that its Member Associations have extensive experience delivering services globally, and given that the organisation has worked long and hard to unite civil society behind the summit's agenda.
"I look forward to joining with other civil society representatives on the group to ensure that our voice, experience and concerns are integral to FP2020's thinking".
The FP2020 Reference Group will be responsible for creating a strategy which will co-ordinate providers, structures and programmes to best meet 120 million women's unmet need for contraception by the year 2020.
The group will help track resources and results, ensuring that countries' commitments, backed by $2.6 billion new funding from donors at the London Summit on Family Planning, are implemented according to internationally agreed goals and standards.
"Family Planning 2020 is committed to the integration of family planning within the continuum of care for women and girls," said Dr. Babatunde Osotimehin, FP2020 Co-Chair. "Women should be empowered to decide whether and when they want to become pregnant, as well as how many children they want to have. This is at the core of our mandate and work at country level".
The Reference Group will be supported in its work by a small Task Team based at the United Nations Foundation which will manage the daily operations. Working Groups will also be convened from civil society, multilateral, technical and donor organizations to provide advice and support in four strategic areas: country engagement, market dynamics, performance monitoring & accountability, and rights & empowerment. Finally, the Reference Group will seek to engage global family planning champions to amplify the voices of the millions of women worldwide who lack information about and access to contraception.
"As promised at the London Summit, the global community has come together under FP2020 to give an additional 120 million women and girls in the poorest countries access to contraceptives, information, and services by 2020," said Dr. Chris Elias, FP2020 Co-Chair. "Robust partnership and close collaboration with the broader family planning and maternal health community will continue to collectively drive this effort forward."