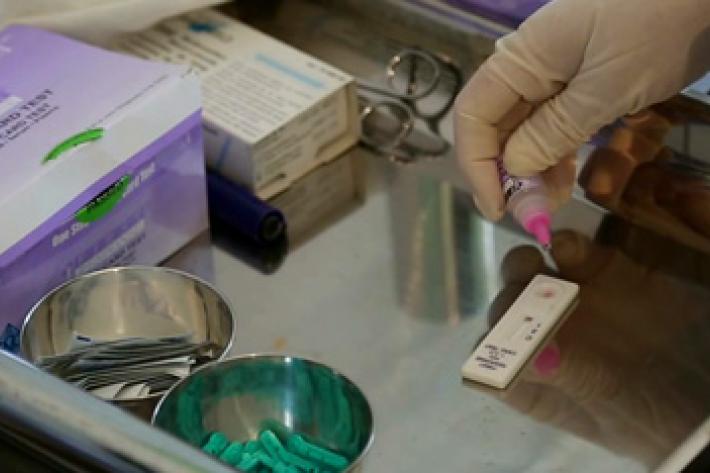 Policy makers, scientists, public health experts, researchers and people living with HIV are expected to attend this year's International AIDS conference being hosted in Melbourne from 20th-25th July.
The conference, now in its 20th year, marks the single biggest global meeting of governments, businesses, charities, the scientific community and other experts to discuss and address the HIV pandemic.
This year's theme, 'Stepping up the pace', recognises the fight for treatment and prevention of the spread of HIV has reached a critical juncture, and that now is not the time for complacency.
Some have prematurely called an end to the epidemic and have begun advocating for funding to be shifted elsewhere - a position widely rejected in scientific circles where the commonly held view is that much more needs to be done to stem the spread of the disease:
HIV continues to be a major global public health issue, and so far has claimed more than 36 million lives worldwide.
The most affected region is Sub-Saharan Africa where nearly 1 in every 20 adults is living with HIV - the region is home to sixty nine per cent of all people living with the disease.
The majority of HIV infections are sexually transmitted or associated with pregnancy, childbirth or breastfeeding.
In 2012, 60% of world governments reported the existence of laws, regulations or policies that present obstacles to effective HIV prevention, treatment, care and support services for key populations and vulnerable groups*
The combination of ignorance, prejudice and fear creates fertile ground for the continued spread of HIV. Openness, acceptance and accessible sexual and reproductive health and HIV services is the key to its reduction.
IPPF, a continuous supporter of efforts to stamp out discrimination and a provider of sexual and reproductive health and HIV education and services, advocates access for all. As a firm advocate and service provider of comprehensive services, IPPF have joined other notable signatories and endorsers in signing the Melbourne Declaration.
".. We reaffirm our unwavering commitment to fairness, to universal access to health care and treatment services, and to support the inherent dignity and rights of all human beings. All people are entitled to the rights and protections afforded by international human rights frameworks. An end to AIDS is only possible if we overcome the barriers of criminalization, stigma and discrimination that remain key drivers of the epidemic."
IPPF will have a strong presence at the conference, beginning with the session, 'Gender and SRHR in the Post-2015 Framework', which includes a panel of global experts on SRHR, HIV and gender. They will debate the proposed post-2015 global architecture to address gender inequality and empower individuals to exercise choice in their sexual and reproductive lives; taking charge of their bodies and reduce the risk of HIV. The panel will be chaired by Marijke Wijnroks, Chief of Staff of the Global Fund and will include experts from UNFPA, UNAIDS, International Treatment Preparedness Coalition and UN Women.  Room 203 -204, SUSA15.Details of the session can also be found on the AIDS2014 website.
In addition, and in partnership with United Nations Population Fund (UNFPA), IPPF will be hosting 'Coolibah Networking Zone: Young People's Leadership in Sexual and Reproductive Health and Rights.' The networking zone in the Global Village aims to heighten awareness of young people and their sexual and reproductive health rights. Young people make up the largest demographic of the world's population and more than 2 million are living with HIV. South African humanitarian and activist Yvonne Chaka Chaka will open the Networking Zone on Monday 21st July 12:15 -14.00.
The flagship Integra Initiative, supported by the Bill & Melinda Gates Foundation and managed by the International Planned Parenthood Federation (IPPF) in partnership with the London School of Hygiene & Tropical Medicine (LSHTM) and the Population Council, recently completed its five year study into cost, quality of treatment, health benefits and stigma reduction of HIV in Africa. Findings from the research will be presented and discussed in a session titled "Making sense of complexity: Key findings from the Integra Initiative" on the integration of SRH and HIV services on Tues 22nd July at the event. - http://pag.aids2014.org/session.aspx?s=1066
IPPF is the global leader in the provision of integrated sexual and reproductive health and HIV services as well as a leading advocate of HIV and sexual and reproductive health and rights for all. For example:
In 2013 IPPF provided 136.6 million integrated SRH and HIV services – 24.8 million (18.2%) were specifically HIV-related services;
IPPF advocates to reduce stigma and barriers to access to health services so the sexual and reproductive health of groups that are disproportionately affected by HIV, including men who have sex with men, sex workers, transgender people, and people who use drugs, are addressed.
The IPPF model of integration is the provision of HIV services in the same facility and generally in the same room by the same provider. By 2012, 86 MAs (51.1%) were providing at least 6 out of 9 HIV services across the prevention to care continuum.[1]
IPPF intends to continue its fight for SRHR, HIV and gender equality to be included within the UN post 2015 development framework, and our Vision2020 campaign is currently gathering signatures to present to the General Assembly in 2015.
For a full list of IPPF sessions visit us at our booth (#309) in the main exhibition hall or come to one of our sessions. See our programme www.ippf.org/static/IPPF-AIDS-Conference.pdf
* Source: UNAIDS
[1] Behaviour Change Communication, Condoms, Sexually Transmitted Infections, HIV Voluntary Counselling and Testing, Psychosocial Support, Prevention of Mother to Child Transmission of HIV, Opportunity Infections, Antiretroviral Therapy, Palliative Care.