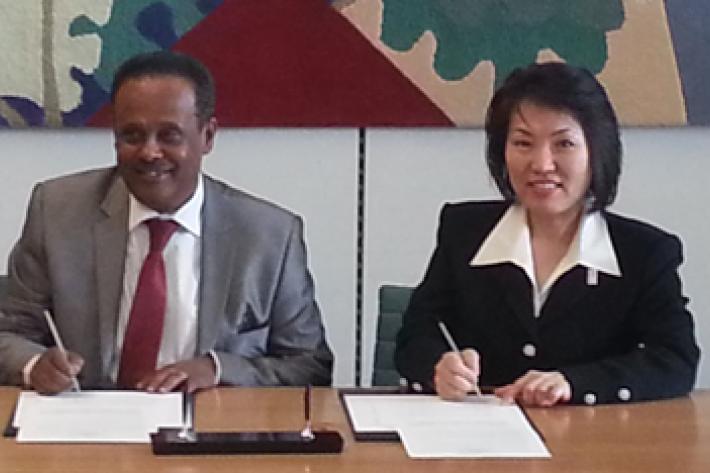 The Government of Japan and the International Planned Parenthood (IPPF) have entered into a strategic partnership that will provide a solid basis for long-term co-operation on reproductive health including family planning, particularly in Africa, IPPF said today.
On 9 May, Dr Toshiko Abe, Parliamentary Vice-Minister for Foreign Affairs and Mr Tewodros Melesse, IPPF Director General signed a Memorandum of Cooperation on Strategic Partnership between the Japanese Ministry of Foreign Affairs and IPPF in their meeting at the UK Parliament.
Dr Toshiko Abe said: "'Japan has been recognizing the importance of and taking seriously the place of family planning and population issues in development. This is something we will continue to prioritize.  I am happy to sign the Memorandum of Cooperation to strengthen the Ministry of Foreign Affair's partnership with IPPF. I want to encourage IPPF to work more closely with the Japan International Cooperation Agency (JICA) and enhance local collaboration under the Japan Trust Fund for HIV and Reproductive Health (JTF)."
Mr Tewodros Melesse said: "We welcome this enhanced level of co-operation and the role that Japan continues to play in development issues around the world. IPPF hopes Japan will play a pivotal part in ensuring sexual and reproductive health and rights - including family planning - are at the heart of the development agenda as talks on the next generation of Millennium Development Goals continue."