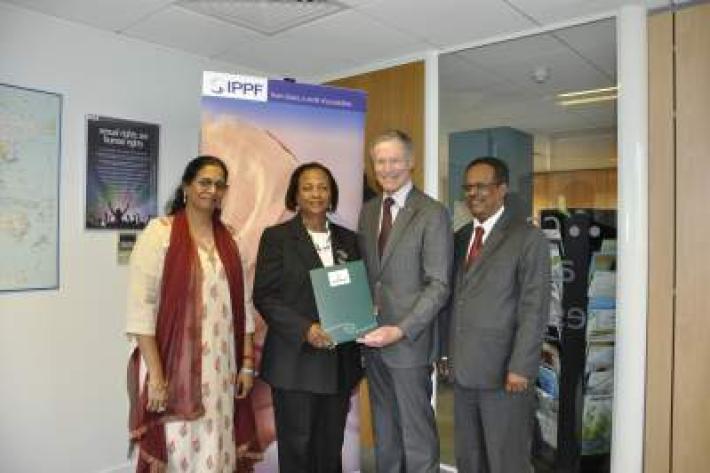 International Planned Parenthood Federation (IPPF) has received a two year grant from the New Zealand Government to further IPPF's sexual and reproductive health and rights services.
Funding has increased from a one year renewal to a two year grant 2014-2015 to the sum of $5 Million New Zealand dollars. 
New Zealand High Commissioner in London, Sir Lockwood Smith, met with Director General Tewodros Melesse today to discuss the synergy of IPPF's mandate with New Zealand's Aid thematic priorities for supporting development through gender and human rights.
Mr Melesse discussed how IPPF adapts services and advocacy according to the needs and priorities of the country it is delivering services in. He said, "Wherever there is a population there has to be a creative solution to reach the needs of the people. This may mean working with religious or community based groups and other agencies". He cited a visit to a project tackling gender based violence in the Solomon Islands, where a church offered shelter and referred women to the national IPPF Member Association for essential services and support.
Sir Lockwood Smith spoke of New Zealand's priorities "The central focus of New Zealand's aid programme is sustainable development to reduce poverty and contribute to a more secure, equitable and prosperous world.  This includes carefully targeting funds towards programmes that bring about tangible differences in the quality of people's lives.  New Zealand welcomes the good results achieved by IPPF.  Our move to multi-year support is a confirmation of IPPF's valuable work on sexual and reproductive health and the positive impact of IPPF work globally".
Welcoming the commitment, IPPF Director General, Tewodros Melesse said: "We are delighted to receive this renewal. This is a demonstration of the trust and confidence the Government of New Zealand has in IPPF to deliver essential sexual and reproductive health services and advocacy around the world. The funds will boost our efforts to ensure that people are at the heart of service delivery and our rights based and integrated approach reaches the poor and marginalized even at the furthest outpost."