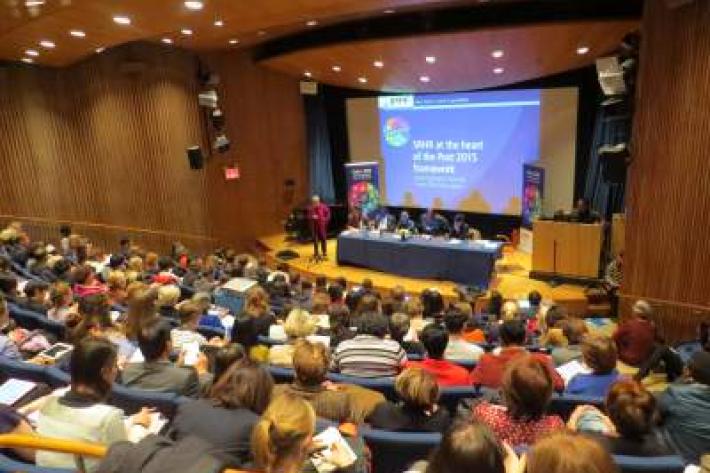 A new report launched at the UN today reveals that sexual and reproductive health and rights are still nowhere near high enough up on the UN's list of priorities.  
IPPF's "Sexual and reproductive health and rights: a crucial agenda for the post-2015 framework" report, unveiled on the first day of the United Nations Committee on the Status of Women (CSW), argues if Member States and the UN fail to prioritize women and girls, or sexual and reproductive health and rights (SRHR), then the next development framework cannot hope to end poverty.
A fundamental flaw in the Millennium Development Goals (MDGs) was the failure to include SRHR from the beginning. Although universal access to reproductive health was added later, there was still aradical decrease in funding for services.
IPPF's report – set to become an annual fixture in the SRHR calendar - chimes with the priority themes of the UN's CSW meetings; implementation of the Millennium Development Goals for women and girls. The report maps country progress on sexual and reproductive health and rights and details how SRHR is inextricably linked to the economic, social and environmental pillars of sustainable development, and provides a compelling case for putting it at the heart of the post-2015 framework. 
The report includes a "data tracker"  that  demonstrates progress on a wide range of issues spanning from equality legislation, contraceptive prevalence rates, abortion, female genital mutilation to violence against women and early and forced marriage.
The report also reveals key SRHR issues that must be addressed in the next global framework:
Early and forced marriage is a critical issue. In some countries the majority of females are married when they are still girls – 18 years or younger. Countries with high prevalence of early and forced marriage (number of girls married before the age of 18) include:
 Afghanistan- 40.4%; Dominican Republic- 40.8%; Niger-74.1%
 Turkey- 14%; Trinidad and Tobago- 8.1%; Vanuatu- 27.1%
Around the world women face high levels of gender-based discrimination and violence. Violence affects 1 in 3 women globally and is one of the most widespread abuses of human rights worldwide. Countries with  a high prevalence - of ever-married or partnered women aged 15-49 who experienced physical or sexual violence from a male intimate partner over the last 12 months include:
Antigua and Barbuda- 69%; Azerbaijan-13.5 %; Bangladesh- 53.3%;
Benin- 69%; Bolivia- 23.64%; Moldova-13.4%; Tunisia-16.2%
Young people represent over half the world's population and their right to have services that meet their sexual and reproductive health needs must be recognized. In low and middle income countries complications of pregnancy and childbirth are the leading cause of death in young women aged 15-19 years.  In IPPF's Western Hemisphere region adolescent pregnancies are increasing. Countries with a high prevalence of unmet need for family planning for young people (unmet need for family planning 15-19) include:
Armenia: 27%; Ghana: 61.7%; Haiti: 56.6%; Nepal: 41.6%;
Philippines: 33.7%;Yemen: 34.3%; Ukraine: 30.6%;
IPPF's Director General, Tewodros Melesse, expressed his concerns on the progress of the MDGs, he said "There has been a heavy price and great human toll because sexual and reproductive health and rights were not fully covered in the last set of goals.
"Sexual and reproductive health and rights are central to achieving a world without poverty, where people can achieve their potential, and where good health and education are guaranteed.
Speaking at the launch of the report, IPPF Regional Director for the Western Hemisphere, Carmen Barroso said: "The timing is pivotal – we have an 18-month window to ensure that we get things right for the next 15 years - providing the UN and Member States focus their efforts in the right place."
"Our new report makes this argument clear and simple:  failure to prioritize women and girls and sexual and reproductive health and rights in the next development framework is not an option."
Research Fellow of the Institute for Economics and Peace, Thomas Morgan, who undertook the data analysis said: "The research shows that ifthe UN wants to make sexual and reproductive health and rights a priority, then better data collection, disaggregation and transparency is needed, to highlight global and national demand for investment and to ensure accountability on these issues."