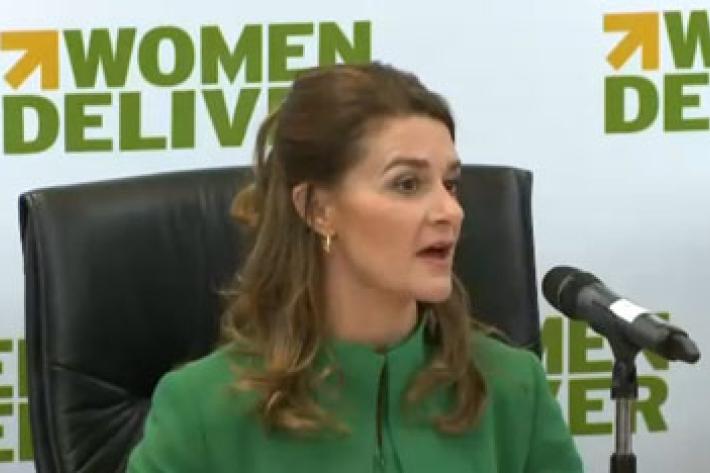 The second day of Women Deliver 2013 began with Melinda Gates addressing the conference in Kuala Lumpur telling delegates that women have always had the courage to change the world adding "we are here to make sure that millions of women will finally be able to make their courage count".
Referring back to the 2012 London Summit on Family Planning she reminded the audience that donors had committed USD2.6bn to a vision: to allow women what they really want "access to high-quality health education, health services and contraceptives".
"We have made a start we can be proud of. We laid out big ambitions, and we are building the foundations of a global movement that can fulfil those ambitions. But not every donor has made a pledge. Not every country has made a commitment and a plan," Gates said.
"Most importantly, tens of millions of women still lack access to contraceptives. Our ability to create complex partnerships and change systems in dozens of countries will determine whether or not we get the results we want in the future."
The speech was undoubtedly a highlight of a conference filled with good moments, and challenging debates.
Prof. Hans Rosling of TED fame and the founder of the Gapminder Foundation spoke at a talk on 'Harnessing the Demographic Dividend'.
"The lowest hanging fruit in the world is to meet the existing demand for family planning in Africa … at present contraceptives are not available to the people who want them," he said.
"I have difficulty to see anything that would pay off more in human progress."
IPPF staff and volunteers again had a substantial presence throughout the vast conference centre.
A talk on abortion entitled 'Communicating with the Undecided' – saw a thoughtful series of speeches.
Letanya Mapp Frett from IPPF's US Member Association, Planned Parenthood, asked what pro-choice or pro-life actually meant?
"Labels don't work – the issue is too complex and the labels limit the conversation," she argued. "Politicians are interfering in a personal decision – putting a label on it isn't fair to a woman".
She said that a recent poll of US voters showed that while only a minority identified as pro-choice or pro-life, two thirds wanted abortion to stay legal.
Maria Consuelo Mejia – Catholics for the Right to Choose, Mexico – advocated using art and 'respectful humour' to campaign.
She said her organisation makes the case for sexual and reproductive health and rights in part by engaging with theology and Catholic teaching.
Sarah Javaid of the Muslim Agency for Development Education meanwhile said it was important to "know your audience… and find new allies".
She added that family planning and abortion were controversial – seen by some as an agenda of the West to limit Muslim populations. 
But, she argued, Islam permits abortion before 120 days 'when the soul enters the foetus' –  and that rape and danger to the mother's health were grounds.
Elsewhere at the conference Norway's Crown Princess Mette-Marit met with 4 peer educators from IPPF member association FRHAM – the Federation of Reproductive Health Associations in Malaysia.
They spoke with her about their work on comprehensive sexuality education with young people.
On Thursday, a highlight of Women Deliver will be an announcement by IPPF and UNFPA about a new partnership targeting 13 countries and particularly places that have been hit by war or natural disasters.