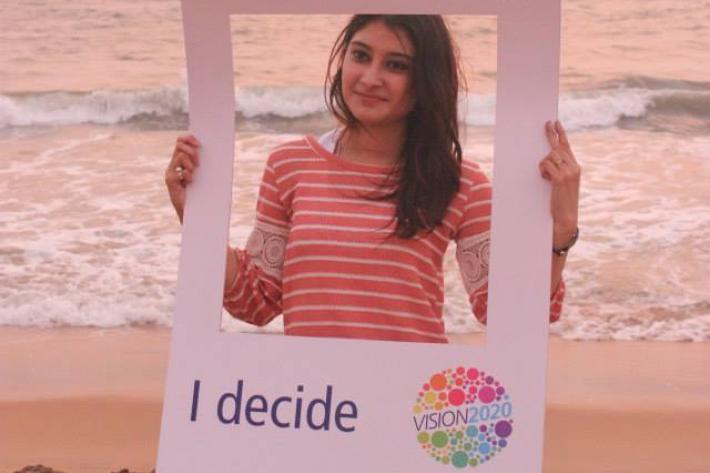 World population matters. In 1950 there were 2.5 billion people in the world – today that figure has almost tripled to about 7 billion. The implications for development are huge.
In fact, today, the world is home to the largest generation of young people in history.
And while that presents a wealth of opportunities for the future, many adolescents continue to face substantial challenges to their rights.
Most young people in developing countries live in poverty, and lack access to youth-friendly healthcare services.
Worldwide, 1 in 5 women has given birth by the age of 18, rising to 1 in 3 girls in the poorest parts of the world. To tackle this, the future international development goals must truly prioritise SRHR.
The world has already shown commitment to important aspects of SRHR. For example today marks the second anniversary of the London Summit on Family Planning which created a goal to enable 120 million more women and girls to use contraceptives by 2020. The Summit helped to launch the FP2020 movement which has won global backing across governments, civil society, and the private sector.
This is progress but it is only when sexual rights and reproductive rights are realized and women and girls have control over their futures and bodies that development will be truly sustainable and meaningful.
And therein lies the problem - at International Planned Parenthood Federation we know that about 220 million people who want contraception can't get hold of it. We also know that every year it is estimated that there about 210 million pregnancies but of those around 80 million are unintended.
We know that women and girls are happier when they can choose for themselves how many children to have. When they can decide and space their births they are more likely to finish school, get a job and contribute financially to their communities and their national economy.
It's because of that, that we have launched our global 'I Decide' Campaign. We think it is time that everyone around the world had the chance to decide for themselves about their most basic sexual and reproductive health and rights.
It's our plan to get one million signatures to present to the UN Secretary General Ban Ki Moon to ensure sexual and reproductive rights are at the heart of the post MDG framework. 
At the moment the situation is unacceptable. One in three women globally, experience violence and girls are still forced into marriage before the age of 15.
Behind the statistics are individual stories.
Every day our Member Associations around the world hear from desperate girls and women. Like 14-year-old Hosna in Bangladesh who was about to be married off by her parents. She was frightened and didn't want to drop out of school and lose the chance of a proper education. 
Then there was Nomvelo, a young Swazi woman born with HIV facing stigma, discrimination and an uncertain future. Or 15 year old Layla from Syria who was forced into marriage, then beaten and raped by her husband's brother. When she fled she was trafficked into sex work.
This has to change. People should have the right to decide – who they live with; what happens to their bodies; if, when and how many children to have; the right to determine their futures freely and safe from harm.
It's for young women like these that we are calling on people to lobby the World Health Organisation after it proposed dropping a crucial international target on universal access to reproductive health and contraception.
Excluding universal access to sexual and reproductive health and rights from the post-2015 framework would be a missed opportunity.
Instead of dropping the target we have a rare opportunity to work towards a vision of sustainable development for all and universal access to sexual and reproductive health and rights.
On World Population Day 2014 we are calling on you to look at the big picture while remembering Hosna, Nomvela and Layla – and the thousands more like them around the world - who need your help and support to live the lives they deserve to have.