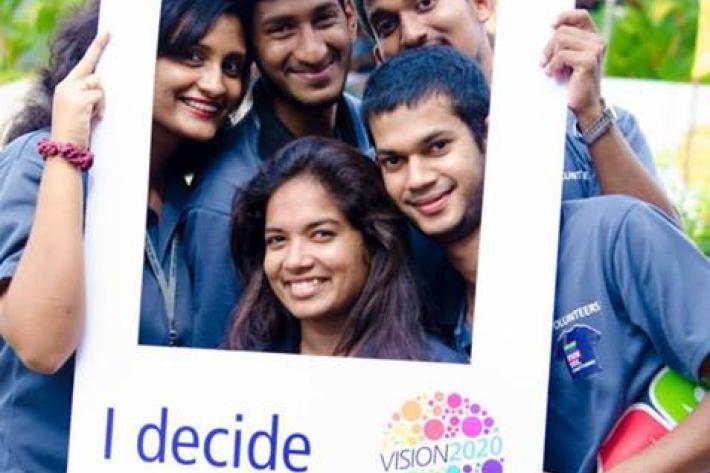 The 'I decide' campaign was officially launched at FPA Sri Lanka headquarters on the 13th of May 2014. The IPPF Vision 2020 video was played for the staff and they were further briefed on the objective of the campaign. All staff were encouraged to sign the global petition. The petition box will be kept at the main entrance to encourage staff, volunteers and visitors to have their say on the post- 2015 development agenda.
     The FPA Sri Lanka twitter account was officially launched on this day with the first tweet being on the 'I Decide' campaign.  The FPA Sri Lanka Facebook page will continue to update its status with messages suggested in the social media toolkit.
    Volunteers and Staff of FPA Sri Lanka were photographed with the 'I Decide' photo frame and the photos will be uploaded and shared on the Facebook page with the 'I Decide' status messages.
    FPA Sri Lanka in partnership with IPPF-SARO collected signatures for the 'I Decide' petition  on the 3rd day of the World Youth Conference (WCY)  held at BMICH Sri Lanka from the 6th – 10th of May 2014. In addition, participants of WCY were given the opportunity to be photographed with the 'I Decide' photo frame.  
      Advocacy tools and materials on Vision 2020 have been developed for the purpose of informing the various stakeholders.
 ·      The campaign's offline promotions will be carried forward at the Arogya Medical Exhibition during 16th – 18th of May 2014 at the Bandaranaike Memorial International Conference Hall, Colombo.
A Debate Competition with students of faculty of Law, University of Colombo and Law College of Sri Lanka will be held with the presence of Attorney General, Her Ladyship Justice Shiranee Thilakawardena of Supreme Court of Sri Lanka and MP Dr Mrs Sudarshini Fernandopulle & MP Jay Sri Ranga. This will start on May 20th.
      A trilingual media campaign with national electronic and print media groups including articles, interviews, reporting programs in partnership with selected parliamentarians, activists and sector specialists with a special focus on decision makers and general public. May – June 2014
        Presentation of the Policy Brief prepared on Vision2020 to parliamentarians will happen at the inaugural meeting of the Parliamentary committee for Population and Development.