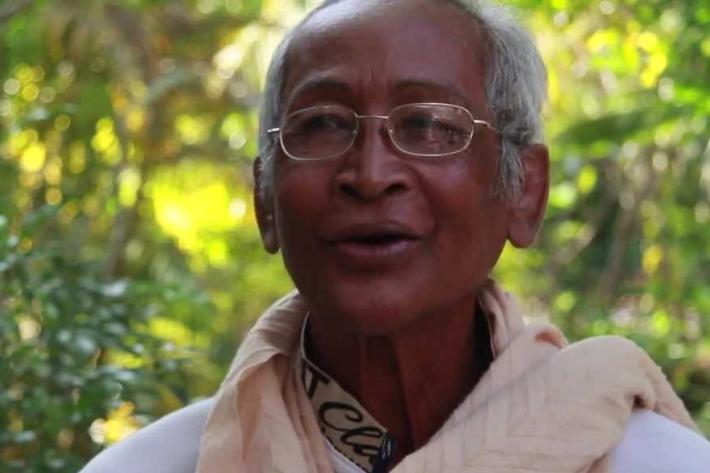 The 2014 David Kato Vision and Voice Award winner is Cambodian transgender activist, Sou Sotheavy. She will be presented the award at the prestigious Teddy Awards in Berlin.
Sou Sotheavy is 75 years old. She has spent the last 2 decades working to establish a national network of organizations to support lesbian, gay, bisexual, and transgender (LGBT) people across the country. 
"I am tremendously moved to be given this award that to me symbolizes the struggle for rights and freedom for LGBT people in Cambodia," said Ms. Sou. "I think of the torture and suffering that I have endured throughout my life. Today, I am fortunate to live a life that I have always dreamed of, a life that allows me to help LGBT Cambodians escape torture, contempt, and discrimination that exist in many families and in Cambodian society."
Sotheavy Sou was born on 8 December 1940 in Takeo province, Cambodia. Before the radical communist regime of the Khmer Rouge took over in 1975, Sotheavy worked as a military nurse and studied performing arts in the capital of Phnom Penh. In the period of the Khmer Rouge regime from 1975 to 1979, which resulted in the killing of more than 1.5 million people, Sotheavy was harshly persecuted for being transgender. Many of her LGBTI friends and loved ones did not survive the brutality of Khmer Rouge era.
After the fall of the regime, Sotheavy restarted her work as army nurse. Her first involvement with human rights advocacy began in 1985 when she conducted outreach activities HIV/AIDS outreach for the Khmer Development Freedom Organisation (KDFO). In 1999, realizing the need for special attention to LGBTI issues, Sotheavy established the Cambodian Network for Men Women Development (CMWD), the first Cambodian NGO to support LGBT people, where she continues to serve as president today. Through her work at CMWD, Sotheavy has brought together the largest network of LGBT groups in Cambodia. Active throughout 15 provinces, CMWD has provided much needed capacity building to LGBT groups, providing invaluable support for local programs and advocacy.
Until today, CMWD and Sotheavy's efforts have received no international attention. By acknowledging the importance her work on this issue, Sotheavy hopes the David Kato Vision & Voice Award will inspire and encourage more people to join the movement against discrimination in Cambodia and around the world. With more funding and volunteer activists working with Sotheavy in the provinces, she will reach out to a broader audience and support even more LGBT people and organizations in Cambodia's more remote rural areas, where the education level is low, discrimination is rampant, and LGBT people remain forced to hide their true identity.
"I have been working without funds for a very long time," said Ms. Sou. "This award will allow me to help my organization, train my team, and ultimately strengthen the rights of LGBT people in Cambodia. On the day I receive the award, my wish will be that LGBT people from around the world will help support our LGBT communities in Cambodia, who are now facing a resurgence of violence from authorities. I will fight until the end of my life. I will not stop until the rights for LGBT exist like for other people."
Awarded annually, the David Kato Vision & Voice Award is presented to an individual who demonstrates outstanding courage and leadership in advocating for the sexual rights of LGBT individuals, particularly in challenging circumstances and unsupportive policy environments. The award provides winners with a global media platform and a $10,000 grant to support their work. The award was established to commemorate the memory of David Kato, LGBT activist, who was murdered in his Ugandan home in 2011.
The 2014 David Kato Vision & Voice Award is presented in memory of Eric Ohena Lembembe, who served as Executive Director of the LGBT human rights organization CAMFAIDS in Cameroon before he was brutally murdered in July of this year.