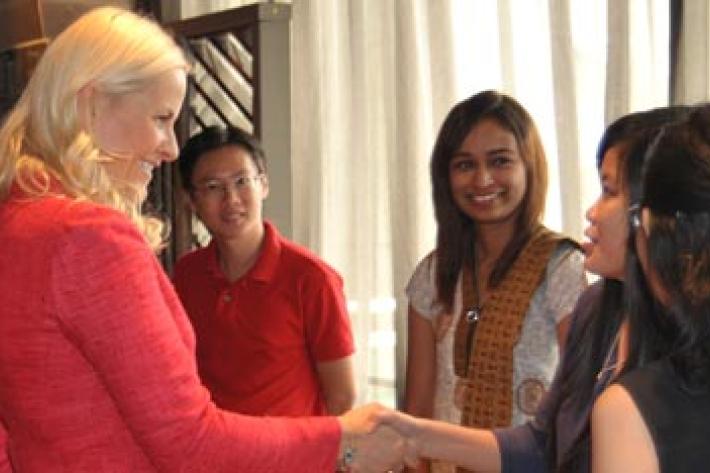 Peer educators from International Planned Parenthood Federation's (IPPF) Association in Malaysia met with The Crown Princess Mette-Marit of Norway to talk about youth rights at the Women Deliver conference in Kuala Lumpur Wednesday 29 May.

The Federation of Reproductive Health Associations in Malaysia (FRHAM) is an IPPF Member Association. It has been pioneering comprehensive sexuality education with young people using a peer-to-peer approach with hundreds of young people across the country. 

The meeting was as a result of her interest global efforts to empower young people.
Met with amazing #youth yesterday. They want rights to sex ed,meaningful involvement & protection against gender based violence #wd2013

— HRH Mette-Marit (@CrownPrincessMM) May 28, 2013

Peer educator, Shammila Aruchnnan, aged 26, commenting on the visit said: "It is really inspiring to see a high profile person committing themselves to sexual and reproductive health and rights. It gives me the emotional motivation to continue working in this field."

Juliana Ooi, aged 27 talked about her motivation to become a peer educator, she said:  "I started doing this because I think youth involvement in advocating and providing sex education is important. It is so much easier for young people to open up to another young non- judgemental person."

Chan Wan Yee has been working as a peer educator since 2006 and is training to become a pharmacist. She talked to the princess about her work with vulnerable young boys in juvenile homes. "The young people get really attached. They are so touched by our patience. I listen and don't judge while they ask questions about gender, equality and sexual health. 

"Sex education can be superficial in schools. It really depends on the teacher. If they are open minded then it works. If they are rigid because of stigma and norms, they won't even mention the basic terms and that isn't enough information for young people.

"I didn't realise our work would be appreciated on an international level. We feel so appreciated. It's the process of how young people grow and make informed choices. That's the joy."

Nora Murat, Regional Director of East and South East Asia and Oceania, IPPF said: "We are really delighted that our youth got to meet with the Crown Princess of Norway. In our line of work, we find that their needs are often neglected due to conservatism and ignorance. Young people in the region face increasing pressures regarding sex and sexuality including conflicting messages and norms. Sex is often seen as negative and associated with fear, guilt and disease. But, like adults, they have the right to have healthy and happy lives."

Speaking on why IPPF advocates for comprehensive sexuality education (CSE) globally, Tewodros Melesse, IPPF Director General, said: "Sexuality education is key. Good comprehensive sexuality education is essential in helping young people to make informed choices, it enhances their independence and self-esteem and helps them experience their sexuality and relationships in a positive and pleasurable way."