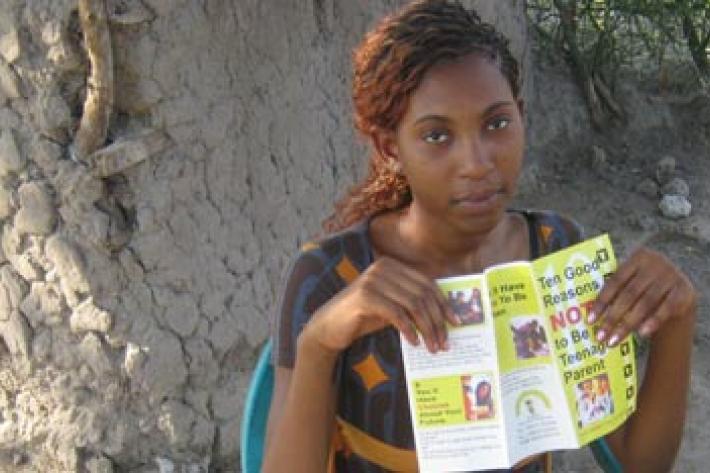 To highlight the urgency of the work which IPPF has done over the past 60 years, we undertook a broad-brush survey of young people's attitudes to sex in 4 African nations.
It was quick-fire because it was seeded via mobile phone, it ran for just a week, and it asked just five simple (but telling) questions:
Where do you learn most about sex?
When did you first have sex?
Do you use contraception?
What one thing worries you most about sex?
What is the ideal size of a family when it comes to children?

In South Africa, respondents split almost evenly between 16-24 year olds (51%) and 25-34 year olds (49%). This gave IPPF a chance to get a sense of the kinds of shifts that might be going on in behaviour, ideas and practices amongst the rising generation, as against their older counterparts.
When it came to learning about sex, the primary source of information (38%) was friends. Friends can be very helpful, of course, but they can also offer up a rich vein of misinformation. That applied more or less equally across both age groups. TV and media was second (21%), the internet was third (15%), school classes were fourth (14%), and family came in at a worryingly last on 5%.
It's particularly concerning, given that the other three countries in the survey (Nigeria, Namibia and Zimbabwe) recorded high levels of family involvement in terms of providing information (at 17%, 22% and 24% respectively).
IPPF Director General Tewodros Melesse comments, "The fact that parents are not engaging with their children on sex education is of great concern. Young people need responsible and reliable sources of such information to be properly educated. We really need families to teach young people about sex, sexual health and responsible behaviour. Not speaking about it within the family actually increases the risks rather than preventing them".
The major discrepancy between the age groups was in the amount they learned at school: for 25-34 year olds, it was markedly less than for 16-24 year olds. Which, from IPPF's point of view, has to be a better sign. If parents can be persuaded to work in partnership with schools, the prospects for a more comprehensive and accurate education on sex and sexuality are encouraging.
In South Africa, nearly a third of the young people had not had sex. 12% first had sex under the age of 14, 22% at 14-16 years, and 37% had first had sex after 16. The survey showed that slightly more young people today are having sex before the age of 16. But South Africa's figures on age of first sexual experience are significantly higher than those in Namibia (20%), Nigeria (16%) and Zimbabwe (15%).
Young and old alike showed very similar results with regard to use of contraception. 34% always used it, 36% sometimes used it, and 6% would have used it, but couldn't get hold of supplies. It doesn't take a great mathematician to work out that there's a further 24% to be accounted for: and that 24% is the group which simply asserted that they never used contraception.
Given the nature of people's worries about sex, that failure to use contraception is bizarre. When asked about their chief worries, the results were clear cut with HIV transmission (42%), unintended pregnancy (32%), and sexually transmitted infections (12%) – all preventable through proper contraception - the foremost concerns. Whether they would enjoy the experience (7%) came in fourth.
But there was a disparity over people's worries: the older age group was significantly more worried about HIV and AIDS and the enjoyment of sex, but far fewer worrying about unintended pregnancies. 
IPPF was particularly curious about preferred family size, given that sub-Saharan Africa has the highest birth rate of any region in the world. Over 84% of respondents wanted no more than 3 children.
The key points which emerged from the survey were the need for proper sex education and the need to promote family support to enhance its impact and effectiveness; and the importance of enabling young people to access youth friendly information, services and supplies freely, without fear of judgement or censure, so that they can lead fulfilling sex lives without worry over possible negative outcomes.
For IPPF, the findings do not come as a major surprise: they emphasise once more the urgency and importance of the Federation's work worldwide. But as the newly-formed organisation Sharisa (IPPF's latest partner) opens its doors in South Africa, the figures demonstrate just how needed they will be, and just what they can do to make the most effective impact on the health of future generations, and the health of the nation.