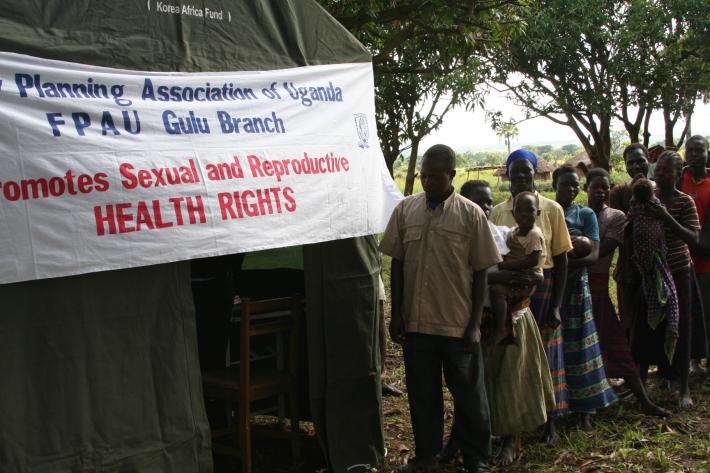 Simon Richard Mugenyi of Reproductive Health of Uganda (RHU) reports from the Uganda national family planning conference. RHU is the foremost CSO delivering family planning services to the most vulnerable and the most at risk in the country. 
Ugandan President Yoweri Kaguta Museveni has rekindled his commitment to invest in family planning as a key pillar to accelerate the social and economic transformation of Uganda.
Opening the Uganda national family planning conference on Monday, July 28, 2014, the president started his remarks by saying: "I am glad views on population are beginning to converge because for a long time, there has been confusion on population and economic transformation."
The president agreed with the Harnessing Demographic Dividend to Achieve Uganda's Vision 2040 presentation, that to achieve social transformation and development interventions, such as education, health and economic development have to go hand-in-hand with investment in family planning.
"Family planning first of all is good for the mother- the health of the mother first and foremost. With family planning you can ensure the health of the mother is not ruined," President Museveni said.
He added: "Family planning is also good for the children. You find children growing like wild plants, and nobody caring for them; it is also good for the family because when they have fewer children they are able to save and invest. Family planning is good for the country."
The President's remarks followed Dr Wilberforce Kisamba Mugerwa, the National Planning Authority chairman's, presentation: "Harnessing Demographic Dividend to achieve Uganda's Vision 2040."
Dr Kisamba Mugerwa mentioned the success story of the Asian Tiger economies where, "the economic success was made possible by sustained investment in education, health, family planning and economic reforms."
Thus, he said, the top priority, if Uganda is to achieve social and economic transformation, is to invest and sustain high level of government investment in family planning.
Meanwhile, the president cautioned religious leaders who sabotage family planning services/activities. Quoting the Bible he said that God gave man dominion over nature including using family planning as a means of transformation.
"The sheiks and the reverends [opposed to family planning] must look after their families well and live by example. Before you have done that don't come to tell me that family planning is ungodly, just keep quiet."
President Museveni, who has in the past years been campaigning for population growth, said that Uganda needs to move to the age structure where the working population is greater than the dependant population.
He ended his remarks by remembering the argument he had before the FP London summit. "I am happy to be here and associated with this conference. I used to have many arguments with Professor Babatunde [Osotimehin, the UNFPA executive director who was present] but we had a meeting in Entebbe [in May 2012] and argued [over population and development], by the time we went for the most [Family Planning] London Summit we were speaking the same language, family planning, health and economic development."
The three-day conference in Kampala with the theme, "Accelerating Social and Economic Transformation through Universal Access to Voluntary Family Planning," creates a platform for dialogue and energize relevant government ministries, departments, agencies, and implementing partners in a renewed effort to universal access to voluntary family planning and to position family planning as central to national planning and development.